Gameday grub that transcends the standard pub playbook.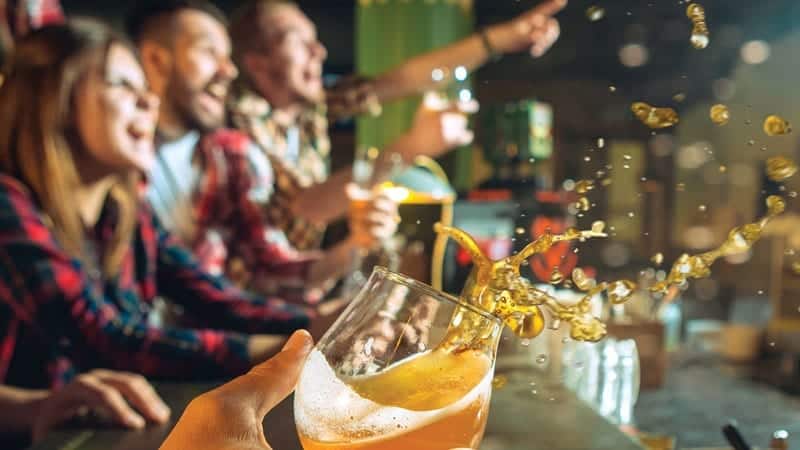 Getting together with friends for a game day barbecue is revered tradition, even in Central Oregon where the nearest college stadium is two hours away and the nearest NFL market is Seattle. While hosting a big get together can be fun, it's also exhausting, requiring hours or prep and shopping—not to mention post-festivity cleaning. When a big gathering isn't in the cards, consider hitting one of the sports-friendly venues where the drinks are always flowing, and the cooking and cleaning are someone else's responsibility. There are plenty of options around Central Oregon, but several stand-out for their unorthodox take on traditional pub-fare. Here are four places where you're guaranteed to find not only the big game, but also something to pique your culinary curiosity.
Hideaway | Redmond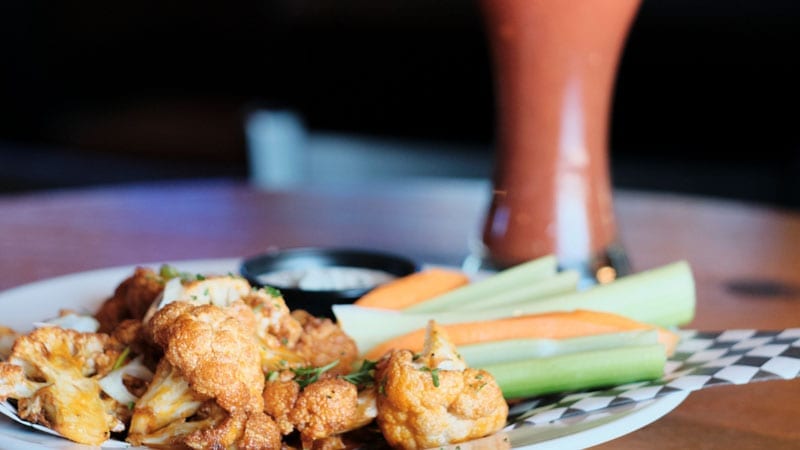 Whether it's the Ducks taking on a Pac-12 patsy on Saturday night, or Russell Wilson calling plays on Sunday, come game day, Redmond fans pack the Hideaway, a casual restaurant and eatery, that is a fraternal twin to its Bend counterpart—similar but not identical. Both restaurants are heavy on sports and New England memorabilia, a nod to owner John Nolan's East Coast roots, and televisions (try to find a wall without a set), but there are differences. The original Hideaway is tucked into Bend's southside, far enough off the main drag that it necessitates a billboard to guide patrons into the establishment. The Redmond location, formerly known as the Dawg House, takes no such searching. It's located on Evergreen right off Centennial Park and just a short walk from city hall and the heart of a reawakened downtown Redmond.
What doesn't change, between the two locations is the menu that is heavy on upscale burgers, pizzas, and signature bloody mary's. Happily, though, the menu strays from wings and nachos to dabble in lesser worn culinary paths. When it comes to shareable food, the tempura-battered and deep-fried pickles with dipping sauce is a delightful departure. Stay bold and order and the Buffalo Cauliflower, proof that Frank's Red Hot sauce goes great on everything. If you're still hungry, try the vegetarian Stromboli Sophia, a calzone-like turnover stuffed with cheese and vegetables and baked to crisp perfection. Wash it all down with Proud Mary cocktail for the two-point conversion.
507 Sw 8th St Redmond
Weekdays 11 to 10 p.m.
Saturday 8a.m. to 11 p.m.
Sundays 8 a.m. to 9 p.m.
The River Pig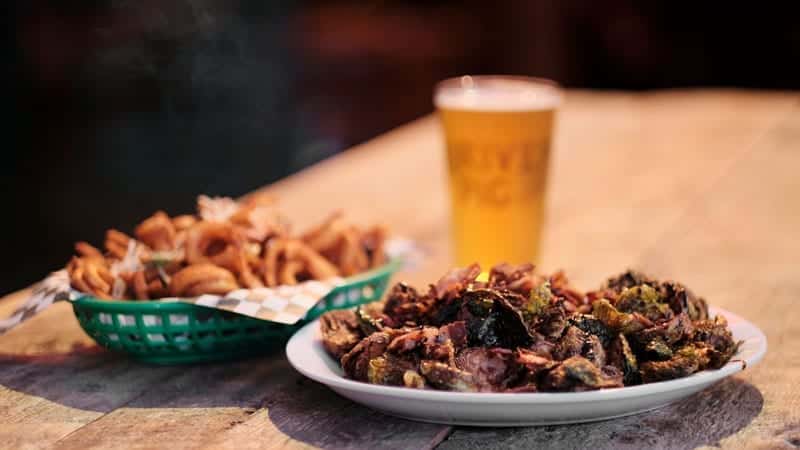 Bend locals aren't all that keen on transplants these days. The exception might be the River Pig, the hip watering hole that is helping to anchor the redevelopment of the Box Factory area on Arizona Avenue. The saloon style bar and casual eatery is a near mirror image of its namesake bar in Portland's Pearl District and operated by the same owner, Ramzy Hattar, a former University of Oregon footballer and former co-owner of the acclaimed Lardo restaurant in Portland. An avid skier, fly angler and outdoor enthusiast, Hattar wanted to be closer to his hobbies while still doing what he loves, serving good food and stiff drinks in a casual but cool environment.
The River Pig is too rustic chic to be described as a sports bar. But if you don't arrive early, you'll be hard pressed to find a seat on game day when fans flock to the big-screen projection television and a roadhouse-style loft with limited seating. Hattar's philosophy is to keep the food affordable and the drinks flowing. Take advantage by blitzing the appetizer menu that includes loads alternate takes on traditional bar fare. The Brussel sprouts in balsamic reduction are a good pre-game warm-up. If your appetite can't be sated without deep-fried flavors, try the curly fries, crisply cooked and seasoned to perfection.
555 NW Arizona Ave
Open Wed- Sat 11 a.m. to 2 a.m.
Sun- Tues 11 a.m. to 12:30 a.m.
Boneyard Beer Pub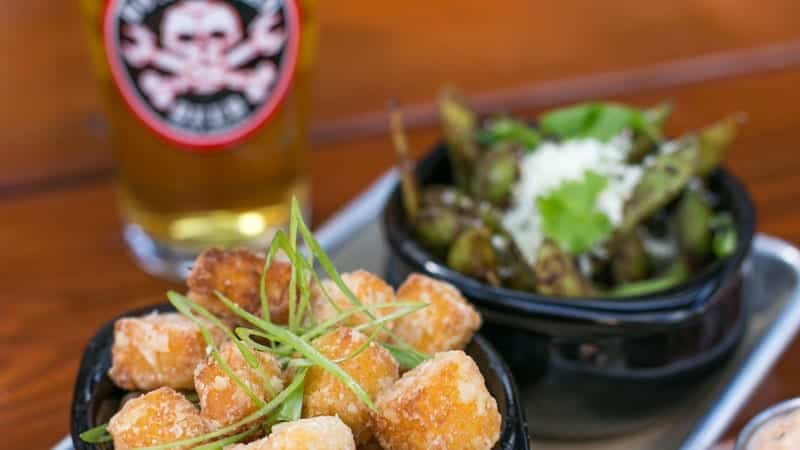 For years, Boneyard Beer operated out of their tiny hidden industrial brewery east of downtown, filling growlers happily but casually, and letting the other breweries in town feed and entertain the masses. That changed last year, when Boneyard finished a long and extensive remodel of a former Chinese restaurant on North Division Street to open their own pub. Even then, Boneyard continued to follow the beat of their own drummer, changing up the local pub concept just a little bit, with a unique menu and way of doing business.
All service at Boneyard Beer Pub is counter-service, and patrons grab a beer and order off of a small but powerful menu at one of two bars, both of which offer several screens on which to view the game of the day. The tech-savvy can use an online app (directions explained on table tents) to order food and drink from the table, which magically brings a server bearing treats.
When it came to game-time nibbles, the polenta tots were our favorite. The perfectly fried cubes of polenta are served with a deliciously tangy, lemony, spicy Togarashi aioli, and on a bed of arugula, which some people probably don't see as food but which we noshed on too. The chili lime edamame was our second-favorite, covered in a course spicy mixture and topped with a little crumbled queso fresco. By the third quarter, we'd moved on to verde nachos with beer cheese, which made us just wish we'd ordered more polenta tots. Next time, perhaps we'll order one of Boneyard's famous bowls, from poke to firecracker chicken. That sounds like a touchdown to me.
1955 NE Division St
Open 11 a.m. to 10 p.m.
7 days a week
The Row | Tetherow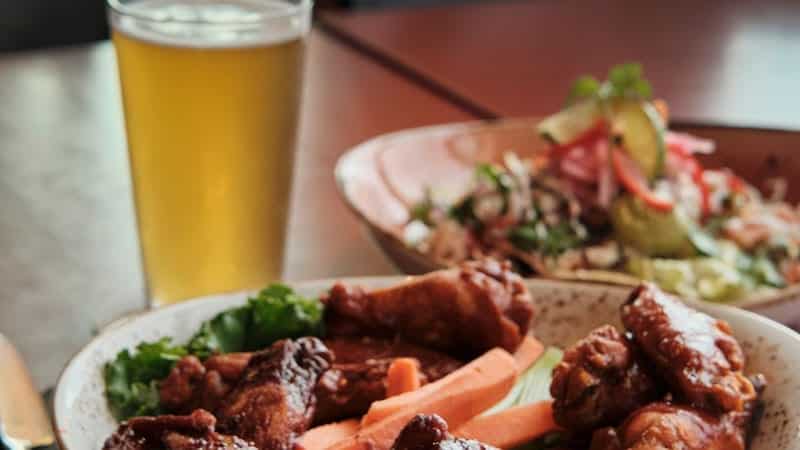 The Row at Tetherow was the resort's first and only restaurant for years, designed to cover all bases when it comes to dining, drinking and socializing. Today, the modest-size bar and restaurant retains a well-balanced casual excellence that matches the incredible view of the austere but beautiful high desert landscape out the windows. Want a Wagyu steak with a sunset view? No problem. Family dining with three generations and plenty of fries? That works. Just want to belly up to the bar by yourself, grab a beer and a snack and watch the big game on one of five TVs? Check.
The appetizer menu straddles this diverse territory as well. On a recent visit, we went with a couple of craft beers from a 12-tap selection, paired with a foodie's cross-cultural trifecta: ceviche, pub wings and scotch eggs. We elected the ghost chili sauce on the wings (house buffalo and sweet BBQ were the other two options). Two bites in and my mouth was a four-alarm-fire, which is when my husband shoved a forkful of cool, citrusy bay shrimp ceviche in my mouth, quenching the flames just a little bit. I couldn't go back into the fire, so veered over the Atlantic to the scotch eggs: two farm fresh eggs wrapped in Carlton Farms sausage, fried and served with creamy brandy peppercorn sauce and aged balsamic reduction. Brilliant! And savory and satisfying and delicious! I think I'll have another beer, thank you very much. It's only half-time.
61240 Skyline Ranch Rd
Open 7 a.m. to 10 p.m. daily