To understand sculptor Danae Miller, one need only spend an hour at her Tumalo farm.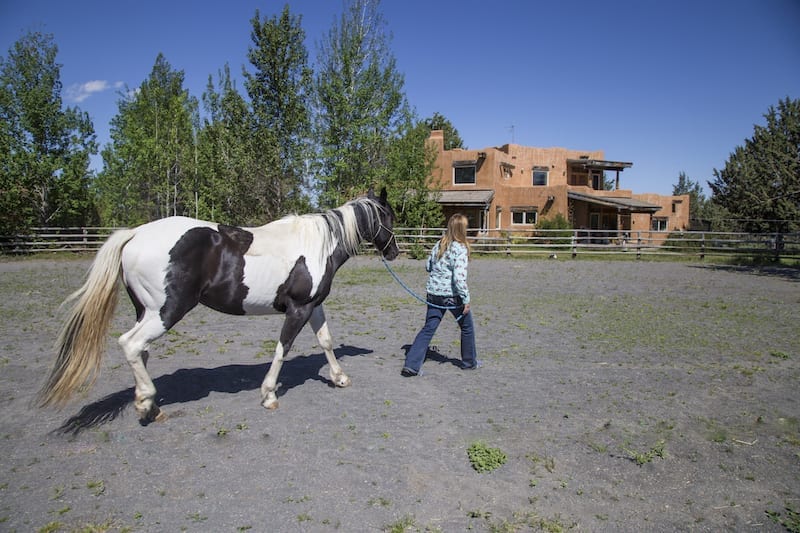 To understand Danae ("Nye") Miller's art, one need only spend an hour at her Tumalo farm. Her bronze sculptures are sprinkled around Central Oregon, but owe their veracity to the living things that cohabitate on the farm with her, her husband, Ron, and their 17-year-old son, Logan. Horses, lambs and ewes, turkeys, chickens, ducks, peacocks and two dogs roam the ten-acre compound. The wild things—deer, red tail hawks, eagles and coyotes—also make cameos.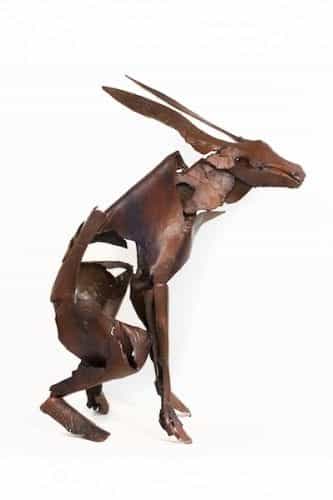 The fauna is more than just window dressing. These diverse creatures play an observatory function in her kinetic sculptures. "They are all critical to my understanding of anatomy," she said. They've also played a more tangible role. She once cast the back of Bueno, Logan's horse, for the sculpture in the Newport Avenue roundabout in Bend.
A classically trained sculptor, Miller got her master of fine arts degree at the University of Washington in 1986, taught sculpture and ran a foundry. Today she creates large and small bronze and glass pieces with the lost-wax method—an ancient technique that translates wax into metal. It's a complicated, messy process, and Miller forgoes traditional steps of making a mold for multiple copies.
"Not many sculptors work in wax," she said. "It's finicky and doesn't always suit every artist's sensibility—plus wax shatters in cold temperatures and loses shape in hot weather."
Miller once transported a large wax horse—appropriately in a horse trailer—to a foundry in Enterprise. But she had to pass through Pendleton, where temperatures topped 100 degrees. In anticipation of the heat, her husband installed a makeshift air conditioner in the trailer to prevent months of work from melting away.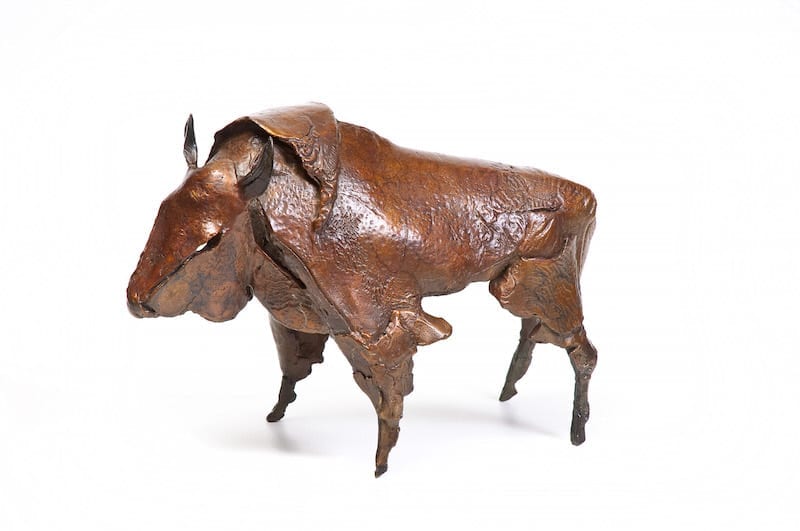 Evocative of the cave drawings of Southern France, Miller's one-of-a-kind animal sculptures often consist of dozens, sometimes hundreds of pieces welded together, imbuing them with a primitive edginess. "When I'm working, the spark of life flows from me into the sculpture," she said, explaining that it's one reason she doesn't do multiple copies. She's one of just a few artists who use the lost wax method to blend bronze and lead glass crystal in a single sculpture.
"I'm a devoted friend and fan," said Bea Zizlavsky who has collected eight pieces, including several bison. "They all have a personality and appear to have movement. They brighten up any environment."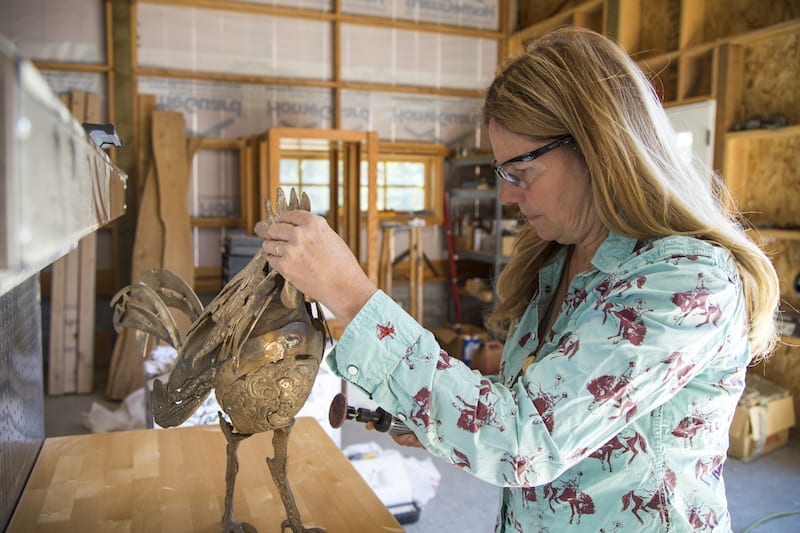 Miller, 58, moved to Bend in 1994 and has several commissioned pieces in public places. In addition to the Newport roundabout, Miller's sculptures can be viewed at the fountain at the end of Minnesota Street in downtown Bend, Ash Street Park in Sisters and the Unitarian Universalist church on Skyline Ranch Road in Bend. Catch her at Art in the High Desert in August in the Old Mill District.
Next year, she will open a large studio space and gallery on her property where she'll be sculpting, print making and expanding into multimedia projects that incorporate wood, antlers and glass, along with bronze projects. And if you visit in the spring, you'll get to see lambs in the corrals and the rest of the species that encapsulate Miller's world.