Agile fingers twist and turn, patiently weaving beauty from simple string and corn husks. It's Kelli Palmer's way of tapping into ancient traditions, helping to keep them alive.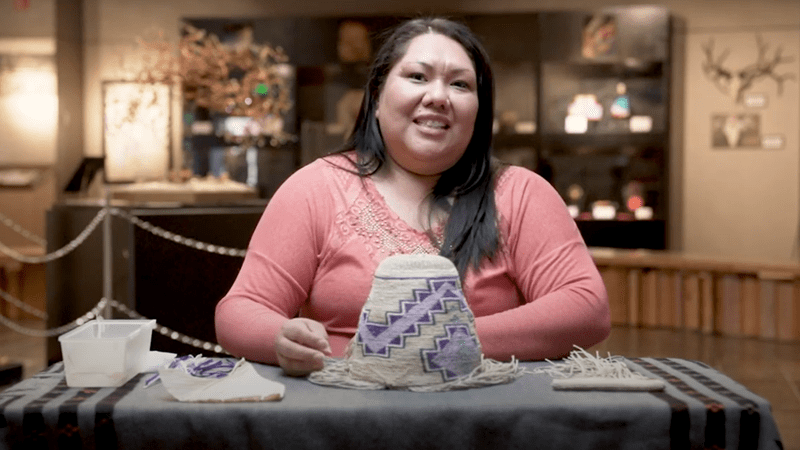 "People say corn husk weaving is a dying art, but I'm trying to get the art back," Palmer said as she laid bundles of hemp and rayon raffia on my dining room table. A bowl for water kept the corn husk wet and pliable. Palmer is an enrolled member of the Confederated Tribes of Warm Springs, which includes the Wasco, Warm Springs and Paiute peoples, and is also part Shoshone, Hoopa and Yakima. At 12, she attended a tribal culture camp and learned basic basketry but set it aside for years. In her mid-20s, she attended another basket making class that ignited her love of the art form.
She sought one of the region's most skilled teachers, her mother Eraina Palmer, but the elder Palmer encouraged her daughter to learn from other people. "Mom inspired me to keep going, but I wanted her to teach me. One day, when I knew she was teaching my uncle, I 'snuck' into her home. I hadn't been invited but just happened to stop by," she laughed. "I was 30, a few years after my divorce and still searching for something to make myself whole." 
Her mother relented and mentored her daughter until Palmer became a master basket weaver herself. While the title honors and respects the artist, she feels unworthy, even at 45. "I'm still perfecting my work," she said. Still, her reputation grew and another master basket weaver, Pat Courtney-Gold, convinced Palmer to teach. She has taught corn husk basketry at workshops around the Northwest, at the High Desert Museum and Central Oregon Community College.
At my table, Palmer regarded traditional corn husk hats called putlapas, originally used as women's head coverings during longhouse religious ceremonies and contemporarily used at pow wow dances. She also brought flat corn husk baskets, once used to store dried roots, fish and meats and now prized as purses and decorative regalia for horses.
Palmer demonstrates the three-step, false embroidery technique on a partially completed basket. It's so complicated that she holds my fingers and hand in hers, and in about two minutes, I manage to complete one stitch. At this rate, I could finish a small flat basket in roughly the time it took her uncle to finish his basket—about 15 years.
Even in Palmer's hands, a putlapa takes anywhere from two months when she doesn't have a job to a year when she's working full time. Beyond twining, the hats are patterned, which requires a complex grid for most practitioners. But Palmer no longer needs to graph her designs. "I go with whatever strikes my fancy," she said, which may include a traditional pattern like the Wasco deer or more contemporary motifs. An Idaho basket collector commissioned several putlapas from Palmer, which enabled her to stay at home during the pandemic. Back at work now, she finds time to teach because "lots of people want to learn, even if it is hard," she said. "I encourage people to keep going until they find their rhythm." 
Getting into her rhythm means contemplating herself, finding her zen. "I do this because it makes me happy and keeps me calm."