Long before the ski lifts, the wave park and the mountain bike trails, Central Oregon's rolling grass meadows and forest wilderness were home to cattle ranches. This region, with air fragrant with sage under pure blue skies, is a perfect setting for raising beef.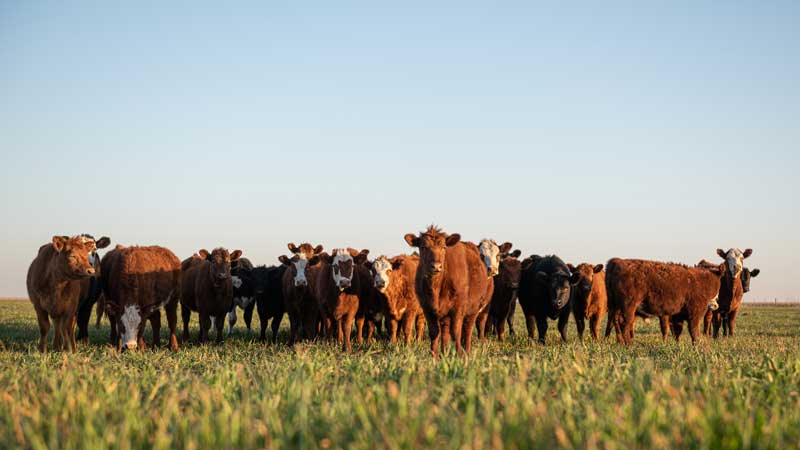 As we fire up our grills this season, we'll want to bring local beef goodness, sizzling and juicy, straight to our plates. Take our advice—make a beeline (or go online) to local ranchers who toil year-round to deliver terroir to your palate.
We talked to a few local ranchers and beef purveyors about everything from how their practices affect the quality of their products, to the best cuts for grilling and direct-from-the range cooking tips.
Black Angus in Paulina
Blue Mountain Ranch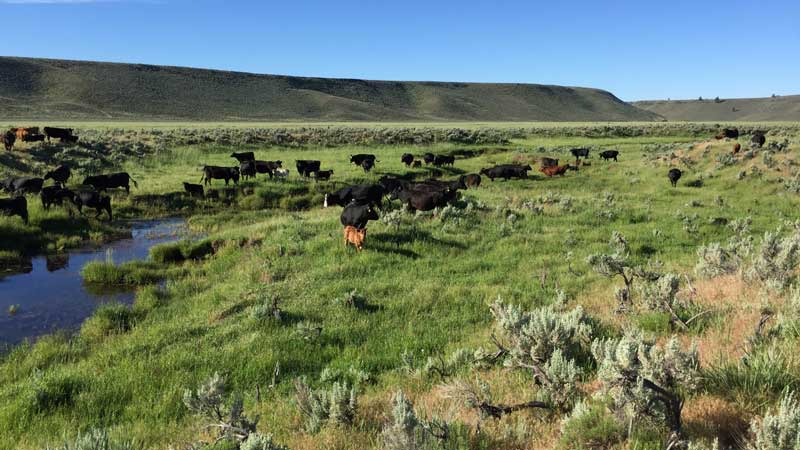 Just outside the tiny town of Paulina, where the deer and antelope graze, so do the red and black Angus cows of Sarah and Allen Teskey of Blue Mountain Ranch. Their herd roams about 100,000 acres, feasting on grass meadows in spring and forest wilderness all summer.
At "the Blue," the Teskeys focus on using regenerative, holistic practices to improve the soil, and grow better grasses, which means superb-tasting beef. A Teskey family favorite is the tenderloin, including the cut-with-a-fork filet mignon. Another is the T-bone, with the bone imparting flavor that cowboys once called "prairie butter."
"The best tip I can give for grilling is to not overcook the meat," said Sarah Teskey. "I understand not everyone likes their steaks medium rare, but it is better to pull the meat off the grill and let it rest a little longer, which will allow it to continue to cook internally while keeping the juices intact, instead of leaving it on the heat. The meat will tend to dry out."
For a quick and easy dish, her go-to is carne asada, for fajitas, salads and tacos. She marinates their thinly sliced skirt steak with a citrusy sauce, grills it for ten seconds on each side and it's done.
"The boys (sons, Lucas, 15, and Todd, 12) enjoy the steak, but hands down they love the burger," she said, adding that grass-fed beef tastes earthier than sweeter, grain-fed beef. "When I eat it, I feel healthy knowing where it comes from and where it was raised," she said.
Order at bluemtnranch.com.
Wagyu in Tumalo
2Sisters Ranch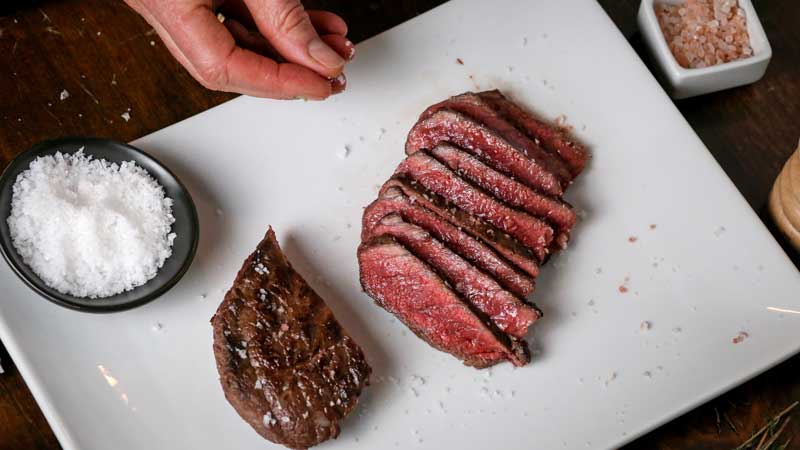 On 140 acres in Tumalo, a small herd of cows graze on grass and hay made nutrient-dense by the altitude, cold nights, strong sun and volcanic soil. With nary an ATV, drone, or corralling horse in sight, they live out their days in bucolic calm.
This is a main tenet of 2Sisters Ranch—to raise the full-blooded wagyu cows just as farmers do in Japan, where the breed originated. Low stress promotes wagyu's off-the-chart marbling and rich flavor which is revered worldwide, said Renee Bouma, who owns the ranch with her family.
The most important thing to remember when grilling wagyu is to preserve that fat content, essential to its taste and tenderness, said Bouma. With the exception of their wagyu hot dogs, exposing their meat directly to flame could melt away that highly prized marbled fat. It's possible to grill it quickly on high heat, though, turning it frequently, she said.
She suggests using a cast iron pan on the grill or cooking it sous vide (vacuum-sealed in a BPA-free bag in temperature-controlled water), then quickly searing it. "The biggest recommendation, whether it's on the grill or in cast iron, is attentiveness," she said. "Set a timer and flip it every thirty seconds to keep the juices in. A one-and-half-inch thick piece should take about eight minutes to be medium rare."
Then savor the umami, what the Japanese call the fifth taste after sweet, sour, salty and bitter. The explosive, robust savoriness, Bouma said, is the hallmark of her beef, because it is certified, full blooded wagyu—not cross-bred.
Order at 2SistersRanchWagyu.com.
Barley and Grain-Fed in Sisters
Pioneer Ranch
Evan Moran has hit on a flavor trifecta: beer, booze and beef. The pharmacist-turned-rancher laces his pasture with local brewery byproducts such as barley and yeast and Bendistillery's spent grains, giving his cows what he calls a "beer and whiskey finish."
The sugars of his distinctly Bend concoction amp up the marbling and tenderness of the meat from his sixty cows that also graze on his thirty-acre pasture between Bend and Sisters. His method also matters, Moran said. His "extended finish," of feeding the grains to the cows over nine months, rather than the standard grain finish of three months, helps the intramuscular fat, the marbling, develop. "You can tell there's a big difference. I figured out it's something you can't really rush," he said.
When it comes to grilling, he takes a simple, straightforward approach that lets the meat speak for itself. He favors a juicy ribeye, coated in extra virgin olive oil, and dredged in coarse ground salt and pepper or a dry rub, preferably one loaded with garlic, and quickly seared. "Meat absolutely has to have salt," said Moran. "It just brings out the flavor."
He takes the same approach with burgers, sprinkling a generous layer of salt on each side and letting them rest in that palate-pleasing, natural crystalline mineral for a half hour before setting them on a hot grill.
Available at Pioneer Ranch's Tumalo store at 64702 Cook Ave., Primal Cuts, West Coast Provisions, Newport Market, Sunriver Country Store, Sunriver Marketplace and pioneerranch.com.