Whether it's sipping wine while glimpsing life at a sprawling vineyard, feeding an alpaca and feeling its fleece, or hunting for the perfect pumpkin at a scenic ranch,  agritourism introduces visitors to ranching and farming, while also serving as an integral part of many farms' business plans. When done right, inviting tourists onto your land can be educational, entertaining and profitable.
It's a model that's thriving in Oregon. In 2017, farms participating in agritourism brought in an average of $33,470 in revenue from it, up from $18,557 in 2012, according to the most recent data from Travel Oregon's Oregon Agritourism Network.
Here in Central Oregon, the High Desert Food & Farm Alliance works with local farmers and ranchers year-round to support local food. Of its sixty-two partner farmers and ranchers, thirty-three offer agritourism. The organization said it's working with Visit Bend to secure a U.S. Department of Agriculture grant to help local agritourism grow.
"Agritourism offers a terrific opportunity for growers to engage directly with their consumers," said Hilary Sager, product development coordinator for Oregon Agritourism Network. "When a guest comes to a farm, the host has an opportunity to tell their story and share their products in a way that is dynamic and meaningful. By combining aspects of tourism and agriculture, there are larger financial, educational and social benefit to tourists, producers, and communities."
Here's a look at how three local farms count on this mix to make it all pencil out.
Faith Hope &

Charity Vineyard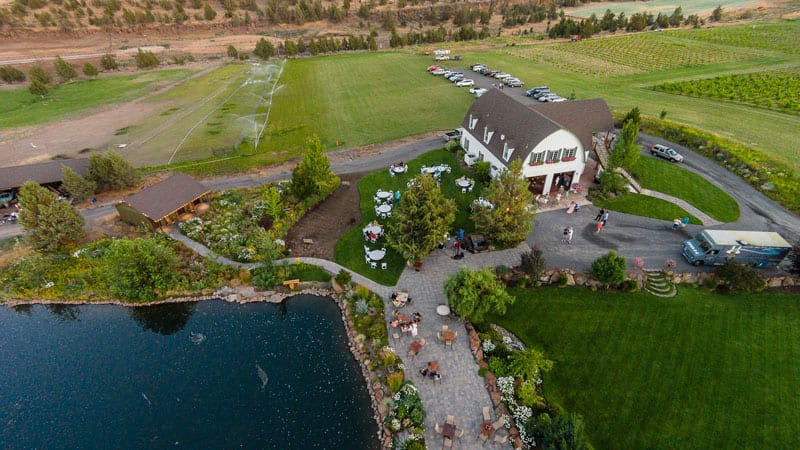 When Cindy and Roger Grossmann bought a 312-acre ranch in Terrebonne in 2001, their vision for Faith Hope & Charity Vineyard was to create robust guest experiences in addition to pursuing their dreams of winemaking. After years of nurturing high desert-hardy grapes and securing land-use approvals, that plan is on track.
By late fall the Grossmanns expect to have completed a new event center for 200 visitors, with business and educational meeting spaces, a tasting room, kitchen, two-and-a-half-acre trout pond, and by spring, an outdoor amphitheater. In the meantime, music, wood-fired pizza, bocce and visits from neighboring alpacas keep it family friendly and widen the draw.
The business reopened in May after the coronavirus shutdown in March. The extensive grounds allow socially distanced dining by reservation and six-foot-long tables are ten feet apart, so the area can accommodate 250 guests, Cindy Grossman said. It all supports the main revenue stream. "The core of our business is the grapes—they run the world for us," she said. "We have events not because they're easy, but because they sell wine. At my music events, for three hours long we're exposing those people to our wine and they always come back."
The same is true for weddings. She estimates that 75 percent of each wedding's 150 guests return, and that's how the business built its customer base and wine club, which offers chef dinners and wine tasting trips. "We want to get people out of the city and to come and enjoy the wide-open spaces and agricultural land and learn about it," Grossman said. Her long-range plan includes a five-suite guest lodge, five cottages and guest programs around culinary and beauty products made from the ranch's lavender. "It all feeds on true agritourism—continually teaching conservation of water and soil, while being good stewards of land and very conscious of the environment," she said.
crescent moon
ranch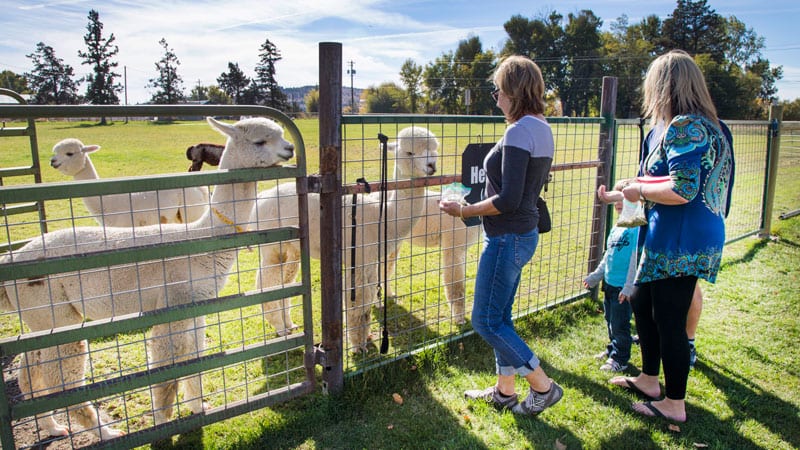 For more than a decade, Scott and Debbie Miller traveled the country promoting the breeding qualities of their alpacas, but by 2014, they wanted to spend more time at their 42-acre Crescent Moon Ranch in Terrebonne. They're not alone. All year, visitors stop to see the long-necked, pony-sized, camel-like creatures with endearing eyes and luxurious fleece.
In peak season, they see hundreds of visitors per day, Scott Miller said. The Millers count on their positive experiences with the alpacas to prompt guests to browse their boutique, where they sell sweaters, hats, gloves, coats, blankets, socks, mittens and yarn from the fine, lustrous fiber. These sales generate about 60 percent of the ranch's annual revenue. The Millers also yearly sell twenty to forty-five alpacas, at a cost of $5,000 to $40,000 each, depending on the quality of their lineage, he said.
One recent morning, visitors watched as Scott's wife, Debbie, delivered a baby alpaca, that will join the herd of nearly 200. "We invite people to experience what we do, and learn about the alpacas. When they have questions, we stop what we're doing to answer them," he said.
In this line of work, Scott said, more's at stake than the bottom line. "What's most satisfying is that we get to work for ourselves, live and die by our own decisions, not someone else's, and we get to be outside, at home."
dd ranch
More people are buying locally raised meat since the coronavirus pandemic began, which is good news for the owners of DD Ranch in Terrebonne. But social distancing restrictions and school closures could affect revenue at the ranch, where field trips and the annual Pumpkin Patch celebration help sustain sales of grass-fed beef and lamb, heritage pork, eggs from free-range hens and raw honey from bees raised on 200 acres in Terrebonne. Linda Anspach, who runs the ranch with her husband, Jeff, said agritourism accounts for 15 to 25 percent of annual revenue.
Every October nearly 2,000 children visit to learn about the importance of honey pollinators, planting, harvesting and raising sheep, hogs and cows. Anspach is unsure whether those trips will happen or how Pumpkin Patch activities—petting zoo, hay rides, pony rides, BB gun range and archery—might be affected. Though the Pumpkin Patch is free (activities cost $2.50 to $7.50), the ranch reaps about a third of its annual revenue in October with visitors accounting for a spike in the sale of farm products. "The whole goal of agritourism is to endear people to agricultural products through entertainment. Harvest time is a celebration that also encourages people to look at farm life and consider it as a potential job."