Wild Oregon Foods brings a modern take on classic deli food from a seasoned Bend chef in southeast Bend.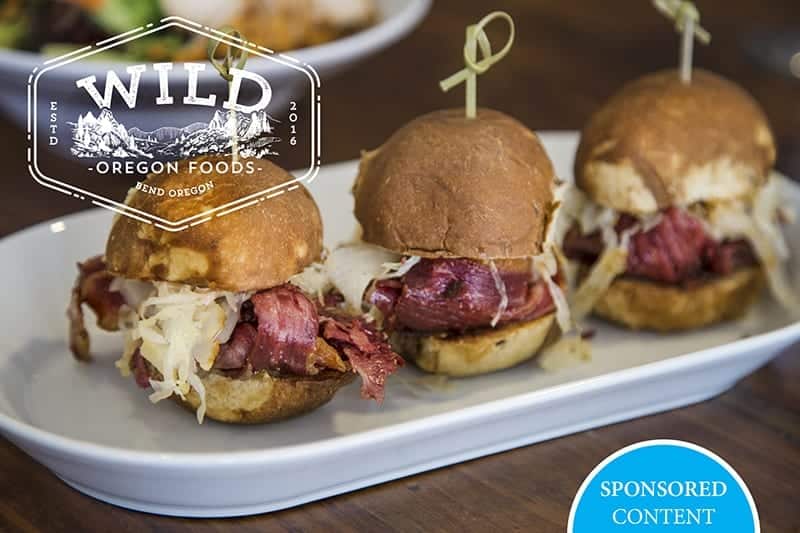 When James Fink was growing up in the Bay Area, his family would drive forty-five minutes to get sandwiches at a small, hole-in-the-wall deli tucked between a tanning salon and a bank. His nostalgia for that place, and the sandwiches, kept him coming back years later when he was starting his career as a chef.
When he and his wife, Sarah, decided to open their own restaurant here, a location in the Bend Factory Stores, tucked on a corner next to Rocky Mountain Chocolate Factory, brought back James' memories of that deli from his childhood. Walking into the space for the first time, "I just had that weird, tingly feeling of it being just the right spot," said James, who before opening his own spot helped craft dishes at Jackson's Corner, Brasada Ranch and most recently Deschutes Brewery. Within six months, he and Sarah opened Wild Oregon Foods, a modern diner serving a fresh take on casual, deli-style food. A variety of soups, salads and sandwiches are all made using ingredients sourced as locally as possible.
Khrisma Carter, the property manager at the Bend Factory Stores, said she thinks Wild Oregon Foods will thrive in this neighborhood. "I'm really excited about this one, because it's locally sourced," said Carter. "I think in this community it's really going to take off."
Located on Third Street in southeast Bend, the Bend Factory Stores is the home of Oregon outdoor brands such as Nike, Columbia Sportswear and Pendleton as well as national brands such as Coach and Eddie Bauer. There are more than twenty shops and retailers in the walkable location, and Wild Oregon Foods is the only full-service restaurant there. Carter said that Wild Oregon Foods fits in with the hometown feel of the Bend Factory Stores.
"Wild Oregon Foods being so locally sourced is a good fit for where we're trying to go," said Carter. Plus, "their food is delicious."
Making local and organic food accessible and affordable is something that James and Sarah value.
"We really want to make sure that organic food isn't a privilege, but something that all of us are invested in," said Sarah. "Because it's too expensive, or you can only go to certain places to buy it, large swaths of our community get excluded. That was one of the reasons we chose southeast Bend. There really is nothing down here like it."
Wild Oregon Foods serves lunch and dinner, and has a marketplace with local snacks and drinks. The restaurant also has a generous happy hour menu, with housemade cocktails inspired by local ingredients. Soon, Wild Oregon Foods will start serving breakfast, too. Sarah and James hope that it becomes a destination for families seeking quality and healthy comfort food, much like the deli from James' childhood.
"We are trying to pave the path for new, healthy living for a lot of people that wouldn't have the opportunity two minutes from their house," said James.
With Wild Oregon Foods, James is on a mission to expose people to better ingredients, and in turn, better food.
"There's not much to it," said James of the menu. "It's very simple, comfort, pure love in the food."
---
Wild Oregon Foods
Open Tuesday – Friday, 11 a.m. – 8 p.m., Saturday 8 a.m. – 8 p.m., Sunday 8 a.m. – 4 p.m.
61334 S Hwy 97 Suite 360
Bend, OR 97701
541-668-6344
wildoregonfoods.com
Bend Factory Stores
Open Monday – Saturday, 9:30 a.m. – 8 p.m., Sunday 11 a.m. – 6 p.m.
61300 S Hwy 97
Bend, OR 97702
541-382-4512
bendfactorystores.com