Central Oregon is one of those rare places where people actually get excited for winter. We hold ski season pass parties, drink beers with names like Pray For Snow, and pine for that first morning when we draw back the drapes to find a fresh blanket of snow outside of our doors. Of course, not everyone is waxing their skis in early November and stashing away sick days for an onset of powder fever. Thankfully, there is plenty to do around town from adult-oriented recreation, like bar trivia and axe throwing bars (yes, it's a real thing), to family-friendly activities like tree lighting and arts classes. With that in mind, we've put together a list of activities to keep your whole clan engaged this holiday season.
Head
to
the Tower
Much has changed in downtown Bend over the past half-century. One constant is the Tower Theatre, which has served as Bend's cultural hub for as long as just about anyone remembers. The historic theater continues to show films (it's the epicenter of Bend Film every October), but it's also a showcase for the performing arts, including live music and theater. Enjoy it all in November and December when the Tower packs in acts like the Moscow Ballet's Nutcracker, a holiday film series that includes a festive screening of the contemporary classic National Lampoon's Christmas Vacation. Grab a seat, order a large popcorn and a beverage, and enjoy some holiday-stress free entertainment in Bend's marquee venue.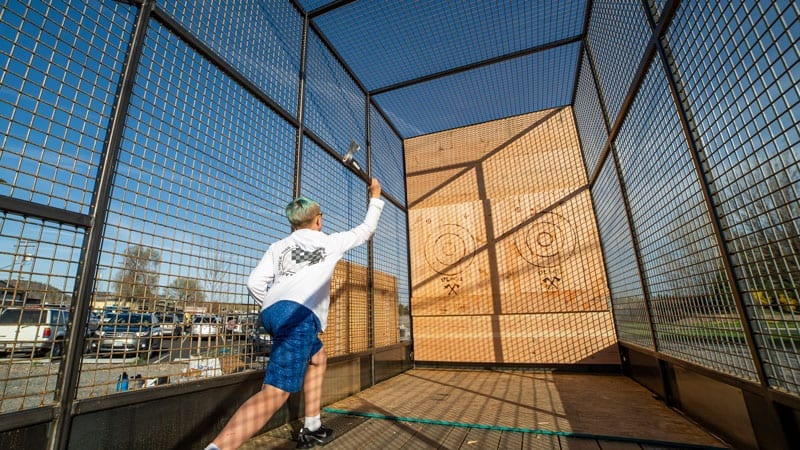 Flying Axes! The Unofficial Logging Co.
Maybe it's a sign of the times that axe-throwing has become a popular pastime, or maybe it's always been fun to hurl weighty, sharp objects across a room. In any case, the holidays are the perfect time to work off some pent-up energy by throwing axes at bulls-eye targets. The Unofficial Logging Co. opened a 6-lane axe-throwing venue this fall downtown in the O'Kane Building, building on the mobile trailer that's been popping up at Bend events over the past year. Now, food, drink and activity are all in one location, with beer, wine and food from The Brown Owl on hand. Round up the multigenerational crew (10 years and up please, and wear closed-toed shoes) for an evening of friendly, yule time, axe-throwing competition. Don't be surprised if Grandpa wins.
Into the Woods: Snowshoe Tours
Staying close to the fire on a cold winter's night might sound like the way to go, but every now and then you need to break out of the cozy routine and do something extraordinary. Wanderlust Tours Starlight and Moonlight Snowshoe Tours fit the bill. Naturalist guides take tour-goers away from the lights of the city into the dark and dreamy woods, where stars and moon shine bright and unhindered overhead. Breath the cold night air deeply and take in the vast sky for a little taste of the magic of the season that you won't find at the mall.
Brake for the Arts
When people ask what there is to do around Central Oregon, recommendations tend to center around outdoor activities. What is sometimes overlooked is our vibrant arts scene that includes an interactive "art station" where adults and kids can learn how to fire pottery, create glass art, roll prints, sculpt and more. Located in a historical train depot, The Arts Station welcomes artists of all ages and experiences, offering classes, workshops and day-camps that are popular with families on school holidays and breaks. Parents can join in the fun through the Arts Station's "With Your Child" classes that allow parents to work side by side with their kiddos to create a piece of unique art. No experience or materials are required. "Bring your body and your imagination, and we'll provide the rest," said Laura Von der Osten, recreation coordinator. More information is available through the Bend Park and Recreation Department website and Playbook publication.
Christmas Tree Lighting: Lights on High
Pomp, circumstance and twinkly lights—what more do you want from a wintry Friday night? Bundle up in a puffy coat, stocking cap and gloves, and kick off the holiday season with the Christmas Tree Lighting at Drake Park in downtown Bend. Scheduled for December 6 this year, the actual lighting of the tree occurs promptly at 6:59 p.m. to the oohs and ahhs of the crowd (that's your pomp and circumstance). See Santa, eat candy, sing carols and much more at this must-do annual event.
Skate Away
Half a century ago, Bend's fire department would roll out the water hoses to flood in downtown's Troy Field in Bend's version of New York City's rink at Rockefeller Square. Leather-booted skaters could drop in anytime for laps around the temporary rink. Fast forward to 2019, and multiple options exist for ice skaters wanting to carve a few laps in a fresh sheet of frozen water. In Bend, The Pavilion offers ice time in the afternoon and weekends. Rental skates, a party room and a small concession stand make this a go-to spot for locals and visitors alike. If you want a true open-air experience, head for the Seventh Mountain Resort and glide around under the stars. Here, you'll find another full-service rink that caters to guests and visitors. Down south, Sunriver has ice skating at its recently renovated pavilion on the Village Mall. If your travels take you north, check out Redmond's contribution to the ice-skating scene. The city of Redmond operates a seasonal rink, usually open from November through February at the Downton Redmond Plaza at 7th Street.
I Know That One! Trivia Nights
Answer these three questions: On the seventh day of Christmas, what did my true love give to me? In what country did eggnog originate? What is the name of the Dr. Seuss character who steals Christmas? Okay, one more question—why do we love to know the answers to random questions? This season, distract yourself from more serious matters and choose from one of many regional trivia nights to bone up on your useless knowledge. Try Trivia on the Moon Thursdays at Silver Moon Brewing, Trivia Tuesday at the Lot, Kobold Brewing's occasional Taphouse Trivia, and second and fourth Tuesday Night Trivia at Broken Top Bottle Shop.
Over the Top at Bend Rock Gym
Central Oregon has been a rock-climbing mecca since the early 1980s when sport climbing pioneers like Alan Watts set the first routes at Smith Rock. The iconic climbing area remains the epicenter of the climbing community here, but the sport has grown in interesting ways and places around the region. One of the most popular ways to climb doesn't involve rocks at all. Indoor climbing, which uses manufactured walls with multiple routes and levels of difficulties, is perhaps the fastest-growing segment of the sport in Central Oregon. The official headquarters is the Bend Rock Gym on Bend's east-side, where twenty "auto belays" allow climbers to work independently and at their own pace. The Rock Gym offers oodles of clinics and a cool learn-to-climb program for children and adults. While it may seem intimidating, no experience is required, and the staff is happy to help first-time climbers learn the ropes as it were. "We are working hard on eliminating that initial intimidation," said Rich Bruener, director of operations.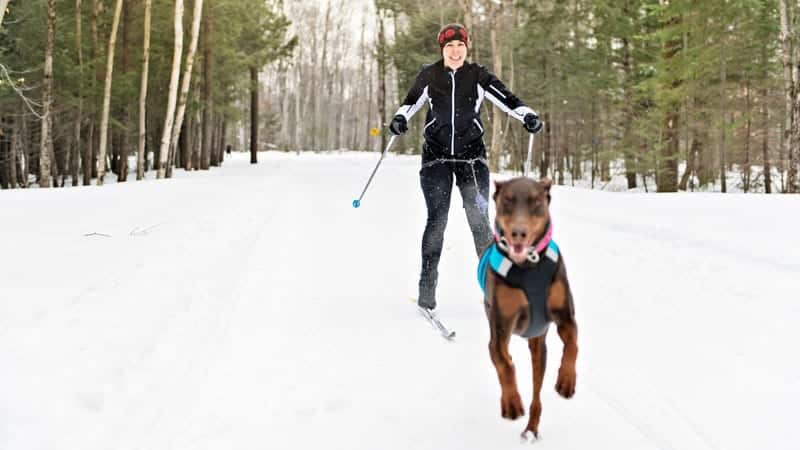 Run with the Pack
Few winter activities offer the smooth exhilaration of cross-country skiing while being pulled by a dog. That's right — think dog mushing with skis instead of sled and you have skijoring, an uber niche winter sport popular with dog-owning Nordic skiers. Skijoring affords an accelerated way to explore wintry Central Oregon with a canine companion. When the snow falls, take your skis and pup to an already-traveled trail, such as those at Tumalo Falls Day Use Area or dog-friendly Wanoga Sno-park. There, dogs will intuitively follow the tracks. But let your pooch roam free until he or she is comfortable around your skis. Then, when the time seems right, clip into your dog's harness. With persistence and luck, you'll be gliding along, propelled by canine combustion. Bend-based Alpine Outfitters makes skijoring-specific harnesses and towlines. Adanac Sleds & Equipment, is also a good skijor outfitter. The book "Skijor with Your Dog," by Mari Høe-Raitto and Carol Kaynor, is rife with insight.
Pedal to the Metal
The go-karts of my youth were open framed contraptions powered by something that looked like and, probably had been, a lawnmower engine. I can only imagine how my 12-year-old self would have reacted if I had the chance to visit Bend's K1 track, which brings the whole concept into the 21st century. Clean-burning electric carts wrapped in sleek Formula One style bodies allow racers to get a little glimpse of what it might feel like to whip around the track at Monaco. Wireless headsets allow racers to share track talk while zipping around the serpentine course as an official clock monitors lap times. The driver with the single fastest time around the track is the winner and invited to summit the podium post-race. But let's not kid ourselves, the real attraction here isn't radio heat sets or leaderboards, it's speed. And K1 has plenty of it. The carts accelerate like a cat, reaching speeds up to 40mph on short straight away that throw drives into g-force generating turns. So, yeah, they're fast. And fun. Lots of fun. – Eric Flowers