Winter, spring, summer or fall—a simple wreath says a lot. Wreaths announce the changing of seasons, celebrate everyday occasions and connect us to nature as well as each other.
A custom deeply rooted in history, from ancient crowns to advent, these classic decorations convey an ongoing spirit of hope and welcome that is not limited to Christmastime. You don't need a holiday to hang a wreath on your door—or fancy materials for that matter. Though traditional designs consist of evergreen boughs, wreaths can be crafted from just about anything. Whether foraged, dried or freshly planted, here is our round-up of wreath inspirations to help you keep the welcome coming.
Gather Round
In contrast to modern throwaway culture, wreaths were born out of not throwing things away; gathering nearby natural materials to make your own wreath is easier than you might think and the fun is in the finding. Cuttings from a recent pruning project or pinecones foraged from a family hike are all you need to make personalized pieces and add elegance to your home.
To get started, research DIY wreath instructions online or at a local garden center, then let the gathering begin. For boughs, Central Oregon boasts evergreen options galore including cedar, fir, juniper, pine and spruce. Next, search out accents such as cones and sprigs of mountain ash, wax currant, snowberry or whatever is in season. At home, clip excess branches from your backyard or rework a holiday wreath by adding new trimmings. When hiking, Deschutes National Forest offers a free use permit which allows harvesting small quantities of common plants for personal use.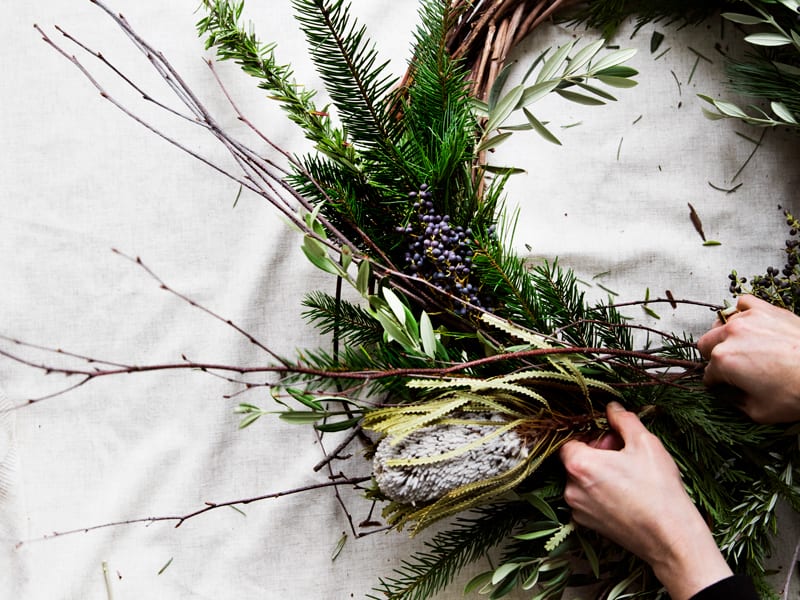 Dried and True
Want to get away from the "holiday" look? Try going dried. Weatherproof with a farmhouse feel, wreaths made from dried or preserved plants allow for a variety of year-round flora, transition easily between seasons and can even be reused year after year. Discover non-native varieties like dried eucalyptus and magnolia leaves in décor stores as well as online or plan ahead to pick and preserve your own.
In spring and summer, save blooms gleaned from your garden or favorite farmers market—from grasses and aromatic herbs like sage or lavender to flowers and naturals such as moss and tumbleweed. Come colder months, try collecting fall leaves, Indian corn or stems of brightly colored winter berries that pop against bare branches. Save space for your collections by creating a simple drying rack out of dowels or screens hung from the ceiling.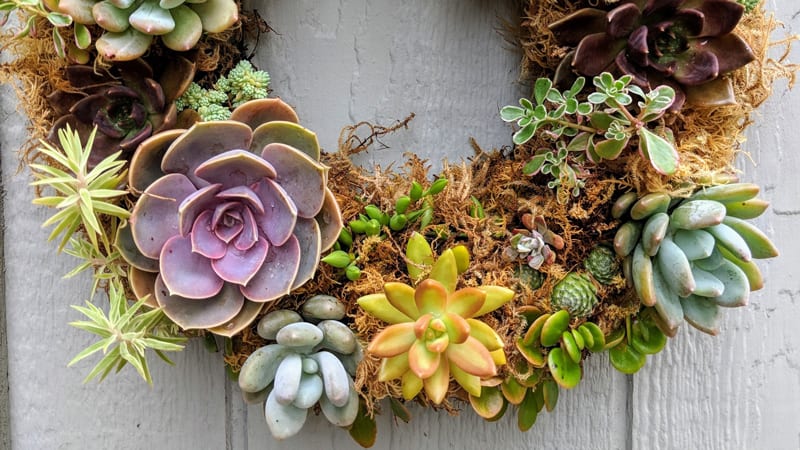 Fill in a soil or moss-based living wreath form with plants, grow on a flat surface for one to two weeks, then position or hang in a properly lit place.
Circle of Life
For a truly fresh take, grow a new tradition with a living wreath. A miniature garden without the groundwork, living wreaths are long-lasting and surprisingly simple to assemble. What's more, they change over time, becoming more beautiful as plants mature.
Liven up your wreath game by planting annuals like kitchen herbs, pansies, impatiens and ivies, or try out the easy and ever-popular succulent wreath. Pretty and perfect for Bend's high desert climate, succulents love sunshine, are slow growing and require only periodic watering—many varieties can even withstand snowy temperatures. If you're not sure what to plant, ask the experts; your local florist or nursery staff can help you make smart selections based on the sunlight and watering needs of plants and how different species hold up over time.