Photo of Trevor Roosen climbing "Hieroglyphs," a V4 near the Depot, courtesy of Central Oregon Bouldering
Grab your climbing shoes and chalk bag and head out to these locals' favorite bouldering spots in Bend. Looking to skip the Smith Rock State Park summer heat and crowds or squeeze in an evening climbing session after work? There are boulders scattered across Central Oregon begging to be climbed and, with the recent publication of Central Oregon Bouldering, these spots are more accessible than ever. Check out these local climbers' picks for the best areas to boulder around Bend.
Bouldering Term Cheat Sheet
Bouldering: A style of climbing utilizing "crash pads" rather than ropes or harnesses on relatively small rock formations.
Approach: The hike or walk to get to a climbing area.
Problems: Bouldering routes or projects
Traverse: Climbing left or right instead of straight up, oftentimes lower to the ground
V0-V13: The rating system used in the bouldering, with a V0 being the easiest and V13 being the hardest.
Trevor Roosen | Route Setter at Bend Rock Gym
"I'd say one of my favorite spots in town is 'Mile Marker 5' up Skyliners Road. I like that spot because it is always in the shade and perfect for hot summer days. There is a small concentration of problems, but they are all very high quality. There is a wide range of difficulties and most problems have nice, flat landings.
Tick Ranch has some cool boulders in a pretty rad setting next to Tumalo Creek. The boulders are big chunks that have fallen off of the big cliff band above. The cliff above is about thirty-feet- to forty-feet-tall and has some rad four- and five-bolt-long sport routes. It sits in the sun for most of the day, so it can be very warm in the summer.
The Depot is a cliff line right on the Deschutes in town. It gets shade almost all day and really cool air because of the close proximity to the river. Most of the boulders here are really tall, like fifteen feet. Fun fact, the Depot has one of Oregon's hardest problems, a V11 called 'The Goblin.'"
Mile Marker 5: Dirt parking lot on the left side of Skyliners Road at the 5 mile marker, 5-minute approach
Tick Ranch: Off Skyliners Road along Tumalo Creek, open seasonally from March 1 to December 1, up to 15-minute approach
The Depot: Off the Deschutes River Trail on river right, 15- to 25-minute approach from Farewell Bend Park
Mike Rougeux | Climbing Program Director at Bend Endurance Academy
"Mount Bachelor Village boulders are really good for newer climbers because there's a super long traverse. There's some stuff that's a little bit lower, so you don't have to feel like you're committing to hard moves up high. It's right on the river, so you can't really beat the scenery.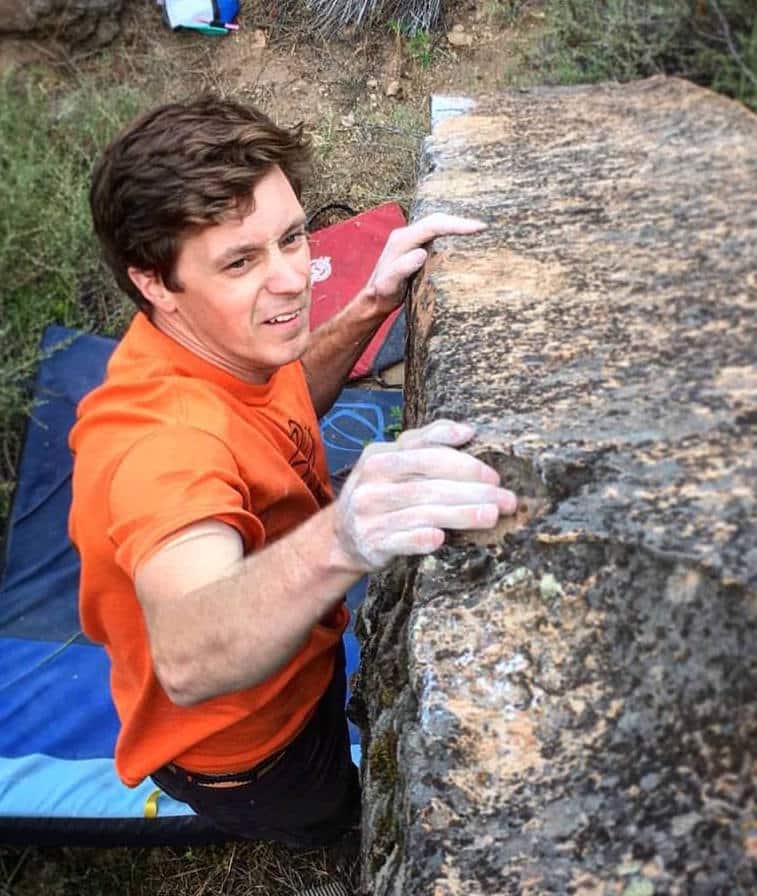 The Widgi Boulders are great. There's a lot of hard stuff there, but there are some easier climbs there that are getting more traffic now because of the Central Oregon Bouldering book. People used to go out there and be like 'There are only these climbs with chalk on them and they are hard' because that's what all the people were climbing. Now there are people who are newer to climbing and they are going out there and revisiting some of the older V1s and V0s. There's great boulders out there with decent landings."
Mount Bachelor Village Boulders: Off the Deschutes River Trail on river left, 15- to 25-minute approach from Farewell Bend Park
The Widgi Boulders: Turn at the dirt road across the Cascades Lakes Scenic Byway from Widgi Creek Golf Course, park at end of road next to boulders
Claire Christensen | Boulderer in Central Oregon
"I first started climbing last summer out at Meadow Camp on ropes but quickly bought a crash pad so I could go out solo. I was immediately hooked on bouldering at Meadow Camp because of how beautiful and serene it is. It's so rad to be able to listen to the river while I'm climbing but also being far enough off trail that it feels like you have the whole forest to yourself.
The problems start at the parking lot and stretch all the way down the cliff line for a couple miles. The rock is volcanic, so it can be a little hard on the fingers sometimes, but offers cool finger pockets, crimps and cracks. There are lots of problems that are short and safe and also a lot of high ballers for those who are a little braver."
Meadow Camp: Park at Meadow Camp Day Use Area, $5 Day Pass or NW Forest Pass required, 2- to 20-minute approach depending on what boulders you choose.
---