So you wanna rock climb? Easy. First, you identify a problem, send it, and boom—problem solved! Uh, what!? Ok, let's back up… For the uninitiated, climbing can be a pretty intimidating sport. It's filled with specific terminology and slang, specialized gear, multiple disciplines, and let's be frank—in a town like Bend, Oregon, a mere stone's throw from Smith Rock State Park—it's also filled with a lot of bad ass climbers. Yup, intimidating indeed.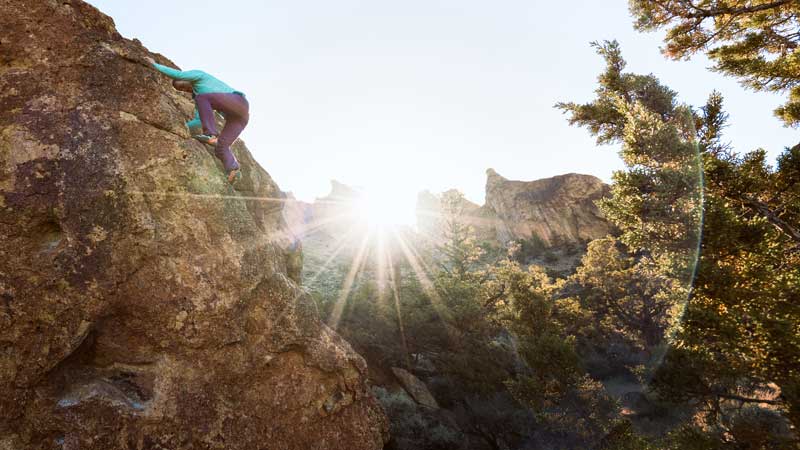 However, once you make that leap (or Dyno: a leaping move in which the climber lunges to the next hold, momentarily leaving the rock), climbing can be a truly rewarding sport for both the body and the mind.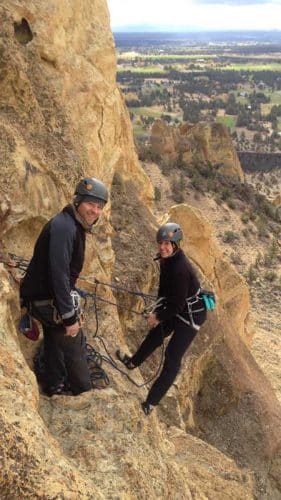 A Zen Workout with Friends
Climbing is an incredible workout—both physical and mental. There's strategy involved in determining the best route, figuring out the right handholds, manipulating your body and keeping your mind sharp while exerting energy up a rock wall. You develop strength in the core, legs and arms, dexterity, and muscles in places you never knew you had muscles (finger muscles, people!)
It's a sport that's best done with friends, and in a town like Bend, a great way to make new ones. Chris Wright, longtime Bend resident and accomplished climber and certified guide, said the climbing community here is warm and welcoming. "Central Oregon is filled with a lot of highly talented climbers yet it's a very supportive environment," he said. "People just want to help people, and it's never a contest. Whether it's a 5.5 [beginner route] or a 5.14 [expert], people are supportive, inclusive and encouraging. It really bucks the trend of how climbing can be sometimes."
Sounds Great, Now Where do I Begin?
You've got the motivation, the gusto and are determined to make a go of climbing. So where to begin? The indoors is a great spot to start. Learning at a climbing gym immediately eliminates the weather factor and provides a safe environment in which to learn. In Central Oregon, the Bend Rock Gym (BRG as the locals call it) offers programs and classes for both youth and adults, and you're guaranteed to have a knowledgeable climber or friendly staff member nearby to answer any questions and help get you started.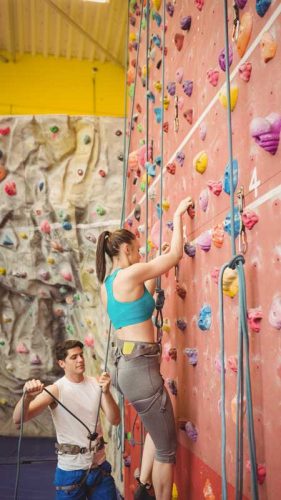 "Our goal is to support the Central Oregon climbing community, from beginners to elite," said Rich Breuner, Director of Operations at the Bend Rock Gym. "We do everything in our power to ensure that people leave with the best possible experience and go away loving the sport as much as all of us that work here."
Depending on the individual, Breuner said there are many ways into climbing. Two of the most popular are bouldering (a style of climbing closer to the ground without the use of rope) and top roping using auto-belay systems (which allow you to climb vertical walls securely without a partner). "Bouldering lets you feel the more dynamic movements and has more athletic moves while top roping and auto-belays let you feel more sequential moves and get you higher off the ground. We typically start people on auto-belays as it's a great way to get to know the movements of climbing in a comprehensive way."
At press time, BRG was closed per COVID-19 precautions. See the website for details before you visit.
Into the Great Outdoors
You're feeling comfortable at the gym, the staff knows you by name, you have the lingo down, and you've even sent that boulder problem you've been working on for weeks. You think you're ready to venture outside. But where? And more importantly, how?
First things first, grab a buddy. Or better yet, two. Climbing can be a very safe sport, but unless you're Alex Honnold of free-solo-climbing fame, it's not one that can easily—or safely—be done solo.
With a friend nearby to spot you, and a crashpad below in case of a fall, try your hand again at bouldering—this time on real rocks. Central Oregon Bouldering, a 2017 guidebook by Jason Chinchen, is a great resource to bouldering in the area and includes all the hot spots right outside of town that locals have been hitting for years. Bend is fortunate to have a number of options within a few minutes' drive, including one beginner friendly spot just off the Deschutes River near the Meadow Camp trailhead.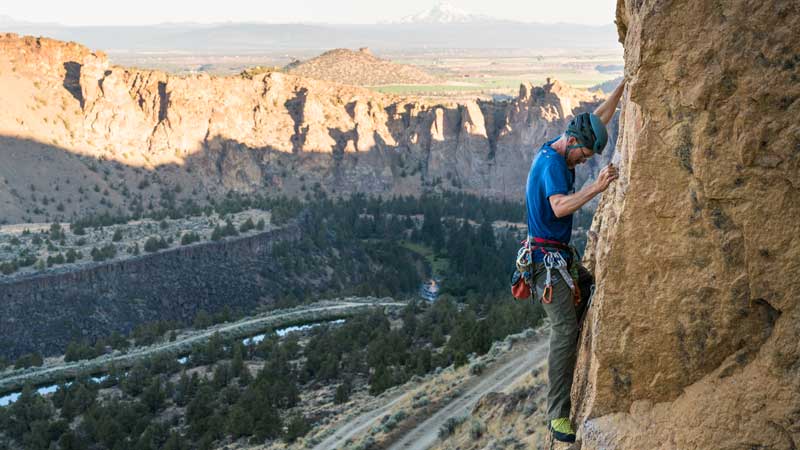 The Holy Grail:
Smith Rock
State Park
If you're up for a bit more vertical, head to the birthplace of US Sport Climbing, Smith Rock State Park, located a quick five-minute drive from Terrebonne. With many routes developed in the 1980s by climbing legend and Bend resident Alan Watts, Smith Rock has something for everyone.
"Smith remains a mecca for climbers the world over," said Wright, who's been guiding at the park for years. "It has something for everyone and often all within a stone's throw of each other. You can go out with someone who can barely belay and someone who's trying to crush and have two great routes for both, all within a thirty second walk."
According to Watts' 2010 guidebook, Rock Climbing Smith Rock State Park, there are over 1,800 routes at the park and surrounding areas—many set by Watts himself. With so many routes, however, it's best to start at Smith with knowledgeable guiding services. Smith Rock Climbing School, Chockstone Climbing Guides and Now! Climbing Guides are among the most well-known, and She Moves Mountains is a great option for women looking for female guides and mentors. (Oregon State parks were closed at press time per COVID-19 precautions; check online for current access information.)
Lizzy VanPatten, owner and founder of She Moves Mountains, said guiding services help climbers navigate to the best places for their abilities. "It's tough to find the best routes if you're unfamiliar with an area, and especially if you're new to the sport," she said. "Guiding companies not only find the appropriate routes for your abilities, but also provide details like where the shade will be during a hot summer day, or the sun on a cold winter day."
Additionally, VanPatten commented that guiding services help meet climbers where they're at with their skill level. "Our goal is to cultivate an experience that leaves the client feeling empowered," she said. "No matter gender, body type or experience, we believe that all people belong in climbing."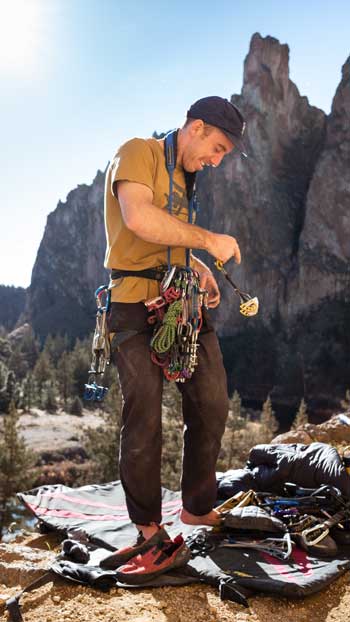 Gear Up
Wow, gear overload! Yes, climbing has a lot of gear, and yes, it can be expensive, but fear not, you can start small. In fact, it's recommended. Chris Wright recommends starting with rentals at the gym until you're both knowledge about the gear, and comfortable using it. "Start small with climbing shoes and a chalkbag," he said. "You can always rely on quality gear through guides, and then start to accumulate your own over time as you get more into the sport."
The Essentials
CLIMBING SHOES for a beginner, climbing shoes can feel a little strange (and tight—yikes!) so it's a good idea to rent them to start, try a few different ones to get a feel for them, and then consider purchasing at a local retail shop like Mountain Supply or REI once you're comfortable and confident in what you like.
CHALK & CHALKBAG
GUIDEBOOKS
Level up
HELMET a must once you start venturing outside
HARNESS a great item to rent before purchasing your own
CRASHPAD for bouldering
ROPE, QUICKDRAWS and a BELAY DEVICE for longer routes
Breaking Down the Discliplines
AID CLIMBING using gear to ascend a section of rock; often used to bypass difficult sections of a route that cannot be free climbed.
BOULDERING a form of climbing typically close to the ground and without the use of a rope; minimal in nature.
FREE CLIMBING using your hands and feet to ascend natural features on a rock.
FREE SOLOING a form of free climbing without using protection. In short, mega consequences if you fall so best not be a hero (or statistic).
LEAD CLIMBING a more advanced style of climbing that requires the climber to protect themselves on the way up with a rope secured from below.
SPORT CLIMBING rock climbing using pre-placed protection such as bolts along the route, usually involving difficult or dynamic moves that allow you to push your free climbing skills.
TRADITIONAL CLIMBING rock climbing where removable protection is placed by the lead climber and removed by the second (or last) climber. Also called "trad" climbing.
TOP-ROPING a low-consequence form of climbing where the climber is secured using a rope attached to the top of the pitch, ensuring falls (if they happen) are short distances.
Making the Grades
Climbing routes are graded on a system ranging from 5.0 to 5.15c, easiest to hardest. Typically, beginner routes range from 5.0 to 5.9, while intermediate routes range from 5.10a to 5.11d, advanced 5.12a to 5.13d, and pro 5.14a to 5.15c. Central Oregon offers opportunities for all skill levels from beginner to a 5.14d at Smith Rock State Park.
---