New reads for spring suggested by COCC writing instructor Jennifer Forbess.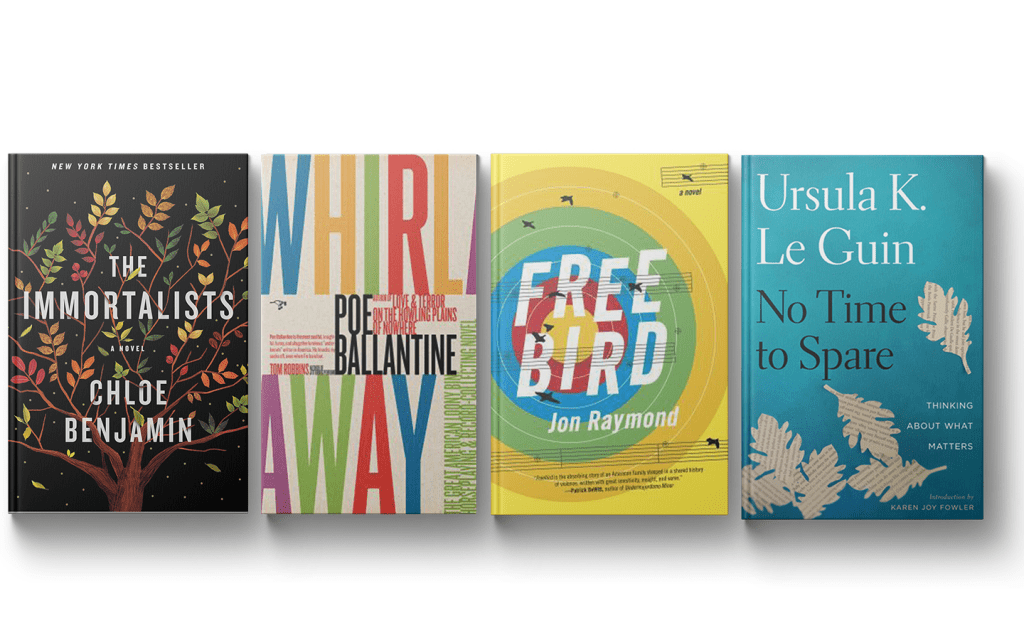 Freebird
by Jon Raymond
In his new novel Freebird, Portland-based author Jon Raymond explores the destructive influences society can have on an ordinary family. Sam, the grandfather of the Singer family, survived the Holocaust before seeking a new life in California. His son, Ben, a former Navy SEAL, deals with the repercussions of his violent military career. Sam's daughter, Anne, trying to make a life for herself and her son, Aaron, struggles to maintain her morality in a cutthroat capitalistic environment. And Aaron, on the cusp of adulthood, seeks to find his place within a society that preys on the weak. This book is not wholly optimistic about our ability to overcome our modern social environment, but the members of the Singer family who make it through do come out stronger in the end
The Immortalists
by Chloe Benjamin
The Immortalists is infused with death, but not in the way of an action movie or a murder mystery. Four siblings visit a fortune teller, who predicts the dates of their deaths. The book traces the lives of the siblings as they approach and reach their prophesied date. The big question that runs through the novel is whether the dates are set in stone—independent of circumstances—or whether the dates become self-fulfilling prophesies. Do things happen to us, or do things happen because that's what we think will happen? Is life about fate or self-determination? The book does not answer the question, and each reader might have a different take on the conclusion of this well-written and engrossing read.
Whirlaway
by Poe Ballantine
People can often seem on the surface to be relatively normal, but you just know there is a lot going on underneath, including, most likely, a little bit of crazy! At the beginning of the novel Whirlaway, protagonist Eddie Plum is an inmate of Napa State Psychiatric Hospital. Why? I'm not exactly sure. After he escapes with the help of his psychiatrist, he meets up with his friend Shelly, who sells old records to gullible Europeans for a living. After that, well, there is just no summarization that would do this story justice. Part literary novel, part mystery, part dream sequence, this is Eddie's personal journey through the psychiatric hospitals, racetracks, garage sales and Tijuana landfills of life.
No Time to Spare
by Ursula K. Le Guin
I was in my office at COCC in the middle of reading No Time to Spare when I learned that LeGuin had died. She is so alive in the book, and the news was shocking. No Time to Spare is a collection of some of LeGuin's blog posts from 2010 to early 2016. She covers a wide range of her interests in varying essays. Her rants are especially entertaining. "Would You Please Fucking Stop," alone, is worth the price of the book. Other favorites include, "TGAN [The Great American Novel] Again," and "A Modest Proposal: Vegempathy," a satirical look at our cultural values around food. I grew up with LeGuin's books, and it's sad to see her go. But if you are what you read, then she's still with me, and that's comforting.