photo Danita Delimont/Alamy-Stock Photo
Raise your hand if you're ready to get outside and explore! Spring can be tricky—what trails are free and clear of snow? Try these four shoulder season hikes located in the high desert or Cascade foothills while waiting for hot summer days to open up the high-country trails.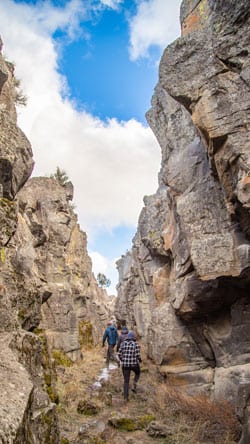 105 miles southeast of Bend off County Highway 5-1
Of the many interesting geologic features in the Fort Rock/Christmas Valley area, one provides a "cool" spring experience. Crack-in-the-Ground, located about seven miles north of Christmas Valley, is a narrow, two-mile-long tension fracture in a portion of the Four Craters Flow. From the trailhead, an old two-track leads to the head of this narrow, 70-foot-deep fissure. The trail descends into the fracture's shady recess which may be twenty degrees cooler than up on the rim. 
In spots, hikers need to scramble over and around some of the boulders that have fallen into the fracture. These obstacles may need a rear spotter or occasional "butt boost," so know your traveling companions well! 
A few segments terminate at dead ends but offer glimpses into subterranean chambers where only lizards and small rodents tread. 
The fun exploration of this trail is enhanced by fluting on the canyon walls and the occasional "chockstone" boulder wedged high above making hikers pause before quickly passing beneath. At the fracture's end, hikers may return to the parking lot along the rim of this high desert adventure.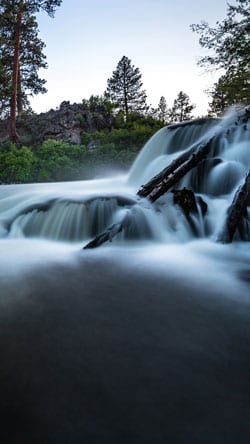 7.5 miles southwest of Bend off Cascades Lakes Highway
The Deschutes River, known as "Towarnehiooks" by Native Americans or the "Rivièr des Chutes" by French fur trappers, courses more than 250-miles from its headwaters at Little Lava Lake to the Columbia River. 
Historically, the Deschutes flowed around Pilot Butte on its way to the Columbia. About 7,000 years ago, Lava Butte erupted and blocked the river's channel with a basaltic dam. Ancient Lake Benham backed up to the Sunriver area before the river wore through the dam and created Benham Falls.
Hikers, runners and cyclists enjoy an 8.5-mile stretch of the Upper Deschutes River Trail between Meadow Camp and Benham Falls. Several trailheads, including Lava Island, Aspen and Dillion Falls offer access points to the trail for out-and-back trips. One popular segment connects Dillion Falls to Benham Falls (3.4 miles), slipping past the new habitat enhancement project at Ryan's Ranch Meadow. 
The Aspen area, which doubles as a whitewater rafting boat launch, connects upstream to Dillion Falls (1.4 miles) or downstream to Meadow Camp (3.7 miles). Along this stretch, observant hikers may spy a river otter or osprey hunting for fish.
120 miles northeast of Bend along Highway 19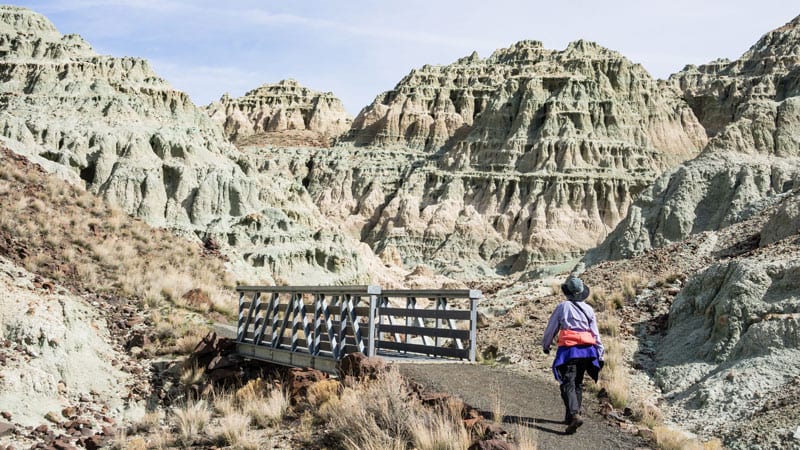 The aquamarine bluffs of the Blue Basin area, comprised of volcanic ash and lake sediments dated twenty-five to thirty million years ago, have yielded a treasure chest of plant and animal fossils such as oaks, hackberries, three-toed horses, mouse-deer, sheep-like oreodonts and predatory bear-dogs, as well as turtles from which this geologic layer, the Turtle Cove member, derives its name. 
Exploring this sculptured basin is via two trails. The one-mile round trip Island in Time trail explores the amphitheater-like interior of the formation, providing close-up views of embedded fossils. Several interpretive panels tell the geologic story of fossil preservation and discovery.  
The upper, 3.25-mile round trip Blue Basin Trail climbs up a series of switchbacks to outstanding views of the John Day Valley. What goes up 600 feet, must come down on the
other side. Note: hiking the loop clockwise is easier on the knees. 
Other Sheep Rock Unit trails explore the Foree and Cant Ranch areas. Not to be missed is the Thomas Condon Paleontology Center (check website for hours), which houses incredible fossil displays and colorful murals which portray prehistoric life of this region.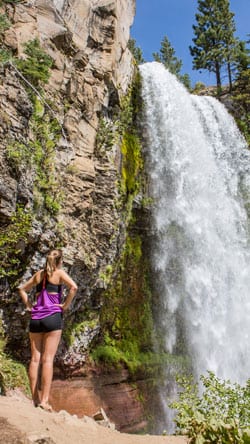 14 miles west of Bend off Skyliners Road
During the spring snowmelt, Tumalo Creek thunders over an eight-nine-foot-high cascade, forming the spectacular Tumalo Falls. Leaving the trailhead, it's a short climb up to the overlook to feel the misty spray of this glacier-fed stream. The viewpoint also provides a glimpse at nature's recovery from the 1979 Bridge Creek Fire which devasted this valley. 
From the falls, hikers continue up the North Fork trail to Happy Valley (four miles), and pass by numerous waterfalls including Double and Upper Tumalo Falls. The gradual uphill trek crosses over the Middle Fork of Tumalo Creek on a log bridge with a hand rail. The trail continues upwards weaving between the Middle and North Forks before intersecting with the Swampy Lakes Trail which heads south and loops back to the parking lot. This loop crosses over the Bend Watershed into Bridge Creek (no dogs or bikes) and is a better summer hike when the water level drops and the one log crossing (no handrail) isn't so intimidating. 
Otherwise, hikers continuing up on the out-and-back route to Happy Valley reach an aptly named area: meadows bursting with spring wildflowers that hikers are "happy" to reach.