Health on Wheels:  Mobile Community Clinic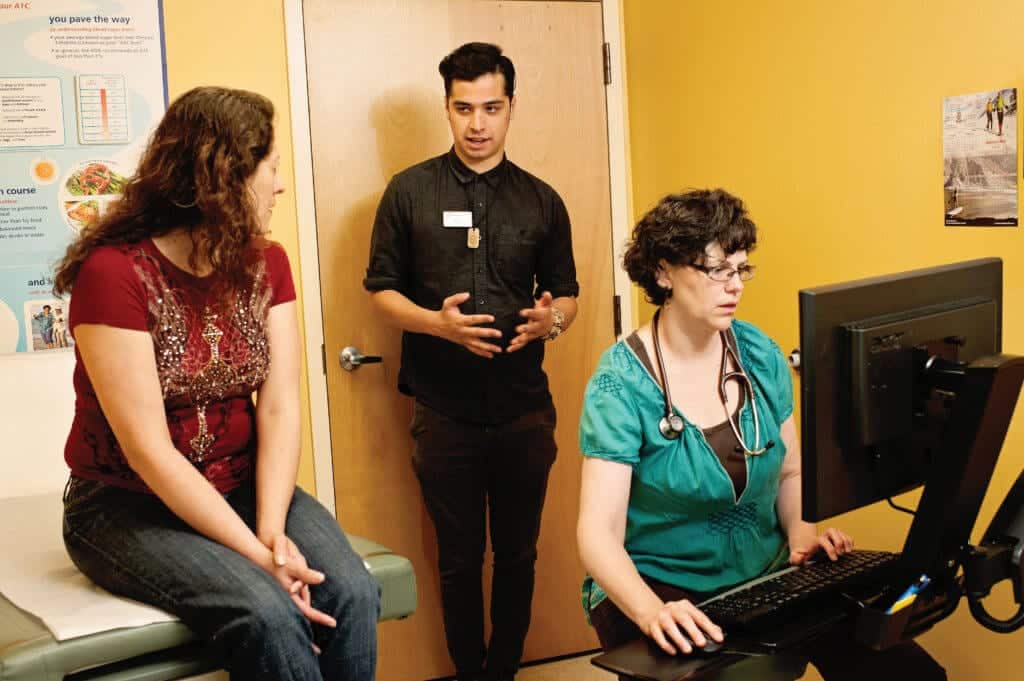 ---
"The focus and pressure for innovation and change has landed with primary care providers,
with a significant focus on the vulnerable populations."
---
Addressing everything from insurance  issues to language barriers, Central Oregon's nonprofit Mosaic Medical, has striven to keep the stress out of getting sick for more than a decade.
It all began in 2002, when a group of community members in Prineville started working toward creating better access to health care for Crook County residents. Their efforts gave rise that year to the Ochoco Community Clinic in Prineville, which began serving anyone in need. During its first year, 689 patients came through the door. 
The Ochoco Community Clinic became a model for other clinics opening throughout Central Oregon, and by 2012 those nonprofit clinics were united under the name Mosaic Medical. Today, Mosaic encompasses a dozen clinics including its Mobile Community Clinic (below). Serving about 20,000 people last year, it has grown from having about 100 employees in 2012 to 250 in 2016. 
"The focus and pressure for innovation and change has landed with primary care providers, with a significant focus on the vulnerable populations," said Mosaic CEO Megan Haase, who has been with Mosaic since its inception.
Mosaic has also partnered with school districts and created walk-in clinics at Bend High School, Ensworth Elementary School in Bend, Lynch Elementary School in Redmond and Crooked River Elementary School in Prineville. Deschutes County Mental Health began partnering with Mosaic Medical in 2011 to provide integrated care, and created Harriman Health Care at the Deschutes County Downtown Clinic in 2014.
–Andes Hruby
---
Health on Wheels:  Mobile Community Clinic
Mosaic Medical's Mobile Community Clinic has offered primary care, urgent care, health screenings, immunizations, mental health referrals and dental referrals since 2012. The mobile clinic stops weekly in Bend, Redmond, Prineville and Culver. The permanent staff onboard builds relationships and long-term trust with patients who would not otherwise have access to health care. The mobile clinic accepts health insurance and also offers reduced rates and sliding scales.