A Bend artisan quietly revives an ancient artform with stained glass installations.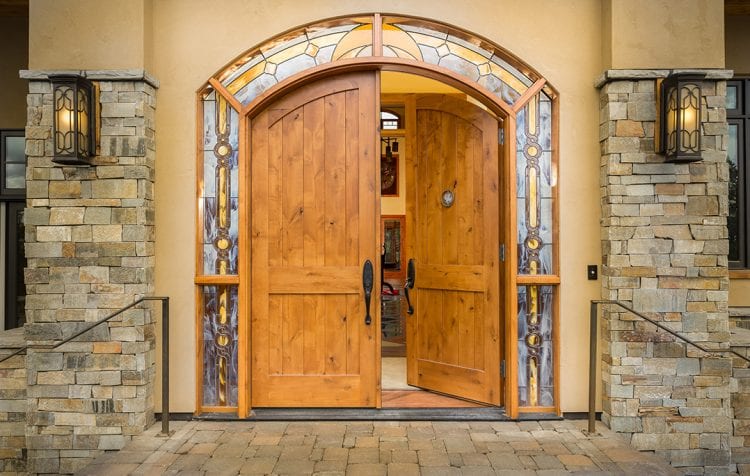 In Jerry Johnson's Bend home, sunlight, wood and glass commingle in timeless artistry. Past a solarium, light streams through a large stained-glass medallion window situated above French doors that are also fitted with stained and beveled glass. The colors riff on the hues of surrounding woodwork.
The decision to use stained glass, a product that relies on light, as a finishing touch was deliberate. "We wanted the artwork to reflect that our house is a passive solar-powered house," Johnson said. Johnson, 80, has commissioned several stained glass pieces over the years, but it's the work of a local stained glass artisan, Bradley Logan, that takes center stage in Johnson's home. Logan, 60 and a Bend resident, founded High Desert Stained Glass in early 2017.
The two connected after Johnson, who has a lifelong fondness for stained glass, first spied Logan's work at a local home show. Since then, Johnson has also commissioned Logan to create multiple pieces, including two vineyard-themed stained glass panels. The works are outfitted with adjustable LED light boxes and situated along the cylindrical staircase that leads to Johnson's wine cellar.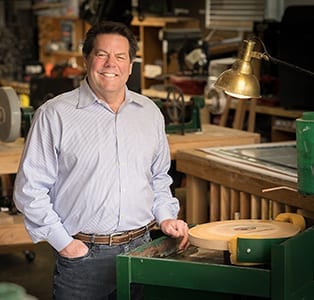 The pieces are the culmination of an almost lifelong interest in glass for Logan, who got his start building stained glass in the 1980s. It took several decades and a career detour to find his way back to stained glass. But Logan, who moved to Bend in 2012 and works days as the operations manager at Bend Broadband, has found a way to transform his hobby into a thriving small business that connects customers like Johnson with an artform that traces its roots back to ancient Egypt and Rome. It was there that glassmakers discovered that adding metals could produce an array of colors in finished glass.
Modern stained glass came into popular use during the Middle Ages when the Catholic Church was one of Europe's major art patrons. The subsequent proliferation of Christianity across Europe filled newly-constructed churches with stained glass. Stained glass wasn't limited to Christian nations. Arabic artisans created stained glass, too, by adding elements like manganese, nickel, cobalt and iron oxide to molten glass to achieve desired colors. Various rolling techniques afford distinct textures. Centuries later the process is largely unchanged. Artisans like Logan cut glass pieces and fit them into flexible lead cames, that frame each piece. Then they solder the corners to secure the pieces.
While churches remain the primary showcase for stained glass, Logan had a more secular introduction. After attending Dixie State University in St. George, Utah (he later received a business degree from a different institution), Logan took a job with a small glass company that specialized in commercial storefront windows. Logan said he found the owner tinkering with a small stained glass window one evening. Logan was already cutting and working with glass, but he hadn't been exposed to glass work as an artform. His former boss, whom Logan describes as a master, took him under his wing. "He taught me the right way," Logan said.
Logan moved to Southern California in the 1980s where he worked at a stained glass studio for fifteen years. A subsequent career shift to telecommunications relegated Logan's interest to hobby status, but it also provided him the means to eventually found High Desert Stained Glass. Logan intends to open a storefront location and hire an apprentice in the coming year. He'd also like to offer classes to aspiring stained glass artisans. "Stained glass is what I would like to do for the remaining part of my career," Logan said. "I want to get back to what's comfortable and what I'm passionate about. That's key—if you can make a living doing something you love to do, that's all that matters."