Bend might not yet be a real hockey town, but don't tell that to the growing ranks of D-league players.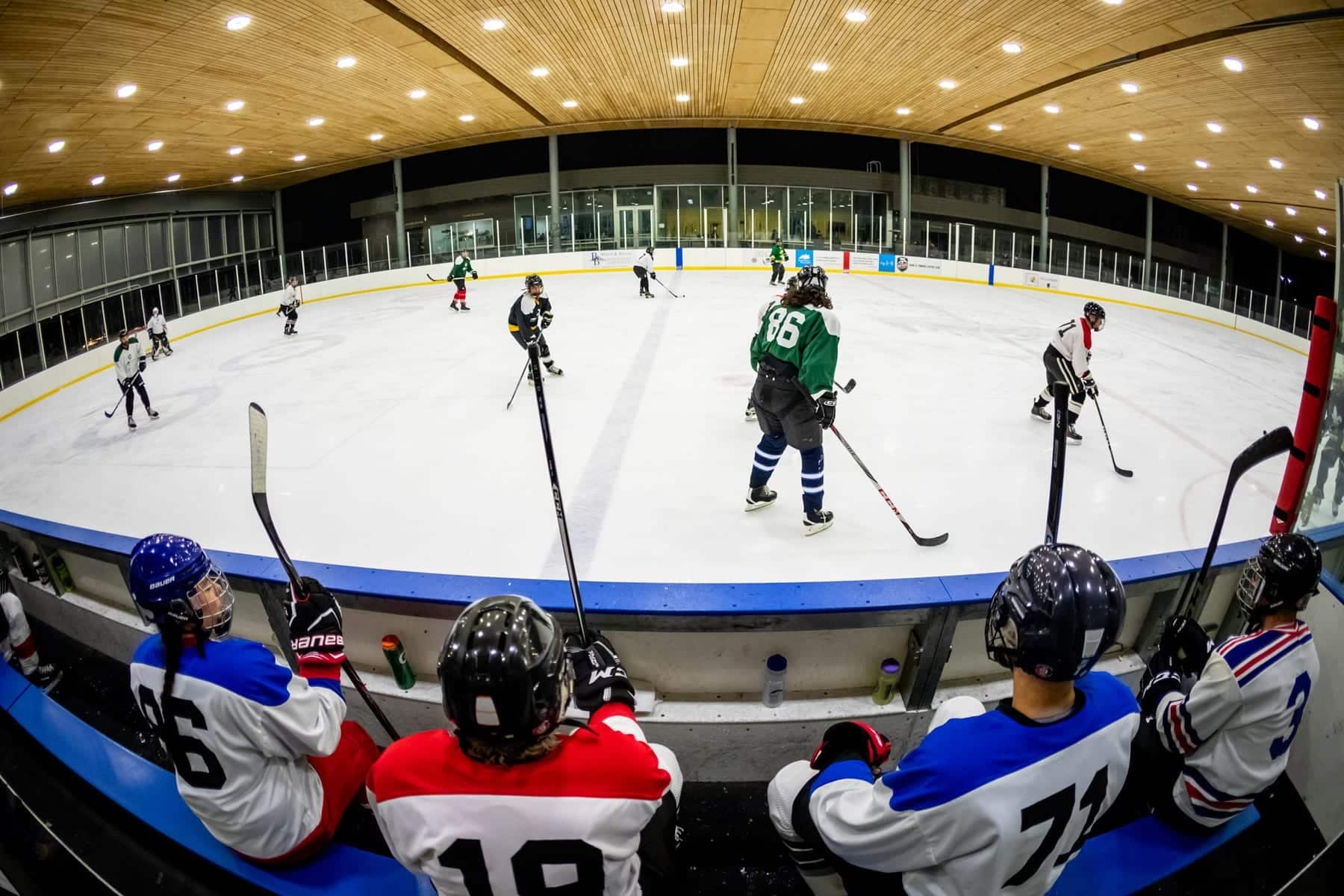 As the scoreboard clock hits high noon on a warm Tuesday in November, several hockey players weave between each other and flip wrist shots toward an empty net at the Pavilion in Bend.
A few focus on agility as they skate between orange cones near the bench. And some pair up to practice passing, pushing the puck back and forth and concentrating on hitting their partner's stick on the tape. This dedicated group works on their fundamentals while most people their age work on their lunch.
Could the extra ice time help one of them become the next great American hockey player?
Not likely.
Well, for starters, most of this ragged bunch is probably in their early to mid-40s and have to be back at work after an hour of breathing heavily and sweating heavily under all their gear.
A few are retired and the mid-day hockey is just helping them pass the time until there's enough snow to ski on. And some, like me, maybe just tried ice skating for the first time a week ago and are still trying to figure it out.
While Bend is not yet a hockey town, there is a small group of adult hockey players here who grew up with the sport. Excellent skaters and pinpoint snipers from the wing who maybe, just maybe, could have been something more than amateurs. This story isn't about them.
Instead, this is about the marginally-skilled, constantly sore who have more enthusiasm than experience. They are grown-up hockey players new to the sport and eager to strap on the skates and pads for competition, camaraderie and cold beers. Many of them find themselves in the Deschutes League, aka the Development League, aka the "D" league.
The men and women of the D-League are a minority among Bend's hockey players, but their ranks are growing as fast as any other segment of the hockey population. Last year the D-League had two teams. This year it has six.
Ryan Buccola, a Bend real estate agent and second-year D-Leaguer is one of the league's biggest ambassadors. A place he never expected to be. Two years ago, Buccola's on-ice experience consisted of family outings to the rinks at Sunriver and Seventh Mountain Resort. But once his 11-year-old son proclaimed that hockey would be his sport and that he planned to join the local traveling team, the Bend Rapids, dad wasn't far behind.
"I'm 42 and played soccer all my life and love the competition," he said. "I wanted to learn something new, so I just signed up."
This year, Buccola is one of the team captains for the Flames, one of the six, sixteen-player D-League teams that play on Monday nights. In all, the adult hockey program has twenty-two teams playing in the A-D divisions. That's up from sixteen teams in 2015 when the Pavilion first opened. The growth here has mirrored what's happening across the country.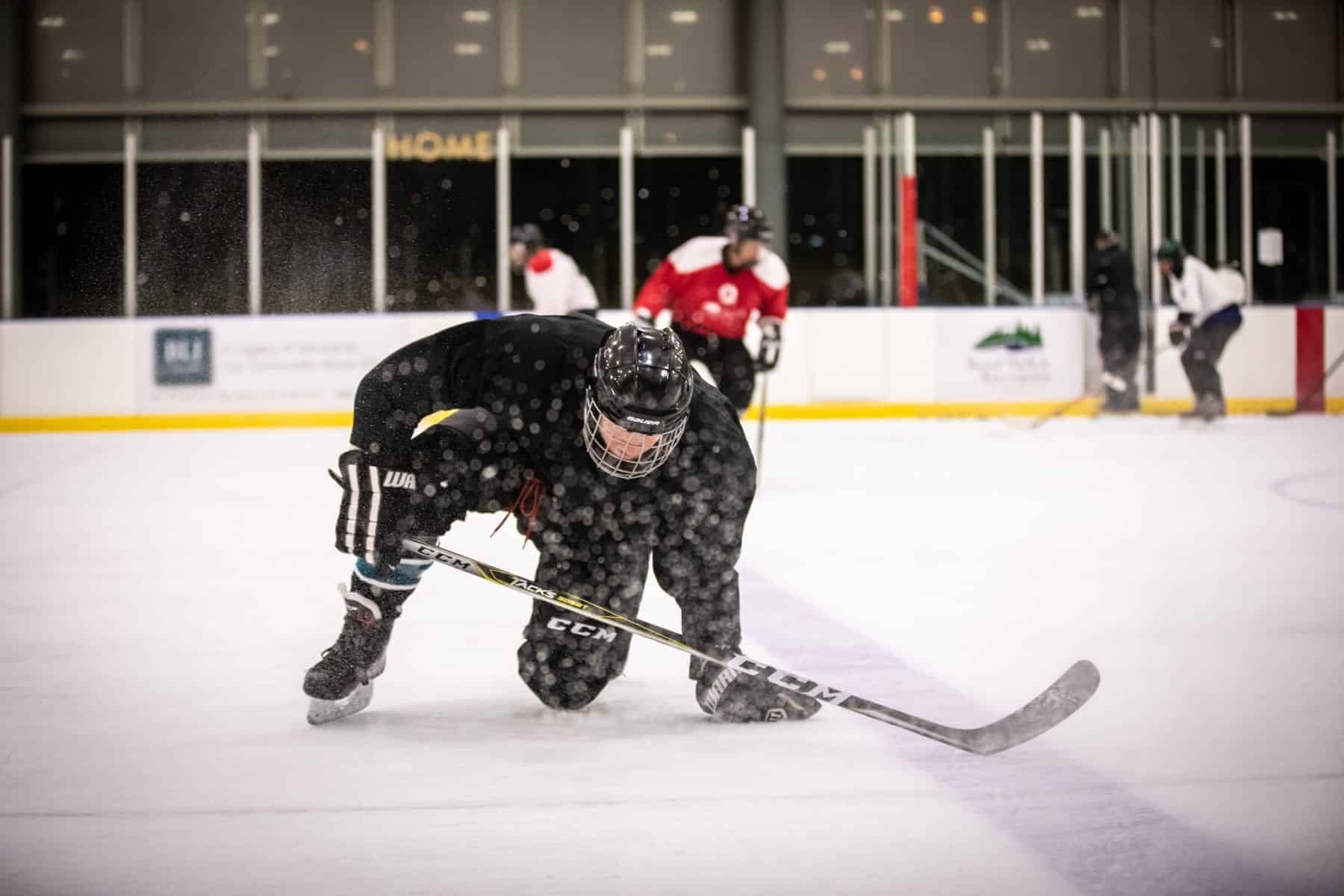 Nationally, adult hockey participation has soared to nearly 180,000 players—a 53 percent jump over the last decade according to USA Hockey. "We were hopeful to get eight teams total that first year," said Pavilion Manager Kevin Collier. "We knew there was interest in the ice rink, but it exceeded our expectations from the get-go."
Bend isn't yet a hockey town, but there's a movement to make it so. And it's not just adult hockey fueling the interest in ice sports. A year after the rink opened, nearly 150 youth hockey players fielded fourteen teams. This year the program has nearly 250 players and twenty teams. Show up at 5:30 a.m. and you'll find one of the Bend Rapids club teams, the cream of the local crop of young hockey talent getting in some practice before school. (It's one of the few times that the team can book ice due to the popularity of the rink and the challenge of scheduling around school start and release times.)
Show up mid-morning and you'll be able to see some talented figure skaters dancing and spinning in the middle of the rink.
Swing by after 7:30 p.m. on Monday night and it's a different story. Monday is D-League night in Bend. Three back-to-back games of moderately paced and modestly skilled hockey. The D-League is the Bad News Bears of adult hockey. A league full of Washington Generals and no Harlem Globetrotters. A senior version of the Mighty Ducks before Gordon Bombay showed up. More spunk than skill. In fact, for several players in the league, the first game of the current season, which began in November, was the first time they'd ever played organized hockey.
The inexperience is evident, sometimes with comical implications.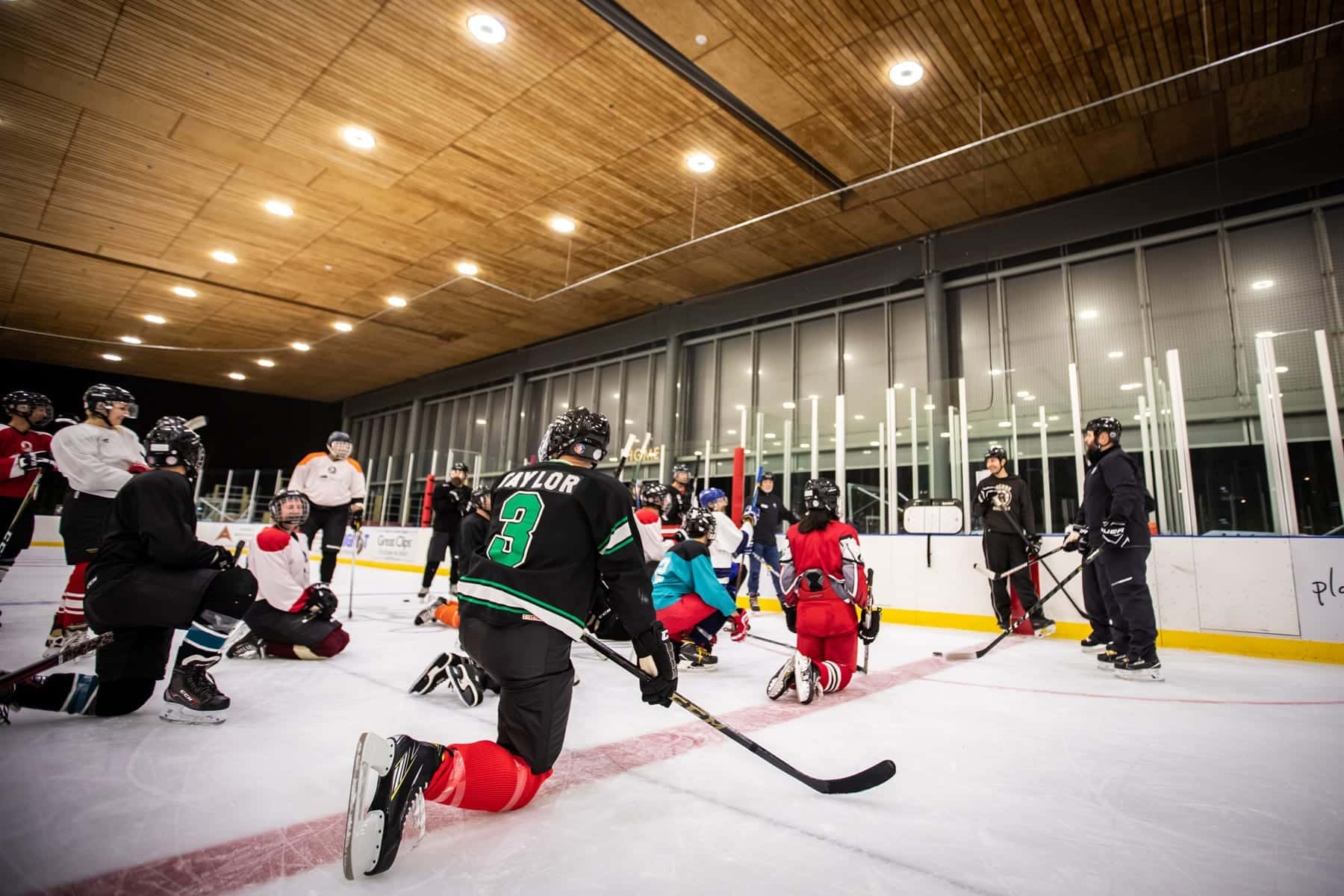 At one point during the league's first game of the year, there were three players down on the ice at the same time while two others appeared to be hugging (but more likely trying to keep each other from falling) in front of the goal.
But just a couple of minutes later, one of the more skilled players broke free with the puck and made an actual hockey move—a nifty toe-drag to his forehand, putting the puck into the back of the net.
It's true many of the players are new to the sport, but the D-League teams this year also feature several who could probably be playing up in the C-League. That's not necessarily a bad thing. Having some experienced and skilled players on the ice tends to elevate the play in general—the old adage that a rising tide floats all boats apparently applies even when the water is frozen.
It also helps that the league provides coaches—two per team, in fact. And while there aren't any organized practices for the teams, the coaches take a lot of time during the game to impart some wisdom to players on the bench.
Rory Howatt's been volunteer coaching kids and adults since the Pavilion opened. A native of Eastern Canada, the 66-year-old said since many of the adults are new to the sport, they're more willing to listen and learn. But they often get frustrated because their athletic abilities don't always immediately translate to success on the ice.
"We have to encourage them and remind them that hockey is a tough sport," he said. "You're required to have athletic ability, reflexes and speed and you're doing it on a blade of steel that's 3/8th of an inch wide. You have to take your time and you have to practice."
"Practice" happens during lunch hour stick time offerings and the formalized skills and drills sessions that happen late on Friday nights. It's a hockey boot camp of sorts for die-hard beginners willing trade date night, family night or whatever for a few more hours on the ice.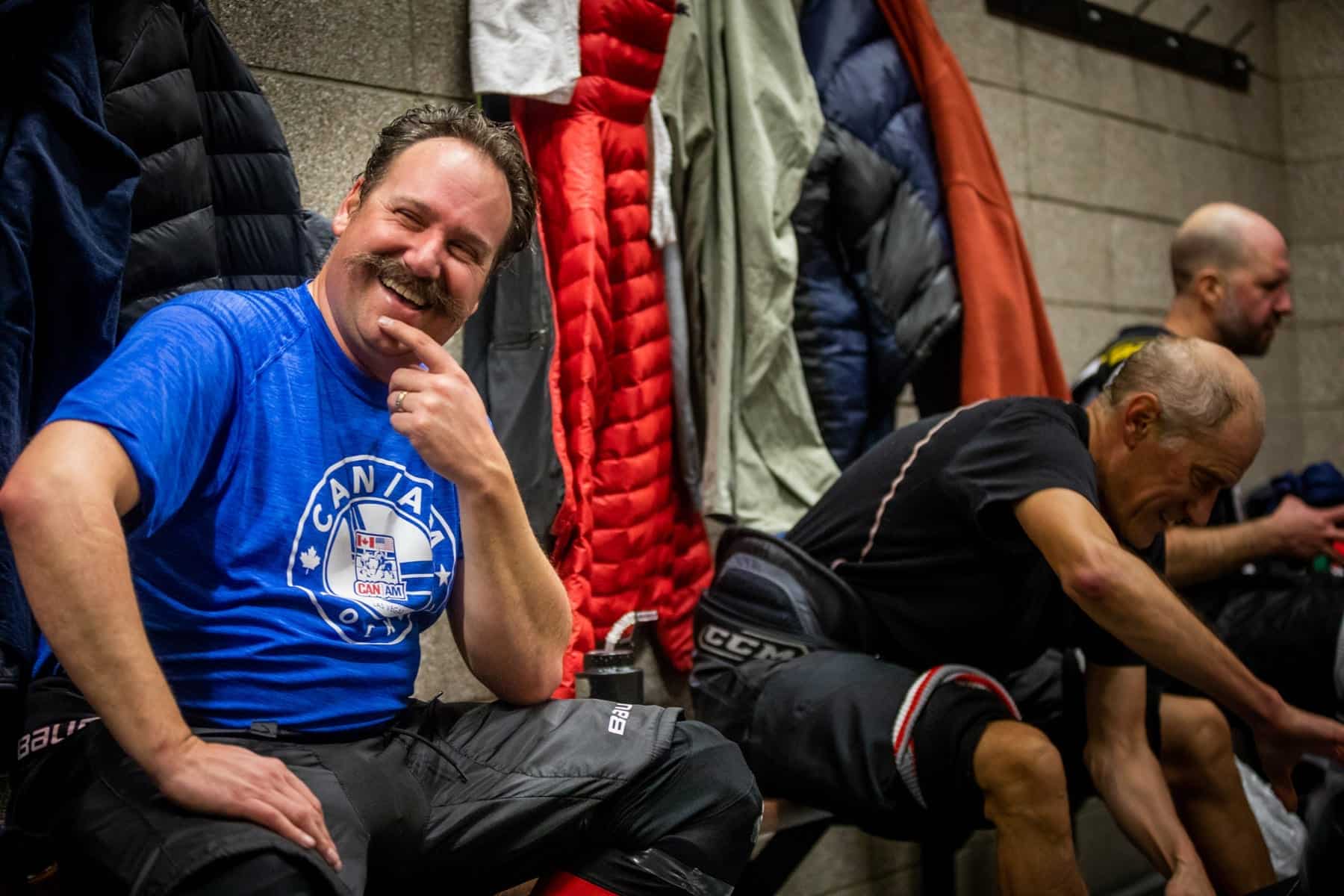 A handful of coaches run the players through skating, shooting, passing and game situation drills, taking time to correct mistakes and shout words of encouragement for a job well done. There's a lot of falling and sprawling and more fumbled passes than completed connections.
It's not just late nights, it's also early mornings for players like Buccola who will return to the rink for their kids' practice before sunrise the next morning. On a recent night D-league goalie Travis White brought his travel camper to a Monday night game so he could overnight near the rink. White lives in Madras and his son is a goaltender for the Bend Rapids 12 and under team. It was easier to camp in Bend than to finish his game and drive back to Madras only to return a few hours later for his son's 5:30 a.m. practice.
These are the kinds of sacrifices that lead even season players to give up the game. So the question is why? Why stay up late when others are ensconced in warm covers? Why struggle? Ask a few in the D-league the question and the answer usually comes down to "why not?"
First-year player Andy Conde's skated a lot as a kid thirty years ago and was confident the skills would return when he hit the ice. His family wasn't so sure."My wife and my kids think I'm crazy and they think I'm definitely going to get hurt," the 54-year-old said. "My kids have seen me skate at [Seventh Mountain Resort] and say, 'Dad, you can't do that'."
That's just the kind of motivation old guys like Conde and Buccola need to give the sport a try. Katie Willis has IPAs to thank for her introduction to hockey.
She showed up at the rink to watch some friends play one night a few years ago. She was greeted by a beer cart in the Pavilion lobby, but it was what was happening on the ice that intrigued her more. After the game they suggested she come out and play in the Pavilion's pick-up games.
"I had had a few beers and said, 'Yeah, sure, I'll be there'," the 37-year-old remembered with a laugh. She showed up. And it didn't take long for her get hooked, thanks to the vibe she felt immediately after taking the ice for the first time.
"If you show up and demonstrate an interest, everyone will support you," she said. "I didn't have a single negative interaction that first time out. Nobody treated me like I didn't belong on the ice."
Last year the D-League had just a handful of women, but this season there are nearly twenty. "The D-league is going to stand for Dames pretty soon," Willis said. "The ice is genderless. You show up and you are supported."
That sense of community is what helps hockey in Bend thrive.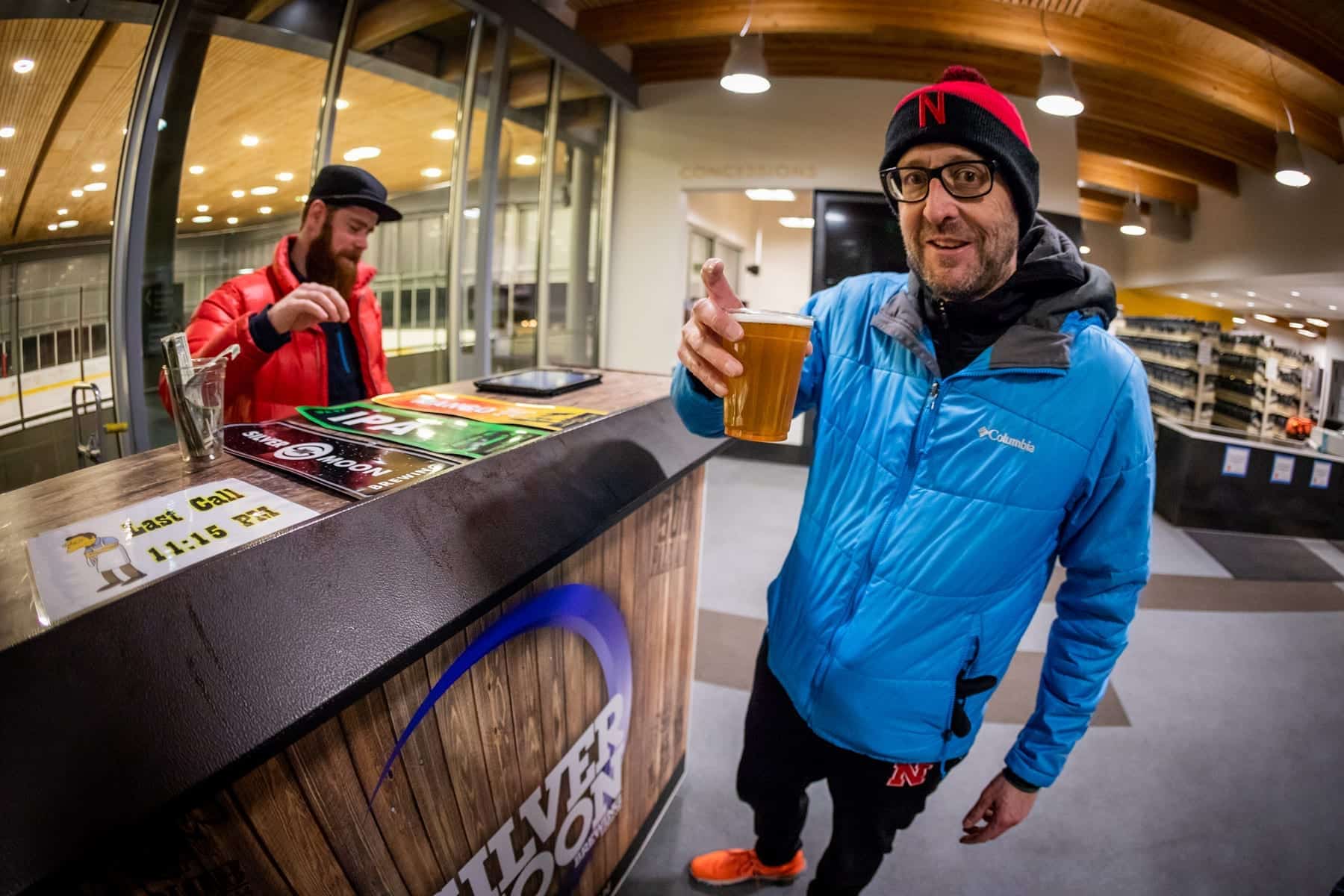 "There's a really great camaraderie when you surround yourself with people who are also learning something new," Buccola said. "We're competitive, but we're also celebrating everyone. Everyone's dripping wet and fired up. We got some really great exercise, everyone gets out of the house. There's just a pretty awesome social aspect to it."
Players from the other leagues can often be found at the D-League games cheering on friends and having a beer. The D-Leaguers usually come to hang out before their game and long after their games have ended. The Silver Moon beer cart inside the Pavilion was still pouring IPAs after 11 p.m. when the last game of the night finished up on a recent Monday night.
"The Bend hockey community is relatively small when compared to other areas in the country," said Rick Marshall, one of the D-League coaches. "We only have one rink so people really get to know one another and it has created an atmosphere of camaraderie that you don't find in places that have larger leagues or multiple rinks."
Marshall retired from the Army in 2017 and watched with interest from Afghanistan as Bend mulled the idea of a hockey rink. The Connecticut native had chosen to retire here and thought his days of playing hockey were over.
Once the Pavilion was built, Marshall was all in, joining the adult league, working with the youth teams and coaching the adults.
During the first period of his first game of the year behind the bench, Marshall wasn't shy about providing some good-natured ribbing.
"This is lazy hockey!" he shouted toward the ice. "You play harder during pick-up games."
But as soon as the offending line was back on the bench, he was smiling and offering encouragement.
"I enjoy it because I love the game of hockey and I like being around players who are excited to learn and get better," he said. "The best part of it all is seeing the players get better and being there to high five them when they make a good play."
Buccola might be new to the sport, but like with any athletic endeavor there's a desire to improve.
"I'm terrible," he said. "I started at nothing and I've learned to skate backward, pivot and several different shots. I'm at the stage of my hockey career that every time I go out I get better and that's really fun."
After his first year in the league last year, Buccola and some buddies went to a hockey camp in Las Vegas to hone their skills.
"It's a good thing to move up and get challenged and get beat a little bit," he said. "I hope I end up in the C League so I can continue to improve."
There's also an interesting social experiment component to it all, bringing adults together in an uncomfortable environment and asking them to succeed together as a group.
"We put kids in team sports for a reason, to learn all those skills you want them to develop in a team sport," Willis said. "As an adult are you in any less of a need for that cache of skills? Be uncomfortable, be engaged, show up, deal with a challenge. It's just amazing."