Tackle those ambitious itineraries before summer is gone.
Summer is a time for adventure and exploration. Whether you're staying local or ready to hit the road, there's much to be done before the sun is gone. This year, plan ahead to "go big" with your plans by knocking off as many of our Summer Bucket List items as you can before your lungs, legs and nerve give out.
Bomb a Blue Run
You don't need a chairlift to go downhill skiing. But it sure helps. So why did it take so long to apply the same mechanical model to mountain biking? We're not really sure. But we are glad that someone finally thought to, so dirt fanatics in Bend can be whisked to mid-mountain at Mt. Bachelor where singletrack trails have been scratched into popular ski runs like Leeway and DSQ. This year marks the third season that Mt. Bachelor has welcomed summer guests to bomb down the mountain on two wheels. It also marks the debut of a new experts route, dubbed Redline, that is expected to open in early to mid-July. The "jump trail" was designed by legendary freestyle rider Kyle Jameson, who worked with local trail builders last summer to develop the route that pushes the boundaries of Bachelor's bike park offerings. "It's a pretty unique trail unlike anything else in Oregon that's lift accessed," said Anelise Bergin, Mt. Bachelor's marketing manager. You don't have to be an expert to enjoy what Mt. Bachelor has developed at the bike park. Bergin said the resort has put an emphasis on developing a progression of routes that range from beginner and basic to experts only. The resort has also extended hours and days of operation to make getting up easier than ever. Bike and gear rentals are available on mountain, as well as instruction and guided rides from Mt. Bachelor's partners at Grit Clinic.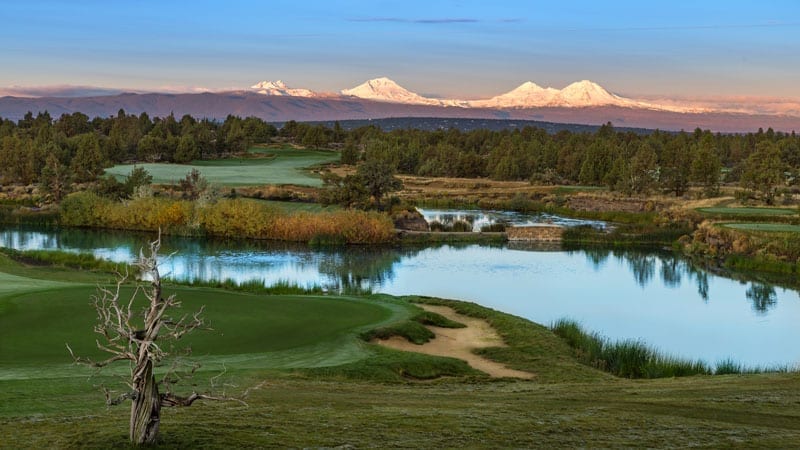 Play the Big Three
To say that Central Oregon is a golf mecca would be an understatement. A person could build an entire extended vacation around golf in Central Oregon without ever playing the same hole twice. While the quantity of golf is remarkable, it's really the quality of golf that sets the region apart. Make the most of this abundance of riches by cherry picking three courses that consistently rank among the very best in the country, Tetherow Golf Resort, Pronghorn Resort and Sunriver's Crosswater. Assemble a small group of friends and barnstorm them all in a single epic weekend.
Bag a Peak
Due to a happy accident of history and geology, Central Oregon boasts world class rock climbing as well as top notch mountaineering opportunities. Contrary to what you might think, you don't have to possess the skill of Alex Honnold or the fortitude of Sir Edmund Hillary to experience both of them. In fact, it can be done in the span of a weekend with a little help. Enter Timberline Mountain Guides, one of the states oldest guiding services for would-be climbers and mountaineers. TMG's expert guides offer an array of trips around the Central Oregon Cascades and Mount Hood. Co-owner Pete Keane recommends that newcomers to the sport sign up for a two-day outing that combines literally learning the ropes with a basic mountaineering expedition on Three Fingered Jack. Clients work with a professional guide on day one at Smith Rock, mastering the basics of multi-pitch climbing with ropes and belay tactics. They bring those skills into the field on day two. An extended approach to the summit of Three Fingered Jack culminates in a roughly three-hundred foot climb. It may sound intimidating, but Keane assures that anyone in reasonably good hiking shape is fit enough to handle both the rock climb and mountaineering aspects of the voyage. "It's pretty fun. People are scared of climbing, but it's more doable than they think," said Keane, who added the biggest challenge is covering the roughly ten miles in and out on the trail on day two. "You'd be surprised what you can do," Keane said. Timberline offers trips on a first-come, first-served basis from July through mid-September.
Essential
Gear
Dan McGarigle, Owner Pine Mountain Sports
Da Kine Hot Lap Waist Pack
At first I thought I would miss having the pack on my back, but now I only ride with my waist pack for most of my rides. It's super sensible for most of my one to three-hour rides. The Hot Laps 5 carries seventy ounces of water, tools, and still has room for food and personal items. I can even compress it down as needed. No pack on my back means I stay cooler, and it helps me bring only what I need for my next ride.
Matt Deacon, Manager The Gear Fix
Gear Aid Repair Tape
Rips and tears are just part of being in the backcountry, but they can also torpedo a trip. Make repair tape a mandatory item in your pack. It's perfect for on-the-spot patching of jackets, tents, backpacks, etc.
Kevin Ganey, Manager Mountain Supply
Goal Zero Crush Light Chroma
A must-have, award-winning item for the campsite, nighttime paddle or your next disco party!  The light is collapsible, solar chargeable and color changing allowing you to cast any light you wish without ever needing access to power. Why get one when you can have multiple.