Photo by Buddy Mays
Tackle those ambitious water activities before summer is gone.
Summer is a time for adventure and exploration. Whether you're staying local or ready to hit the road, there's much to be done before the sun is gone. This year, plan ahead to "go big" with your plans by knocking off as many of our Summer Bucket List items as you can before your lungs, legs and nerve give out.
Whitewater Rafting
The earliest travelers and trappers used rivers as a means of transportation and rapids were an obstacle that had to be navigated as a matter of course. The stakes were high. Hit a rock and risk wrecking your wooden boat and swamping your supplies. Despite the danger, it's hard not to imagine these trail-weary explorers letting out a whoop or two as they rushed down the river into the unknown. Today, the rivers are mapped and the routes well established, but it's no less thrilling. In Bend, several tour groups, including Ouzel Outfitters and Sun Country Tours offer would-be paddlers the au naturel thrill of running rapids. The Big Eddy tour is a short three-mile, scenic jaunt down the Deschutes, flanked by a massive lava flow that forces the river into a series of chutes and drops. The same companies offer more ambitious day trips to the renowned North Umpqua, Upper MacKenzie rivers and the Lower Deschutes. Splash. Giggle. Repeat.
Just twenty-five minutes from downtown Bend, Elk Lake has been the destination de jour for locals and visitors alike for more than a century. Back then it was a cool oasis for flannel-clad timber fellers. Today, it's a shot of fresh mountain air for office and cubicle denizens. But as Bend has grown, so have the crowds at popular destinations like the Elk Lake resort and marina. The solution? Grab a little slice of the shoreline for yourself by renting the resort's full service "Day Dock" a large party barge, complete with a barbecue grill, that is moored at the resort. The day dock accommodates up to thirty-two people, perfect for a family reunion, bachelorette party or just a day with friends.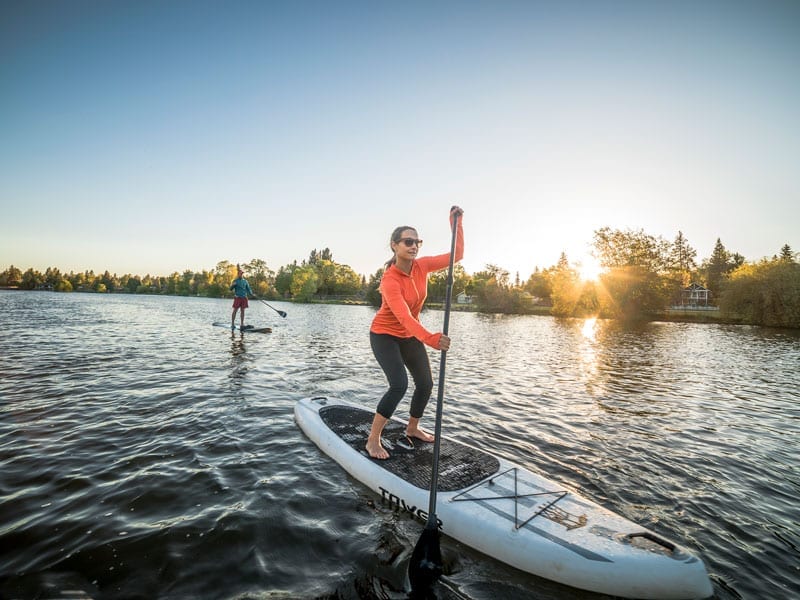 Complete (Some) of the Paddle Trail
The day is warm, the water is inviting and the desire to float is overwhelming. So off you go in your innertube, canoe or inflatable kayak humming "Cruising Down The River" when you hear a noise ahead and spot a sign stating "Falls Ahead." In no time at all, the mellow float has become an encounter with Killer Fang Falls. That's because the Deschutes River Trail offers a variety of river travel over its close to 100-mile length starting near La Pine and flowing north. The trail is mapped, so there's no mistaking what type of water exists on each section of the river. Get a map, chart a safe course, and have a wet and mild to wet and wild river experience.