Aerial yoga can decrease risk factors for heart disease, improve your flexibility and is just plain fun.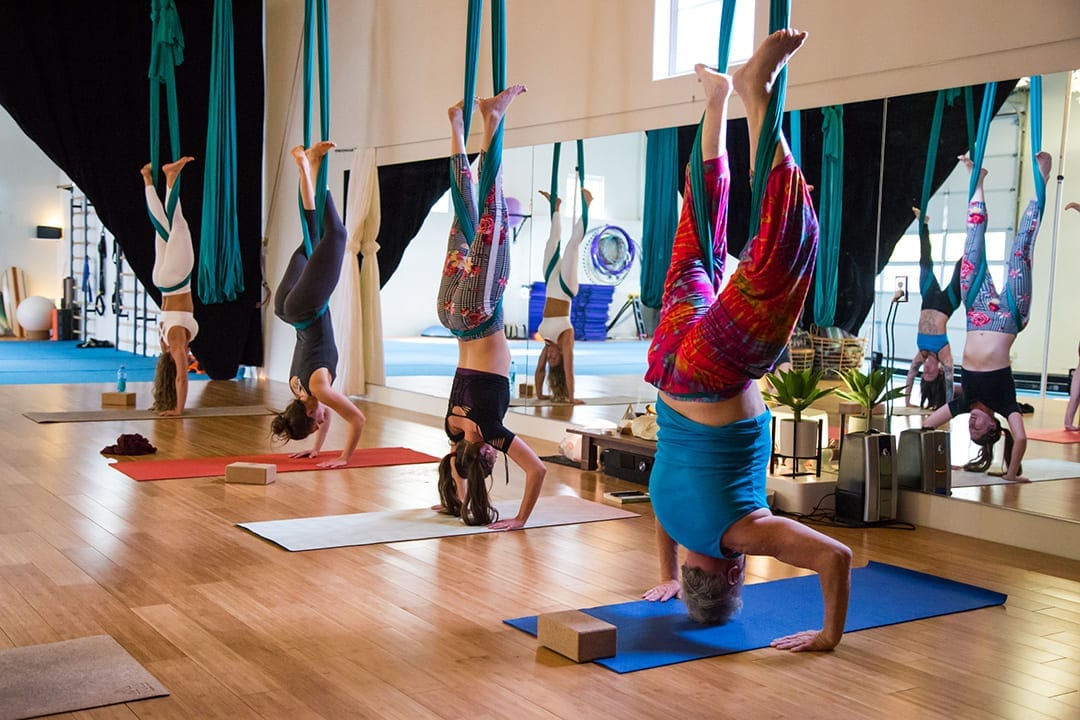 I'd wager that your New Year's resolution has to do with health, something like running three miles every day, cutting out gluten or drinking less beer. That's pretty standard, but a growing population of Central Oregonians will be starting their new year by turning the traditional workout on its head, or at least its horizontal axis with "aerial" yoga, a mashup between traditional floor-based yoga and silk aerials.
While aerial yoga has been trending in the health and fitness world for a few years, the benefits aren't a passing fad. A 2016 study from the American Council on Exercise found that "a single session of aerial yoga offered participants many of the benefits associated with low- to moderate-intensity aerobic exercise like brisk walking or leisurely cycling" and "[a]fter the six week program, participants displayed measurable reductions in some common risk factors for cardiovascular heart disease."
The term aerial might conjure visions of Olympic snowboarders or Chinese acrobats, the reality is that you don't need to have Olympic strength or circus coordination to assimilate. Even me, a goes-on-walks and sometimes-makes-it-to-yoga person, could handle aerial yoga. (My one pro-tip would be to not eat dinner beforehand.) The silk hammock, an admittedly intimidating piece of workout equipment, can withstand up to 3,000 pounds. Yogis can sit, stand, twirl and hang in and on the fabric without fear of falling, but it's a mental battle as much as it is physical.
Timea Eckerdt is a certified yoga instructor with Tula Movement Arts, a yoga and massage studio in NorthWest Crossing that opened in 2017. An instructor since 2013, Eckerdt tried aerial yoga and "instantly fell in love with the silks," she said. "It felt really supportive."
Aerial yoga is an extension of Vinyasa and Hatha yoga, where the silks add leverage to stretch muscles and then support inversions. Eckerdt said that it can be a much more accessible form of yoga. "With the silks, anyone can go upside down," said Ekerdt. "There's a woman who's in her seventies, and she finds it more supportive, easier and accessible."
The postures, aided by the silks, can increase strength and flexibility and are a good reset after a day at the office. "It's a great counterbalance of our daily lives and all the things we do that mess up our bodies, like sitting all day," said Eckerdt.