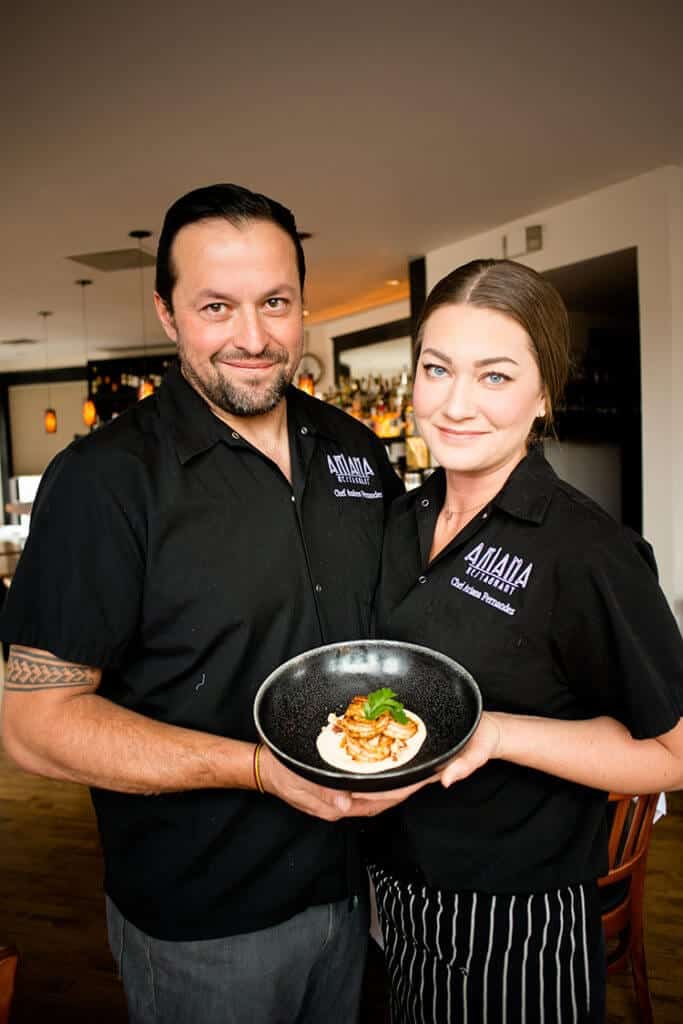 With family ties rooted in Bend, Ariana continues to please
Chefs Ariana and Andres Fernandez have been bringing their energy into the kitchen every day since they opened Ariana together over a decade ago.
A California native from an Italian family, Ariana attended Cascade Culinary Institute where her husband Andres had also studied—a coincidence they discovered while working side by side at another restaurant.
Housed in a bungalow on Bend's West Side, Ariana began as a family affair. In 2004, Ariana's parents saw the culinary talent and creative possibilities in the Sicilian and Colombian marriage and offered to provide funds to help the couple start a restaurant. Ariana's father, Glenn Asti still pairs wines as the beverage manager and is part of the reason the Sicilian calamari is a staple.
On any given day, you can find Chef Ariana delicately chopping sage, boiling small potatoes, and skimming a cream sauce. As she pounds, pushes and kneads the daily focaccia, she comments about the value of incorporating local ingredients.
"The joy of being small is we can infuse and celebrate any local product that is seasonal," she said, "It can be a main dish or an accent and makes every day inspired."
Indeed, Ariana's menu changes frequently, sometimes daily, depending on ingredients and the time of year. For example, Ariana's spring menus will feature ramps, a petite scallion cousin, alongside Hermiston asparagus.
In 2013, the James Beard Foundation described the restaurant's cuisine as "rustic Pacific Northwest with an elegant Mediterranean sensibility," but according to Chef Ariana, the restaurant's fare has evolved with local flavors over time.
"I think we are just modern Americans who really enjoy Central Oregon and create eclectic seasonal moments," she said.      -Andes Hruby  arianarestaurantbend.com
Find Ariana's recipe for Hermiston Asparagus Bisque Here