One of the Open Table Diner's Choice Top 100 Best Restaurants in America in 2014, Ariana draws from a bounty of northwest ingredients to redefine fine dining from a fresh perspective. Since 2004, husband and wife Andres and Ariana Fernandez have blended their Italian and Colombian backgrounds to invent unique flavors specific to Bend by working with local farmers and purveyors in Central Oregon. Now you can taste the best of spring with Ariana's recipe for Hermiston Asparagus Bisque: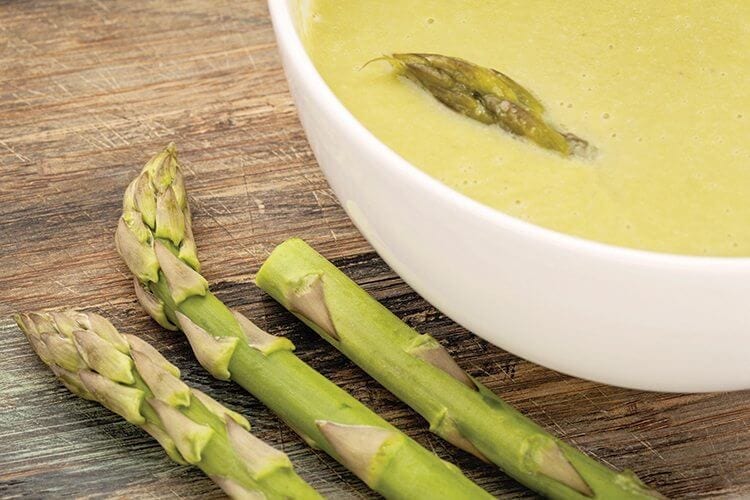 • 8 oz. unsalted butter (1 stick)
• 2 medium yellow onions, small diced
• 3 bunches asparagus, cut into 1-inch pieces
• 2 cups water or chicken stock
• 1 cup dry white wine
• 3 cups heavy cream
• 1 Tablespoon salt, or to taste
• 2 teaspoons Pepper
• 1 teaspoon freshly grated nutmeg
For the soup: Melt the butter in a large heavy bottomed pot over high heat. Add diced onions to the melted butter and cook until soft and translucent, about 5 minutes. Add asparagus, season with salt, pepper and nutmeg, and cook another 5 minutes. Add the water or stock, wine. Bring to a boil and cook another 10 minutes. Ladle cooked asparagus mixture into a blender in batches- allowing enough room to blend. Blend until smooth. Add cream, stir, and taste,  adjusting seasoning if necessary. Pour back into pot and keep over low heat until ready to serve.
To serve: Ladle the soup into warm serving bowls.
Suggested wine pairing:  Bethel Heights Chardonnay Estate 2013 Oregon
 (Serves 6-10)