Trevor Mayfield wanted to try something new. The owner and distiller of Badlands Distillery considered opening up a brewery before landing on a distillery, and considered Bend before choosing La Pine. The result is a restaurant, whiskey bar and food truck combo, based around a "non-typical distillery" that began with a commitment to high-quality distilling and an emphasis on using real ingredients that push boundaries while never cutting corners.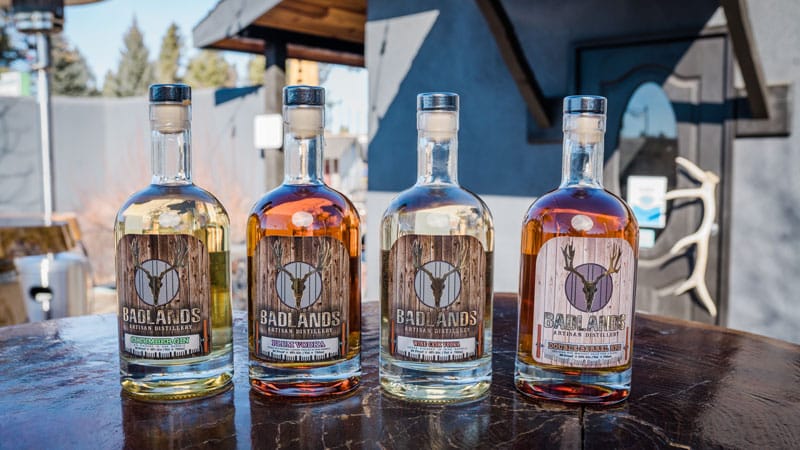 "I saw that Bend was already full of breweries, but I thought that we were lacking in quality local distilleries," said Mayfield. "That realization plus the greater regulations and red tape you have to cut through to make a business in Bend pushed us out towards La Pine, where they were lacking the entire brewing, distilling and food truck scene."
Located just off the main highway that cuts through La Pine just thirty minutes south of Bend, Badlands Distillery recently unveiled a new tasting room, restaurant and retail space that includes plenty of patio space for summer drinks, room for kids to run around and even a stage on which local musicians can perform. The building was originally a Mexican restaurant that had packed the interior with as many tables and booths as possible. Part of the renovations included a new black and grey color scheme for the entire building, as well as efforts to clear up the interior to add more space. Many touches add a rustic feel, like cow skulls on the wall, black metal accents, and tabletops made from cross sections of large trees. 
While Badlands is officially a restaurant, bar and retailer, Mayfield sticks to his roots as a former Bendistillery employee and lifelong homebrewer, and maintains that the distillery is still his top priority. "When it comes down to it, we make some of the highest quality liquor around. Some people ask us why we only produce four liquors while some Bend distilleries have twenty or thirty to try," Mayfield said. "Then I just ask back 'well, did you like any of them?' and the answer is almost always a hesitant 'kind of.'"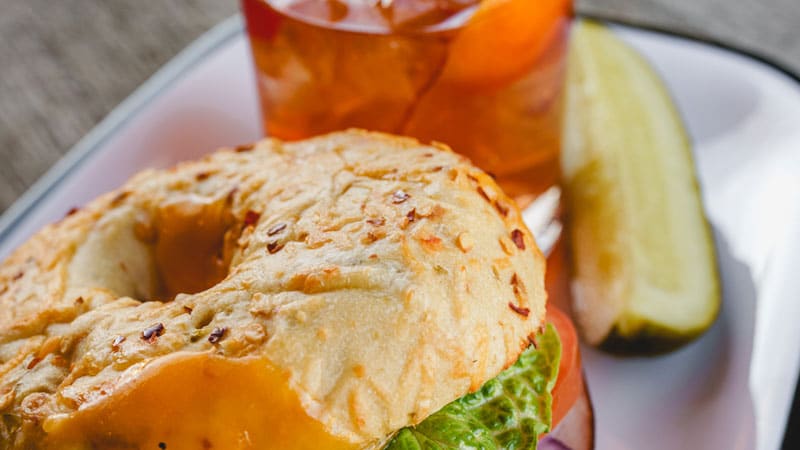 While Badlands currently only distills four liquors–cucumber gin, plum & sloe berry vodka, wine cask vodka and double-barrel rye whiskey–Mayfield prides himself on only producing at a very high quality with fresh, local ingredients. 
"Some other distilleries will make one vodka, and then just add some artificial flavor or concentrate to create different varieties, and we don't do that here. The cucumber gin uses only peeled and natural cucumbers to achieve that flavor. The plum vodka uses tons of real plums, nothing fake, ever," Mayfield said. "People who are really into tasting these liquors will always tell the difference." From the commitment to never adding sugar, artificial flavor or color, to the use of high quality water from the Newberry Caldera Springs, every step of Mayfield's distilling process is drenched in quality and attention to detail.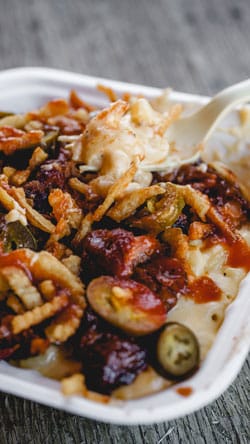 While distilling is number one, Badlands has brought to La Pine a trend often seen in Bend: a central location serving food and drinks that hosts both food trucks and musicians. On the menus, Badlands offers standard fare from coffee and warm bagels to sandwiches and salads. Looking for something else? Check out Junior's Grill, a mac and cheese focused food truck that has BBQ inspirations, parked just outside. In collaboration with Badlands, the BBQ sauce they use on their pulled pork is made with their double-barrel rye whiskey.
"We saw how successful and fun the food truck pods in Bend were, and wanted to bring that to La Pine. In the summer this place is amazing. You see people getting lunch, grabbing a cocktail made with our liquor and heading out to the patio to enjoy some live music and let the kids run around. We want this to be a place for everyone," Mayfield said.
Vowing to never cut corners, Mayfield has plans to expand the distilling operation into the future to accommodate growing sales and the potential for new liquors to be added to the menu. As an added bonus, Badlands Distillery is working on getting new food trucks to park at their lot. When the weather warms up, expect to see a full lineup of local musicians playing on the patio.
Badlands Artisan Distillery & Bistro | 51500 US-97, La Pine | badistillery.com
---
Read more about the amazing culinary scene in Central Oregon here.