Nate Decker's fascination with beautiful wood and the stories behind it started in Hawaii, when he was growing up on Maui and later living on Kauai. Highly revered and endemic to Hawaii, koa wood is strong and light, and Decker learned to make things like picture frames and paddles from it, while also experimenting with mango and monkeypod woods. After making the move to the west coast nearly six years ago, Decker landed in Bend, setting up his modest woodshop in the garage of his new home on the west side of town.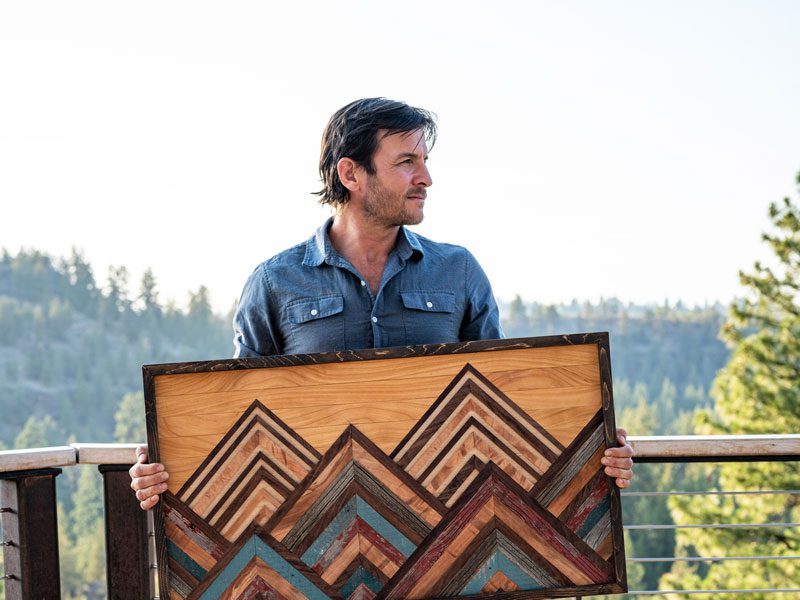 With Bend as a home base, he traveled to Montana, where he used his professional background in hotel sales and marketing to help develop a large cattle ranch into a "dude ranch" destination. It was there he saw how purposefully new life could be given to old wood through projects happening on the ranch. "I was very inspired by how they used this barnwood," said Decker, who began sourcing his own barnwood back in Oregon. 
Decker's signature piece became a mountainscape of five peaks in the Cascade Range—Mount Bachelor, South Sister, Middle Sister, North Sister and Broken Top—created with repurposed wood from old Oregon barns or other structures. For each piece he creates, Decker can explain exactly where the wood originated, showing old pictures of structures and providing the history of how he came across the materials, whether it's lath from a 90-year-old house being knocked down in Bend, wood from an old barn he helped tear down in La Pine or Lakeview or blue pine harvested on Santiam Pass after one of last summer's forest fires. He spends hours carefully milling the wood, preserving details such as cracks, fading, weathering or bits of lichen that add subtle color. "Old wood has textures that you can't recreate, that only sun, rain, wind or snow can (create)," he said. 
Decker officially launched his company, Five Peaks Woodworks, in 2020. An outdoorsman and certified mountain guide, Decker has always been drawn to the mountains. "Mountains are very inspiring to me," he said. "They're beautiful. They humble you, and they test you." In addition to mountainscapes of the Pacific Northwest, desert inspired scenes and other designs, Decker also creates live edge cutting/charcuterie boards. The boards are designed to showcase the unique features of each piece of wood, with epoxy used to fill in cracks, sometimes adding pops of color to rich wood tones. He works with Epilogue, a lumber mill south of Portland, to sustainably source lumber from trees taken down by tree removal companies in urban areas. The wood would otherwise become wood chips or firewood but is instead given new life by Decker and other customers.
Sustainability fits in with Decker's lifestyle, which revolves around time outdoors, on ranches, in the mountains, tending to overflowing garden boxes just outside his workshop and exploring with his dog, Bambam. The mild-mannered American bulldog and boxer mix was the first dog rescued by Real Good Rescue, a nonprofit based in California that Decker co-founded. Bambam hangs around the shop below Decker's house most days, but heads upstairs when things get too loud or dusty, or when projects last late into the night. Some pieces can take days to create, especially when factoring in the time Decker spends sourcing wood (often helping to tear down barns), traveling around the state, milling and then imagining a new life for the materials through his designs. That time spent becomes part of the story of each piece of wood, carefully repurposed on a customer's living room wall. "Whenever I make something for someone, I'm able to share the story behind it," Decker said. "I think the extra effort is worth it." 
See Five Peaks Woodworks latest creations at fivepeakswoodworks.com.
Charcuterie boards are available at Newport Market, 1121 NW Newport Avenue in Bend.