Editors Note: This article was originally published April, 2021
More time at home these days is leading many of us to rethink our home décor, housewares and even the tech-savvy tools that make our lives easier. When shopping for new tech, let's not forget the bathroom, a space where we often start and end each day. Technology is making a splash in today's bathrooms, with products that improve hygiene and cleanliness, provide relaxing warmth, control ideal lighting and more. See how some of these new gadgets can make getting ready for a new day, or winding down after a long one, just a little easier.
There are now smartphones, smartwatches and according to Kohler, intelligent toilets. With a tankless design for a sleeker look, the Veil Comfort Height smart toilet offers front and rear bidet options, a self-cleaning function using UV light, a warm-air drying system and an adjustable heated seat. Motion-activated opening and closing of the seat and cover means you don't even have to lift a finger, except maybe to tune to your preferred settings. LED lighting illuminates the base, saving the need for a nightlight. 
If you're more into baths than showers or just look forward to a relaxing weekend soak, the Conair Dual Jet Bath Spa can bump up your bath to a full-on jet spa experience. The bubbler hangs over the side of your tub to provide two jets of adjustable streams, taking water in on either side of the device to give continuous aeration action.
Sometimes it's the little things that make all the difference when it comes to self-care. If you've ever bristled at trying to smooth on cold lotion after a nice warm shower or bath, the A&A Oil and Lotion Warmer may be just the thing. The lotion and oil dispenser saves you the time and trouble of warming up lotion in your hands, heating the product you choose to 140 degrees. Available in a few natural shades, the warmer offers a techy solution to your skin care regimen.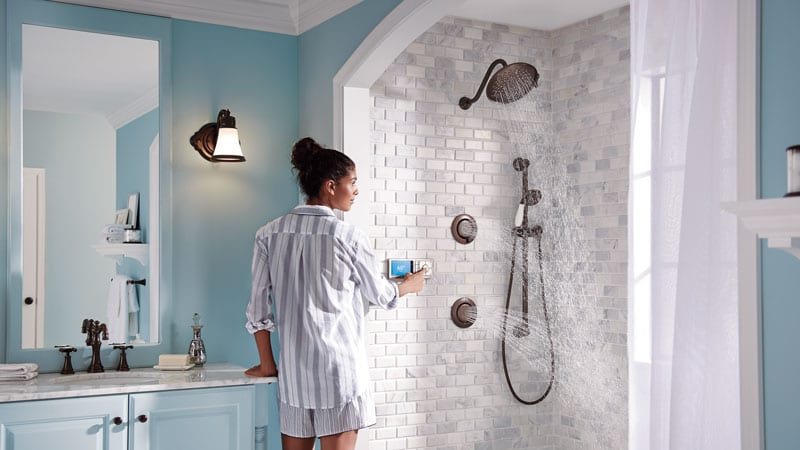 A digital shower installation is the thing luxury bathrooms are made of. Whether you're hoping to bring the spa feel home or you miss the extravagance of an upscale hotel, Moen can transform your shower. Once installed, the device can be controlled with touch or via an app, and is compatible with Amazon Alexa, Apple HomeKit/Siri and Google Assistant, allowing for voice control. Customize your shower day to day with just the right temperature, make your own presets or set a shower timer to ensure you stay on schedule.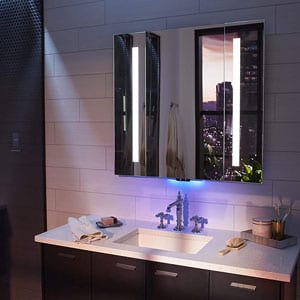 Smart mirrors are another item you may have enjoyed in a chic hotel that you can now make a reality at home. Byecold's Vanity Touch Mirror provides an adjustable backlight, defogging function, clock, as well as the weather forecast made easily visible as you consider your outfit for the day. Or take things up a notch with Kohler's Verdera Voice Lighted Mirror with Amazon Alexa. At a $1,065.35 list price, the Kohler mirror can connect to Bluetooth, take voice commands, and play music, offering you the most soothing—or exciting—way to prep for bedtime or primp for a night out.
For those interested in adding a bidet to their existing toilet, the Tushy Spa 3.0 may be the perfect choice that won't break the bank. As toilet paper became hard to come by for some in 2020, many people began turning to bidets as an alternative, or addition, to their current setup. As the product offers an adjustable warm water spray, Tushy even argues it's an eco-friendly choice, eliminating the need for toilet paper altogether.
---
Looking for a kid-friendly bathroom? Click here