photo Dan Cutrona Photography
From teeth brushing after breakfast to bubble baths before bedtime, a bathroom where children start and end each day should be playful, yet practical. Kids grow up fast, so before installing toddler-sized toilets and bright-colored countertops, consider ways to make effective use of your family's space with features that can change with a child's tastes. With an eye on safety, easy access and organization, here are some kid-friendly ideas to help you make bath time lots of fun.
Play it safe
Before fun themes or color schemes, bathroom design should always start with safety first to protect children from common hazards such as slipping, scalding and everyday curiosity. Prevent trips and falls with floor fixes such as bath mats, decals or anti-slip tile treatments. Cover sharp faucets with spout guards and install removable grab bars to help little ones in and out of the tub. 
Also, kids love to test everything—from water temps to electric hairdryers—so you should, too. Inspect each part of the room for potential danger zones; check that shelving is secure, appliances are unplugged, and the water heater is set to no more than 120 degrees Fahrenheit. Most importantly, make certain breakable glass, chemicals and medicines are removed or kept out of reach by adding childproof locks to cabinets or drawers.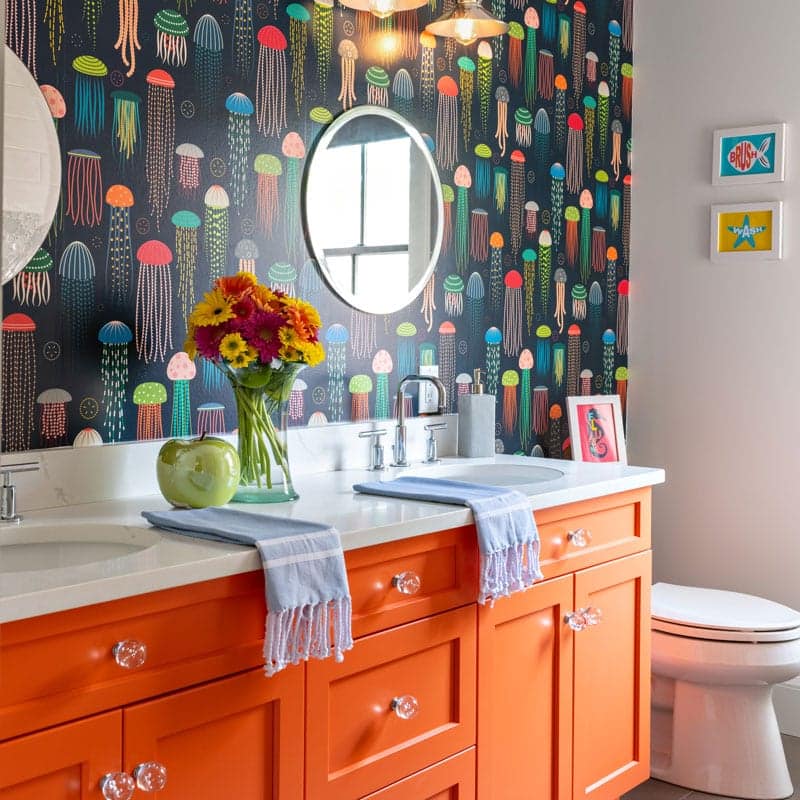 On their level
As children learn self-care routines, it is important to ensure that everyday tasks are accessible. Help kids reach new heights with a small step stool (or two) that allows them to climb up to the sink without adult help. A stool should be sturdy, but still easy to carry so it can travel from countertop to toilet and tub throughout the day.
Another way to achieve a child-sized setup? Think short. When little hands need washing or want to grab a towel, make things easier by stocking appropriate supplies at their height; set folded towels in a nearby basket or beneath the vanity, and keep toilet paper in an easy to reach drawer. Install an adjustable hand shower to simplify bathing small children (and shower cleanup!) and assist older kids' transition from baths to showers.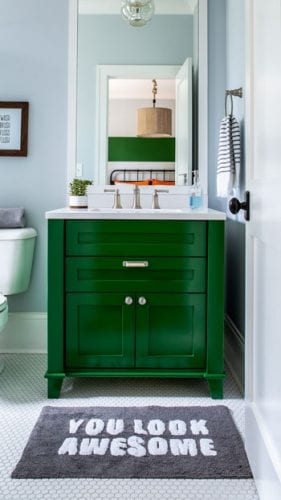 Fun in store
Small kids make big bathroom messes—from towels tossed on the floor to drawers overflowing with toothpaste and toys—so "storage before style" is a good rule of thumb to reduce clutter. Arranging items effectively and creating easy cleanup habits can encourage kids to get on board with an organized bathroom that they can keep tidy (mostly) on their own. 
For starters, select a bathroom vanity with both counter and cabinet space, or outfit an existing pedestal sink with shelving units. Second, opt for extra hooks (anchored or over-the door) that can hang more towels than traditional racks and allow kids to skip folding without looking sloppy. Minimize the rest of the mess by designating water-resistant storage bins to drain and contain bath toys as well as a hamper to keep dirty clothes under control.
Fair and share
Sharing a bathroom with siblings or occasional guests calls for a smart, squabble-free layout that creates extra elbow room for all. Speed up morning routines and cut back on kids' clashes by adding double vanity stations or a farmhouse sink with multiple faucets if the room is short on space. Another way to encourage kids to keep things nice and neat is to provide personal storage—separate drawers or different colored caddies can help children visualize and organize their toiletries.
In the end, a family bathroom should be functional for everyone, but also fun. Sprinkle in small details kids will remember— a few playful prints on the wall, animal hooks or a colorful shower curtain add a special touch that can turn bath time into playtime and let delight bubble over.