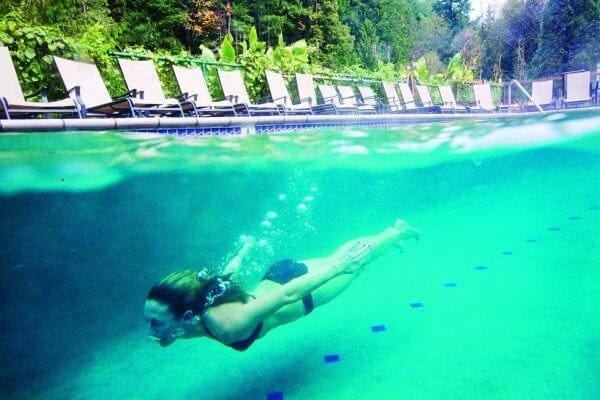 Nestled along the McKenzie River seventy miles from Bend, Belknap Hot Springs offers refuge from winter's bite in a quintessential Pacific Northwest setting. The air is heavy and saturated, so it's hard to tell whether it's actually raining, and wisps of fog waft among the surrounding hillsides like ghosts peering out from the trees. The resort embodies a mood that is like ghosts emerging from trees. The quest for contemplation slows time here.
Open year-round, Belknap Hot Springs is an easy getaway from Bend, whether to hit the reset button with a day at the spa or to work a soak into a full-day excursion along the McKenzie River. Originally developed in 1869 by R. S. Belknap, the springs have been open to the public almost continuously since the 1870s.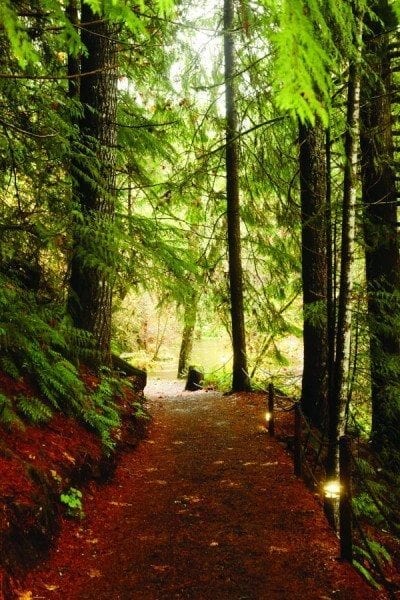 Today, the resort includes a lodge, cabins, campsites, RV sites and two 104-degree mineral pools fed from the natural spring bubbling out of the ground directly across the river. Behind the lodge, a footbridge spans the McKenzie River and links to a network of trails that meander through gardens, lawns, ponds and woods. After soaking, it's worth venturing across the bridge to explore the wooded paths and gardens.
The upper pool is limited to overnight guests, but the lower pool is available to the public for day use, and is family-friendly and large enough to hold multiple groups without feeling crowded. The lower pool sits alongside the river, which rushes over smooth stones, adding a low hush to the tranquil ambience.