Unassuming at its face, Dundee offers something that is quintessentially Oregon. It gives the first impression that, when visitors dig a little deeper, delivers a richness warranting the area as its own destination for world-class wine and excellent food. Rolling out from the modest 3,000-person town, acres of vineyards unfold to reveal Willamette Valley views as if from an oil painting.
American Viticultural Areas, or AVAs, is a term you'll commonly hear when wine tasting. These geographic areas vary enough in climate to affect how the grapes are grown, and therefore, the flavor. Willamette Valley now has eleven AVAs, including the Dundee Hills AVA.
Tips About Dundee's Vineyards
Miles of rows of grape vines and evergreen trees dappled in among the landscape serve up a comforting beauty. Riding out among Dundee's vineyards, you'll spot a red barn and aging farmhouses mixed among the smooth lines of glassed-in newer builds designed for wine tasters to take in vineyard views. In the small downtown, there are multiple wineries and food spots within walking distance of each other. Wineries here offer a modern wine-tasting experience—the opportunity for a non-fussy feel if you prefer more laidback atmospheres or you're new to tasting and want a fun, no-pressure first encounter.
Three tastings in a day is a good rule of thumb to savor each winery, allow travel between stops and fit in lunch. If you start around 11 a.m., you'll likely finish up your tastings in the late afternoon, leaving enough time to head back to your home base and freshen up for dinner. Dundee makes three tastings in a day easy because there are many wineries within close distance of each other.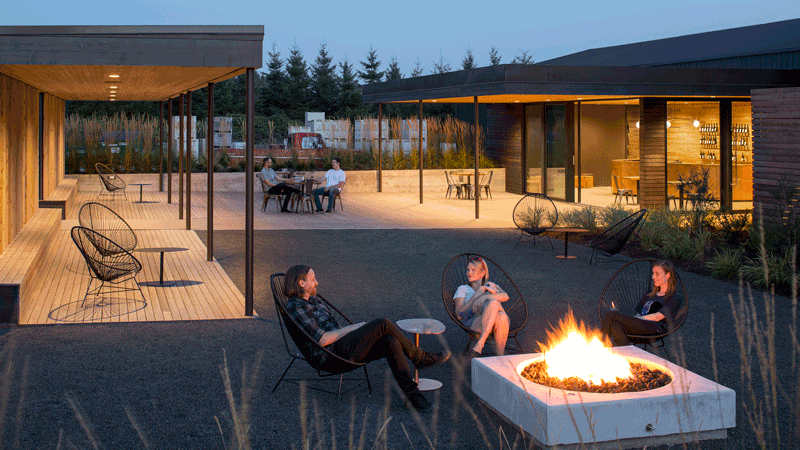 About Day Wines
When Brianne Day, winemaker and owner of Day Wines, talks about how she fell in love with winemaking, it may be a feeling familiar to Bendites."I felt a sense of personal fulfillment and cultural connection to a place," Day said. At Day Wines in downtown Dundee, Day has visitors come from the Portland area, Central Oregon, out of state and even from around the world. She wants people new to wine to enjoy their time just as much as experienced tasters."If you've never been wine tasting, just remember that it's fun," Day said. "The whole reason to make wine is to enjoy it." Day's goal is to make wines that are exciting and unexpected. She does this by blending grape varieties and approaching winemaking from what she says is a more non-traditional perspective.
Dobbes Family Estate
Dobbes Family Estate nearby also wants the wine-tasting experience to be an enjoyable one. "The point of Dobbes is to be as approachable as possible," said April Yap-Hennig, director of marketing. Guests there are greeted with a welcome wine, usually a bubbly, meant to be a palate cleanser. Dogs are welcome at Dobbes, with the ask that owners keep a close eye on them. Following the welcome wine, Dobbes serves a series of five wines, generally finishing with one of their sweet wines. Through the "very relaxed tasting," Dobbes' staff is there to help educate you and talk through the wines at your pace. The more interested you are in learning, the more they'll share.
Winderlea Vineyard and Winery
At Winderlea Vineyard and Winery, you can view some of the first vines planted in the area, with pinot noir grapes that are still growing today. "Our flagship is a cross-section, from old vines on the top of the vineyard, to original vines that were planted in the 1970s," said Donna Morris, who co-owns the winery with her husband, Bill Sweat. "The wine we make is called Legacy. It's a beautiful reflection of what old wines can produce." Winderlea, like Day Wines and Dobbes Family Estate, buys some of its fruit from other vineyards in other AVAs, creating more opportunities to blend varieties. At Winderlea, where vineyards are just outside the winery, guests can take a wine-tasting hiking tour to get up close to the land that yields a way of life for winemakers—and wine lovers. 
---