Editors Note: This article was originally published February, 2021
It's a brave new world for Bend artist Kristine Cooper, who quit jobs in retail management and the building industry to support herself as a full-time artist. "I realized this summer that I was no longer being fulfilled in my 9-to-5 job and decided to move toward creating something from my soul," she said.
The young artist—just 26—wanted to be a full-time creative professional after graduating from Seattle Pacific University's studio fine arts program in 2016, but she had little encouragement from those around her. "I tried working full time while pursuing my art on the side but ended up exhausted and unfulfilled," she said.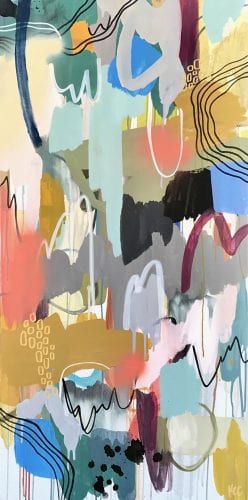 "Since COVID slowed life down, I had time to be intentional and process what I was doing with my life," Cooper said. She was making money selling her artwork on the side and decided that devoting her whole being to art would open new doors. Quitting her jobs and starting her own business was the scariest thing she's ever done, but she said, "The universe takes care of you when you're doing what you're really meant to do."
Cooper creates a visual diary of her life through abstract and playful canvases, murals and textiles in vibrant colors and bold shapes. Some are energetic with swirling patterns and dripping paint; others hint at representational subjects such as people and landscapes. Her medium is primarily acrylic paint but often incorporates mixed media such as pencils, charcoal and oil pastels. She builds texture with thick and thin layers of paint and adds specks of gold "to create visual interest across the canvas."
"I create what's been in my head for weeks or days, such as a shape that occurs while hiking," she said. "I don't try to evoke any particular feeling, but [my] art can bring out a sense of joy, playfulness or a light feeling."
When working from her home studio, she sets up an easel, listens to music "to make my brain think in different ways," and loses herself in the process, working in long segments. When she wants to draw inspiration from the desert and her environment, she does plein air painting.
Like many new transplants, Cooper moved to Bend for the outdoor lifestyle. "I can get on a trail in 20 minutes instead of being in Seattle traffic for hours," she said, adding she's found her artistic voice in Bend since arriving in 2017. Cooper regularly shows her work in cafés and retail spaces, such as Thump Coffee, Revolvr, Velvet, The Commons and Nancy P's Café & Bakery. Her work has also been exhibited at Franklin Crossing, Cascade Sotheby's, the Oxford Hotel and Sunriver Lodge.
These shows are sources of sales, as are her website and others such as Etsy—from which the president of DreamWorks once bought a large-scale abstract called "Second Chances." "It was an eye opener to have a client like that buy a piece," she said. "I've seen continued momentum—you never know who is going to buy or who you'll meet."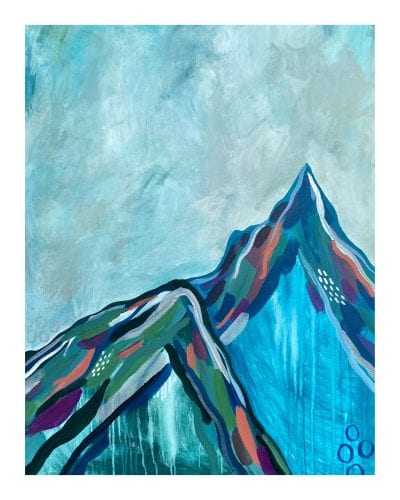 Other avenues she's exploring are commissioned murals in homes and businesses. Anna Spengler of Bend chose Cooper to do a mural in her living room after seeing her website and the joyful mood of her art. "Her work really speaks to me, especially her magical mountain scenes," Spengler said. "She uses vibrant, fun colors and has an eclectic and bold style. Her mural brings my living room to life, and the colors inspire creativity."
Cooper has also begun attracting clients who want help with their home's interior styles, such as how to blend vintage or antique furniture with modern elements. This includes repurposing people's treasures in a creative way that brings them new life. "I want to help people make their space unique and bring art into a home for a cohesive design," she said.
Since starting Cooper Art and Abode, she no longer holds herself back. "I can fully dedicate my time toward my work and create boldly," Cooper said. "I'm trusting the process and the gifts I'm meant to share."
To see Cooper's artwork, visit Fix & Repeat, a restaurant in the Box Factory, in January. See more at cooperartandabode.com.