Yozamp in front of his mural at Miyagi Ramen. Wardrobe courtesy of Revival Vintage Bend, pants belong to artist, necklace courtesy of Planet Homeslice.
Richard James Yozamp pours another layer of house paint over a dead tree limb embedded in a concrete bucket in his garage studio. When finished, the sculpture will be part of his collection of "Bucket Trees" that he will place around town for people to enjoy and take home for free. "Everyone understands twigs," said the Bend native, who recently returned to Central Oregon after immersing himself in street art in Southern California and apprenticing with masters in silk-screen T-shirts and pop-art prints.
The 2007 Summit High School graduate headed to Montana State University planning to major in art, but disliked the art school and switched instead to a business and marketing degree. He didn't give up his dream of becoming an artist, though. "I painted abstracts by pouring paint onto a canvas in the party room of my fraternity," he recalled. "I had eight large paintings and recruited eight sorority sisters to use their hair dryers to finish them in time for the student art show. I priced them cheap. They sold out quickly."
After college, he moved to Ocean Beach, California, in 2012, surfing every day and working at James Gang T-shirt shop learning silk screening, color theory, photoshop and design. While there, he heard that Shane Bowden, a neo expressionist pop artist, was looking for an assistant. The Australian's bold, vibrant and often provocative prints reminiscent of Andy Warhol and Robert Rauschenberg had a following in the art world. At one point, Bowden owned galleries in the United States, Canada and Asia.
"I went to meet him at his La Jolla gallery, and he told me, 'You're starting Monday morning. You'd better be ready,'" Yozamp recalled.
"I get there, and he tells me to make a four-by-four-foot silk screen of a Chanel (perfume) bottle. That's an industrial size. I worked for him for four years, pumping out art, as many as 136 silk-screen paintings in one day. Until then, I didn't know you could make a living doing art.
"He mentored me, and after a year of hardcore boot camp, I was painting forty to fifty hours a week," he said. "I started selling my own work in galleries as a 'ghost painter' under his name and brand. At 25, I was making really good money and managing his whole operation and opened up eight galleries for him."
When Bowden went to Italy in 2017 and didn't return, Yozamp locked up the galleries. "I looked for work for several months, sold my own work and did small gigs," he said. "I was directionless, but with the foundation Shane gave me, I was ready to become my own artist."
Getting Started
His dad, Jim Yozamp, found him a job in marketing and sales in Bend in 2018. The younger Yozamp gave corporate life his full attention until he realized it wasn't for him. "I was ready to get back into the studio and get creative," he said. "The art followed me to Bend, and I got an order from Krave and Kulture, a high-end fashion and curated pop-art business in Palm Springs, for sixty paintings under my own signature."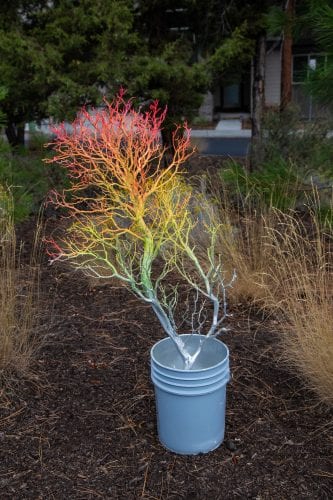 In addition to the Bucket Tree sculptures of dried bushes and dead branches, his studio had several large canvases ready for painting, made of heavy material he buys at Joann fabric store. "I love going to Joann's and using my 50 percent off coupons," he said and laughed. Although he's mostly done silk-screened paintings in the past, he's more focused now on hand painting his subject matter, which often includes mountains or trails he hikes in Central Oregon.
Yozamp also brought home a love of contemporary street art and mural painting. "I ran around San Diego at 2 a.m., zip tying cardboard cutouts to different parts of buildings, fences and street signs—about 100 different pieces at a time and a new series every week or two," he said. "The subject matter included babies doing adult things, like reading the LA Times, drinking Starbucks or texting and driving a child's Mercedes SUV electric toy car."
Since returning to Bend, he's painted murals at Bo's Falafel Bar and Miyagi Ramen, and is in talks for other commissioned, large-scale public murals around Bend in 2021. He's also had shows at Outside In equipment store, Dump City Dumplings and Revolvr Menswear.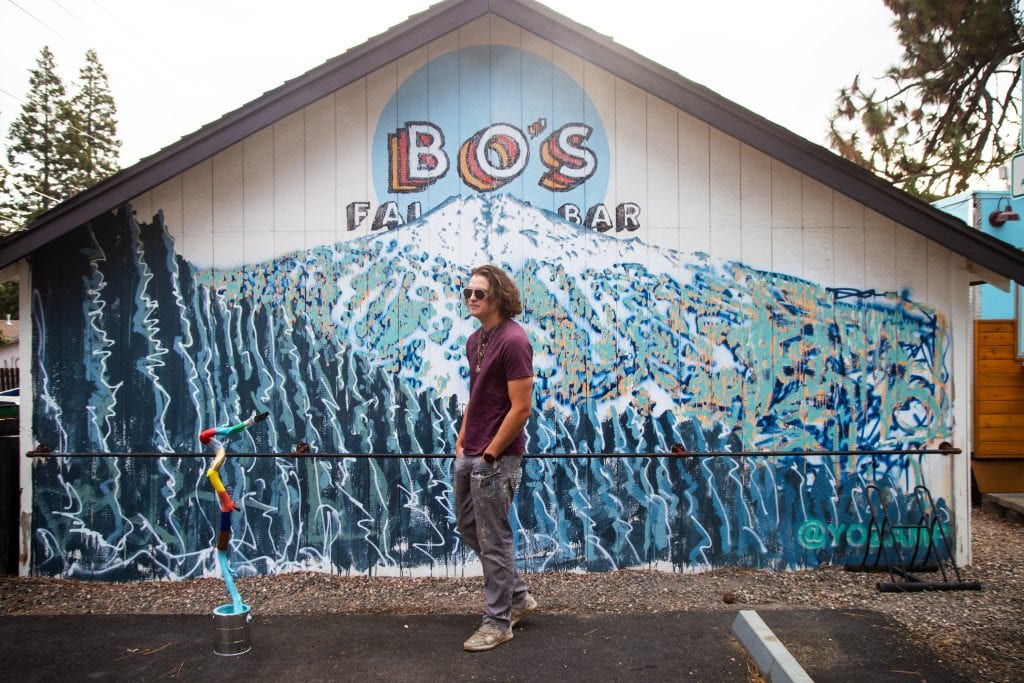 At 31, Yozamp is a fresh face on the local art scene. Expect to see more of his work around town. Visit him by searching @yozamp on Instagram. Yozamp's newest exhibit, including classic views of Central Oregon Cascade lakes and mountains in natural fibers, will hang at Found Natural Goods opening December 4 and running through the month.