How a handful of citizens saved the High Desert from becoming another American news desert.
Amid cardboard moving boxes in her new office at The Bulletin, Publisher Heidi Wright takes a book from the sparsely filled shelves. It's Saving Community Journalism: The Path to Profitability, by Penelope Muse Abernathy. The veteran media executive's distillation of cutting-edge research and analysis reveals how newspapers can transform and find long-term profitability in the digital age. Wright's notes, handwritten in fine-tipped black marker, fill the margins of the acclaimed study on shedding legacy costs, building a vibrant, multi-platform community and identifying new revenue streams.
Tucked inside the hardcover's jacket were Wright's talking points for potential investors — strategies outlining how her employer, EO Media Group, could rescue Central Oregon's struggling daily newspaper, which had spent the past several years fending off creditors. By mid-2019, The Bulletin was facing the prospect of a court-administered sale to the highest bidder as part of prolonged bankruptcy proceeding. It was the most uncertain time in the history of the paper that started in a log cabin near the Deschutes River 116 years ago. It had survived two World Wars, the Great Depression and the 2009 Wall Street collapse. Now it was on the auction block.
With a July 29 deadline approaching, two companies emerged as suitors, Tennessee-based Adams Publishing Group and Rhode Island Suburban Newspapers. A winning bid by either would mean that new owners with no other ties to the area would make editorial and business decisions. If either followed the playbook used by other corporate chains, Bend could expect a reduction in news-gathering resources and other cost-cutting measures aimed at boosting the paper's bottom line while eroding its reporting.
But over the course of four days last summer, seven community leaders and two local foundations intervened with the hope of preserving the paper's commitment to reliable, local journalism. They found a partner in Wright and EO Media, a family-owned newspaper company with more than 100 years of publishing experience in Oregon. They pooled about $1 million toward EO Media Group's winning, $3.6 million bid for The Bulletin and the weekly Redmond Spokesman.
For those following the bankruptcy and sale, it wasn't immediately clear who had stepped in to help EO Media with its winning bid. But in the days and weeks after the sale, a list of names began to emerge. It read like a who's who of Bend business and philanthropy: The Tykeson Foundation, the Hollern family, the Taylors, Bill Smith, and others. Each of them made a different contribution, but they all shared one thing in common: a belief that a strong, locally controlled paper was critical to the political and intellectual health of a community that they love.
"People truly want to know, to be educated about issues, whether it's the school bonds or healthcare, and I don't know you're going to get that from a non-local news source," said Todd Taylor, who, with his wife, Lorri, runs Taylor Northwest construction and development.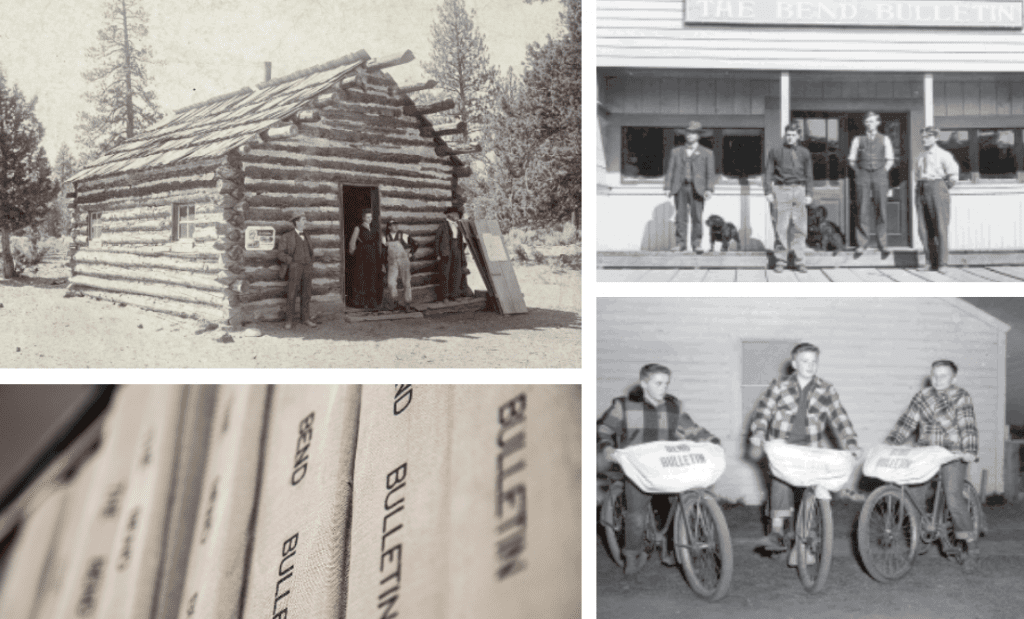 The Search for a Suitor 
To understand The Bulletin's unlikely sale to a relatively small, Oregon family-run publishing company, you need to know how problems get solved in Bend. They get solved when conversations among friends inspire action. They get solved the same way they did, fifty years ago when parks official Vince Genna got tired of asking of his bosses at the city for more ballfields and instead asked his construction buddies to help him start building them. The result was a parks' building boom.
This time, though, there was more at stake than a baseball diamond. The Bulletin is the perhaps the primary news source in the tri-county area and one of the few outlets covering everything from sports' scores, to school bonds, to bills in the state capital.
As news broke that distant corporate entities might buy The Bulletin, it sparked conversations among community leaders. Louis Capozzi, a Bend resident and member of the Bend 2030 community visioning organization, was one of the first to contemplate a community-based solution. Capozzi, who also teaches in the Strategic Communication master's program at the University of Oregon School of Journalism and Communication in Portland, asked the dean, his longtime friend Juan-Carlos Molleda, about media businesses in the state that might want to buy The Bulletin with help from the community.
"He introduced me to nine in the state, and I couldn't get a bite," Capozzi said. "They either thought it was a bad investment or they had no resources, so I got a little discouraged."
When Capozzi heard Oregon Public Broadcasting report a new potential bidder, EO Media in Salem, he called Wright.
"It was extremely uplifting," he said. Wright pointed him to Saving Community Journalism. "I saw the quote on the flap from Dr. (Ron) Heifetz, at Harvard's Kennedy School of Government that describes a good newspaper as 'an anchor' because it 'reminds a community every day of its collective identity, the stake we have in one another and the lessons of our history.' And I thought, well that's singing my tune.'"
Capozzi introduced Wright to Mike Hollern, Brooks Resources chairman, who helped oversee the transformation of the Brooks Scanlon sawmill into the land development company Brooks Resources. Hollern's vision is woven throughout the community, from education and economic development to transportation and cultural resources.
Mobilizing the Troops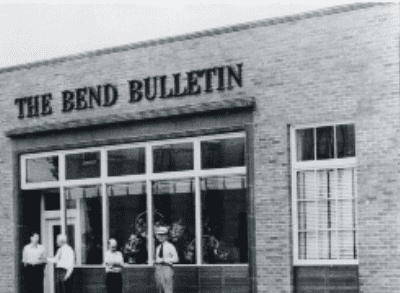 Hollern said he wasn't expecting much to come of his meeting with Wright. "But, I ended up being very impressed with her background, the whole Forrester family, the Aldriches, (EO Media owners) going back a hundred years, and what they've done in Oregon," he said. "To me, it was so clearly a desirable outcome for The Bulletin to be in their hands. They'd arranged a loan from their longtime bank for the basic purchase," said Hollern.
What they didn't know is if it would be enough to secure the winning bid at auction.
He told them he'd like to help with that. Kirk Schueler, Brooks Resources president and CEO, quickly contacted fellow trustees of The Bend Foundation, which is funded in part by Brooks Resources. It was created in 1947 to assist injured loggers and mill workers, and to award scholarships to industry workers.
The foundation typically gives grants to local social services, arts, culture and education nonprofits, and invests in traditional equity and debt markets. Its loan to EO Media was a rare foray into social investing, which considers both financial return and positive societal benefits, said Schueler.
"It's unconventional, but the scale was appropriate, not a vast amount," he said. "They may not pay it all back, but there's the expectation that they will."
Another investor, former BendBroadband CEO Amy Tykeson, said she wanted to prevent what happened to The Register-Guard in Eugene, which lost much of its local news coverage after it was acquired by New Media/GateHouse. The company is one of the large investment groups aggressively seizing newspapers at bargain rates in small and mid-sized markets across the nation.
Next to join the party was Jay Bowerman, son of Nike co-founder and University of Oregon track legend Bill Bowerman. His participation was symbolic and significant.
"He's a very quiet, private guy, so I was surprised," Hollern said. "But he and (Bowerman's wife) Teresa are also very good citizens."
Bowerman, an independent field biologist who led the Sunriver Nature Center & Observatory for two decades, seems more comfortable doing amphibian ecology research, wiring frogs with tiny radios at 7,000 feet on Broken Top, than being quoted in news articles. "But I've always maintained a personal commitment to be honest with members of the media," Bowerman said, adding that the open flow of accurate information benefits the community.
The Right Fit
Bowerman had met Capozzi at an OPB event in Bend last year and had kept in touch on issues of interest. When he'd heard from Capozzi about the support for EO Media, Bowerman met with Wright and some of her team. "I came away with the sense that this was something that needed to be done," said Bowerman. 
He cited the Oregon roots of the Forresters, the family that owns EO Media Group. There was also a personal connection. Mike Forrester, former editor of the East Oregonian, ran track at the University of Oregon under his father. Bowerman quoted Charles Samuel Jackson, who bought the East Oregonian in Pendleton in 1882, and led it to become a respected, influential daily before it became a cornerstone of EO Media. Jackson said, "Print the truth. Fight for the right. People like a fighting newspaper."
The tone is similar to that of Robert W. Chandler, the gruff, philanthropic owner and editor of The Bulletin. He was considered one of the nation's most prominent small-town newspaper leaders. After buying the paper in 1953, he gradually expanded his newspaper holdings. By the time he died in 1996, he'd founded Western Communications, which had 300 employees among seven newspapers, five in Oregon, and two in California. 
Throughout the latter half of Chandler's tenure, Bill Smith was helping shape Central Oregon's evolution from timber outpost to outdoor mecca with Brooks Resources and development projects such as the Old Mill District. Having known the Chandlers for nearly five decades, he heard about EO Media going up against far-flung bidders and was the first equity investor. 
"I think I'm going to make money, but… it was the local paper, that's why I did it. Bend is Bend because we have a lot of [great] things here, including the luxury of having a local newspaper with local reporting," said Smith. Having local news is only a luxury if it's credible. To that end, all of the investors agreed they'll have no editorial control.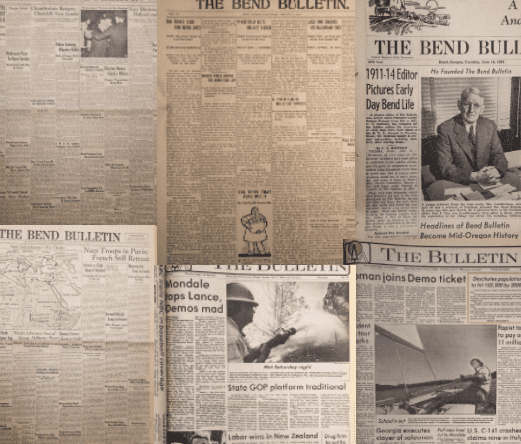 Keep Investing
Observers say that whatever happens in the future, it's significant that community members took a stand here for their local paper. 
Abernathy, who has written three follow-up reports expanding on her research in "Saving Community Journalism," has spent the last decade documenting the shifting news landscape. That work includes evaluating the threat of "news deserts," rural or urban communities with limited "credible, comprehensive news and information that feeds democracy at the grassroots level." Her team at the University of North Carolina's Center for Innovation and Sustainability in Local Media has collected, researched and analyzed more than a decade of data about the state of U.S. newspapers and monitors it with a database of more than 9,000 of them. Their 2018 report, "The Expanding News Desert," delves deeper into the implications for communities at risk of losing their primary source of credible news.
Abernathy could think of only two other such instances where a community stepped in to save a paper, once in Virginia in 2016 and in Santa Rosa, Calif. in 2012.
Investors noted that along with its storied history in Oregon, EO Media has journalistic resources and partnerships across the state. That includes a wealth of innovative strategies for digital engagement and senior management committed to being active in the community. The outlook for the bottom line is brighter, too. EO Media won't bear the burden of Western Communications' roughly $30 million in debt  associated with the Chandler Avenue building. 
Though rightly concerned about liabilities, investors were also keen to hear about opportunities. They listened to Wright's vision for navigating strategies in the digital age while leveraging partnerships to produce news that feeds democracy at the state and local levels. Profitability hinges on measuring how audiences engage with the content and each other, said Wright, who's looking at how digital subscriptions and membership models might best serve their audience. 
For example, multi-tiered membership could have a community activist or community supporter level, which would allow you to convene online meetings and conversations around community topics. "I think that would fit well for Bend because Bend is so passionate," said Wright, who lived here from 2014 to 2017 when she was chief financial officer for The Bulletin's parent company, Western Communications.
Despite The Bulletin's struggles, there is plenty to build upon, Wright said. EO Media's paid print and digital circulation, including The Bulletin and Spokesman is about 66,000 and has more than two million web page views per month, she said. Oregon Capital Insider, a weekly newsletter, launched in 2014 with Pamplin Media in the face of declining statehouse coverage across the U.S., has nearly 100,000 opt-in subscribers. EO Media, including Central Oregon Media Group, the holding company for The Bulletin and Spokesman, has seventeen daily, weekly, bi-weekly and monthly publications across the state and one on the southern Washington coast. 
Abernathy said the investors' move is an important first step. To grow, owners need to invest in the business and news operations to attract digital advertisers and readers. This long-term strategy requires owners to have faith in the future, the paper's mission, and endurance in the face of inevitable monthly and yearly financial fluctuations.
"One thing that's historically true with media companies and acquisitions is that they fail if they do not … invest to transform the business," she said. "You really need the capital. Transformation is never a [smooth] process. You've got to know when to push on and when to pull the plug, and not live on the razor-thin edge of available capital."
It appears the investors may have the wherewithal for the long game. Smith didn't flinch. "I'll hold up my hand again and invest again," he said. "I put in some money with the expectation that I would not put in any more, and I hope the enterprise works, but if I misjudged that they'd go in and turn it around, I'm not going to orphan the initial investment because they did not deliver." 
Though challenges remain, Wright is confident that there is a place for newspapers in America, no matter what form they take, and a home for The Bulletin in Bend. 
"We reach a lot of people, and still we
keep talking about the death of newspapers, and it's like we have more audience than anyone, and I think we can grow it still," said Wright.