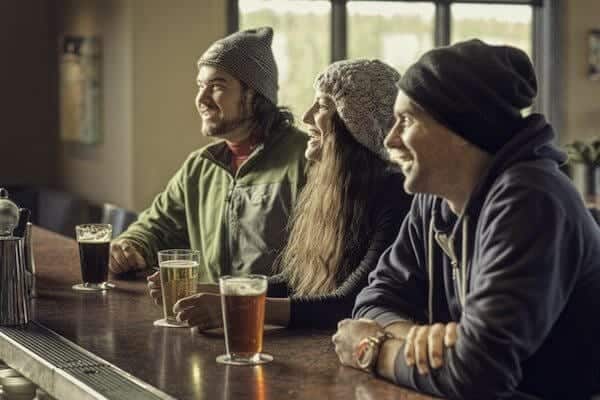 It might be plunging into champagne powder, chattering down a grating groomer or cutting through an icy blow-over. No matter what kind of day it was at the mountain, the great equalizer is knowing the best après. Unclip or unlace your boots and kick up the stories of your Mt. Bachelor runs over gamely priced drinks and food. Sit by a fire or around a table with mountain views, and recall the day's face plant, the flat light that blew your last run, or the perfect poodle turns you made.
---
Sunriver
Many visitors this winter will hit Sunriver Resort after skiing. The resort recently underwent a large renovation, replacing dated digs with an entourage of upscale restaurants, bar nooks, beer gardens and patios. The new team is focused on inclusivity. Even if you are not a guest of the resort, take advantage of all it has to offer. After all, the drive to Sunriver and Bend from Mt. Bachelor is comparable.
Instead of separate states of mind (and grub), the new layout of The Twisted Tavern, Carson's and The Living Room now have an all-encompassing atmosphere. Open kitchens, love seats, benches and lounge chairs seamlessly come together around a huge stone hearth harboring seven feet of fire. The upper level of the Twisted Tavern is for adults only and has intimate seating beyond the bar. The lower level is nestled under glass windows that provide a spectacular sunset view of Mt. Bachelor. The menu has grazing options or bigger items such as baskets of fried pickles or homemade pretzels. Full menus and service are available on the heated patio, where there are two massive firepits and wooden benches, and dogs are welcome. Specials include half-off appetizers and desserts at happy hour. Discounted rates, ski packages, kids ski free and shuttles make Sunriver Resort more than just a happy hour pick.
For another aspect of Sunriver, head into Sunriver Village and stop at The Village Bar and Grill. Recently renovated and now offering more elbow room and an expansive patio, it overlooks the north lawn of the mall. A roaring fireplace separates the dining room, bar seating and patio. A rollicking happy hour kicks off at 3 p.m., with family-friendly deals until 6 p.m. This is pub food at its best with burger classics and a balanced selection of vegetarian and gluten-free tweaks. Portions are beyond big, so bring a mountainous appetite. Delicious deals include Burger and a Beer Monday, Taco Tuesday kids-eat-free dinner and Thirsty Thursday has an all-day happy hour. Watch your kids glide around the ice skating rink from the back side of the bar alcove, where heavy-duty heaters and your hot toddy keep you comfortably warm.
---
Century Drive
The first thing to know when you are heading down the west side of the mountain is that the pint waits for no one in Bend. One of the first options on the southwest edge of Bend is Tetherow Resort. It may look like a private club, but The Row is a welcoming, family-friendly, Scottish-inspired pub that serves a discount seasonal après ski menu starting at 1 p.m.
Clunky ski boots and sweaty helmet heads are welcome. Bring a tribe of kids and collapse by one the big screens. Breweries from across Oregon rotate twelve fresh taps with inspired beer-infused menu items (Beer Snob Cobb, Beer Berry Smoked Salmon, Hopanero Dip). Huge glass windows overlook the snow-covered golf course—where sledding is encouraged on the driving range and every seat is primed for a perfect view. At the outdoor firepit, there are also events such as "Stouts and Smores." This is a great place to stop and to stay. Tetherow has special ski package discounts and shuttles to the mountain.
Continuing down Century Drive, you can also veer right to Bistro 28. This newly renovated restaurant is attached to the members-only Athletic Club of Bend, but the casual Bistro 28 is open to the public. Trudge past the front desk in your down jacket and find a space to rejuvenate. You can experience full service on the couches by the massive fireplace or take your kin up to the long wood table at the bar. An open-kitchen design offers great chef-watching in the dining room. With the purchase of an entrée, pass holders and single ticket skiers receive discounts on artisan pizzas from the classic wood-fired oven or a free dessert.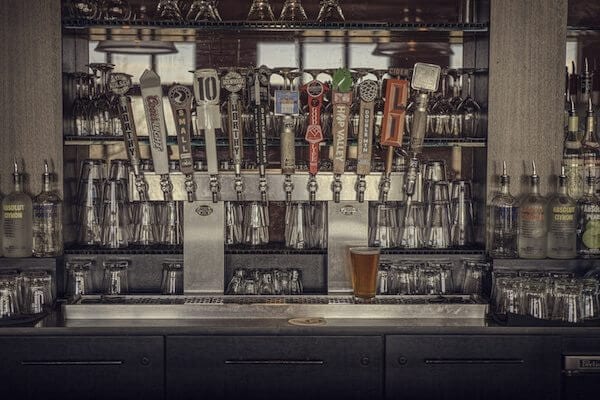 Just a little farther down Century Drive, look for a solitary gondola on the left at the second roundabout. Cascade Lakes Brewing Company kicks it with a hoppy and happening happy hour Monday through Friday from 4 p.m. to 6 p.m. More than a dozen handcrafted beers alongside nicely discounted appetizers make for another good happy hour option. Taco Tuesdays champion cheap eats and margaritas. The lodge is a family-friendly watering hole with pool tables, dartboards and a central fireplace. Pub fare ranges from hot wings to Kobe beef sliders. (There are vegetarian options.) The décor is rugged yet relaxed, and the cost is comforting.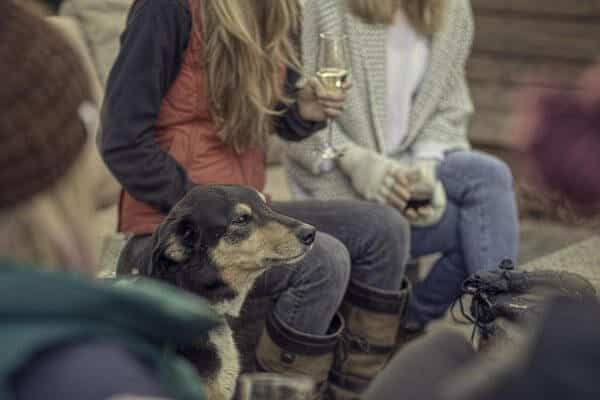 Slip farther down Century Drive and stop by Sip Wine Bar at Galveston Avenue for a relaxed and refined flight of wine or champagne. Don't ditch your beer buddies, as there are a few taps here, too. Although happy hour is only from 4 p.m. to 5 p.m., if you flash your pass or lift ticket, this cozy spot will honor happy hour pricing all the time. Inside, tall tables allow your boots to drip-dry. Better yet, take advantage of the outside patio with a firepit glowing with red-hot glass Sangria fire beads. There is a great built-in wooden banquet and love seats for a snuggle.
---
On the Side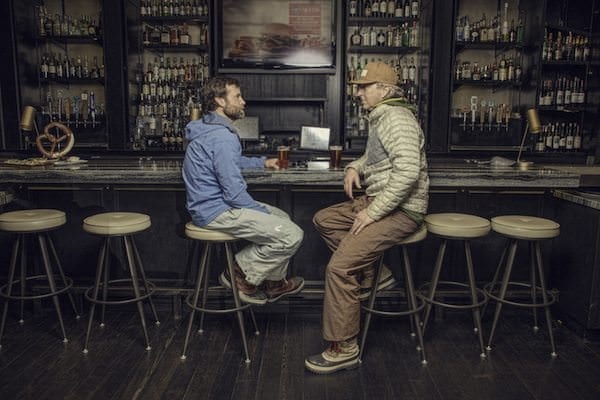 Über-Casual: You might see a line out the door of Parrilla Grill. This local spot is beloved by big appetites. It offers a walletfriendly happy hour seven days a week, from 4 p.m. to 5 p.m. The burritos are filled with goodness from influences all over the world, and the staff multiplies the magic. Ask for "all the recs," or recommendations, tailored to each burrito from nine housemade salsas and other culinary condiments. Skater stickers adorn the door and the line forms along a vestibule clad with posters that will keep you in-the-know for live music shows.
Adults Only: Velvet lounge sounds fancy, but this rugged two-story bar in the heart of downtown has rough reclaimed cabin wood walls and antler chandeliers. It is sassy and classy, with the right touch of hip. Mason jars packed with organic fruit-infused booze and creative cuisines go down easy during the happy hour from 5 p.m. to 7 p.m. Grab a board game or zone out to radical videos of backcountry bombers ripping down couloirs. Minors not allowed.
Apple of Our Eye: On the fringe of downtown near the Old Mill is the sweet new Atlas Cider taproom. Northwestern to the core, its apples are sourced from Hood River. Grab a mason jar and explore a crisp, thirst-quenching drink. No additional sugars or sweeteners are in this farm-fresh pour. Your pass or lift ticket will give you $2.50 off a cider flight. A vintage-looking machine pumps out free popcorn. Chill on couches by the fireplace or play old school cool pinball machines and arcade games. Watch the sun set behind the snow-capped peaks from the comfort of a heated, enclosed patio. There are beers on tap too, but Atlas Cider is as refreshing as the crisp mountain air.