Brad Tisdel talked with Teafly about the importance of discovering music at a young age and how Sisters has cultivated its arts community.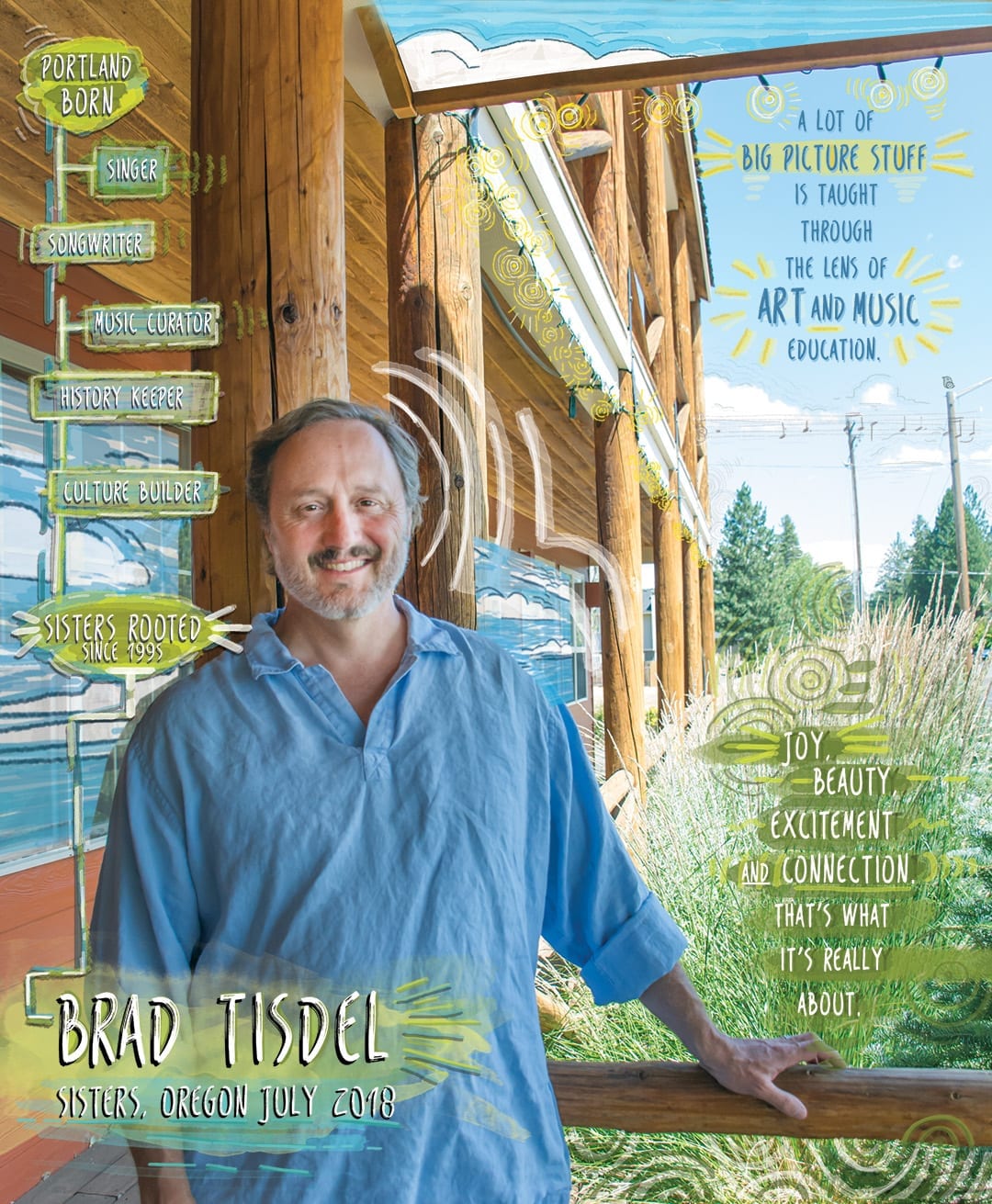 Brad Tisdel grew up outside of Portland, lived around the West, and moved to Sisters in the mid-90s after entering the Sisters Folk Festival songwriting competition. In 2000 he started the Americana Project, a music program in Sisters' school district. He's currently the creative director of the Sisters Folk Festival and books the talent that brings people from all over the country to the small town for the annual event.
On Discovering Music
I was a choir kid. I always sang and had a real passion for singing. In college, it seemed like everybody could play a little bit of guitar, and so I thought, "How hard can that be?" When I got to write songs and play guitar, I realized that was what I wanted to do. After doing it for about ten years, though, I realized that not only is it a hard road, but also I wasn't sure how committed I was for my whole life. I wanted to be involved in the folk music community, but not necessarily just as a musician. In 1995, I was living in Seattle and I entered the Sisters Folk Festival songwriting competition. I was a finalist two years in a row for that. Back then, the festival was still small. I lost that year to Dave Carter, who is a fantastic songwriter.
On Bringing Music to Schools
In 2000, the Folk Festival asked me to start the Americana Project, a collaboration between the Sisters Folk Festival and the Sisters School District. A lot of big picture stuff is taught through the lens of art and music education. I'm really proud of the Americana Luthier program as well. When we talk about carrying on age old tradition, I think the fact that young people have the opportunity to build ukuleles and guitars in their high school is a shining example of the uniqueness of the opportunity to grow up here. Other school districts have cut their music and arts because they could not figure out how to fund them. Here, we made it a focal point.
On The Next Generation
From the beginning, for me as a songwriter, it was always important that kids learn how to write and perform original music. As a compliment to that, they also need to know who they are, what their sense of place is, who they are becoming and how that connects with their community. Having the language, as an artist and a poet, of composition, line, space, form, harmony, and melody in visual art and music is immensely valuable, even if students do not become artists themselves. We want young people to understand it is important to have that value in their life.
On the Arts in Sisters
The town has embraced Sisters as an arts community for a long time now, but it wasn't always valued. I think Kathy Deggendorfer and others have done amazing things in changing that. I've seen the strength of the galleries grow, and the recognition of Sisters as an arts town is growing. Between the Americana Project, Sisters Arts Association, Hood River Arts, the Quilt Show and even the Rodeo, there is a cultural identity around these events that has always been a part of Sisters.
On Experiencing the Moments
The Sisters Folk Festival is overlooked as an event for world class music. Don't come for a day. You can't capture all of what is going on in just one night. It is interesting to find something you didn't expect that you love. It's really a place where you come for one artist but you discover three others. For me, watching the festival unfold and connecting with community is always super special. One of my favorite things is when there are musical moments that could only happen at that venue on that night because of a number of different things, intentional or not. You can see the artists eating dinner together in the restaurants through the weekend. There is always a late night jam on Saturday night at Angeline's and those have incredible moments. I look around and what I see on people's faces is joy, beauty, excitement and connection. That's what it's really about.