In The Arms Of The Metolius, Camp Sherman Welcomes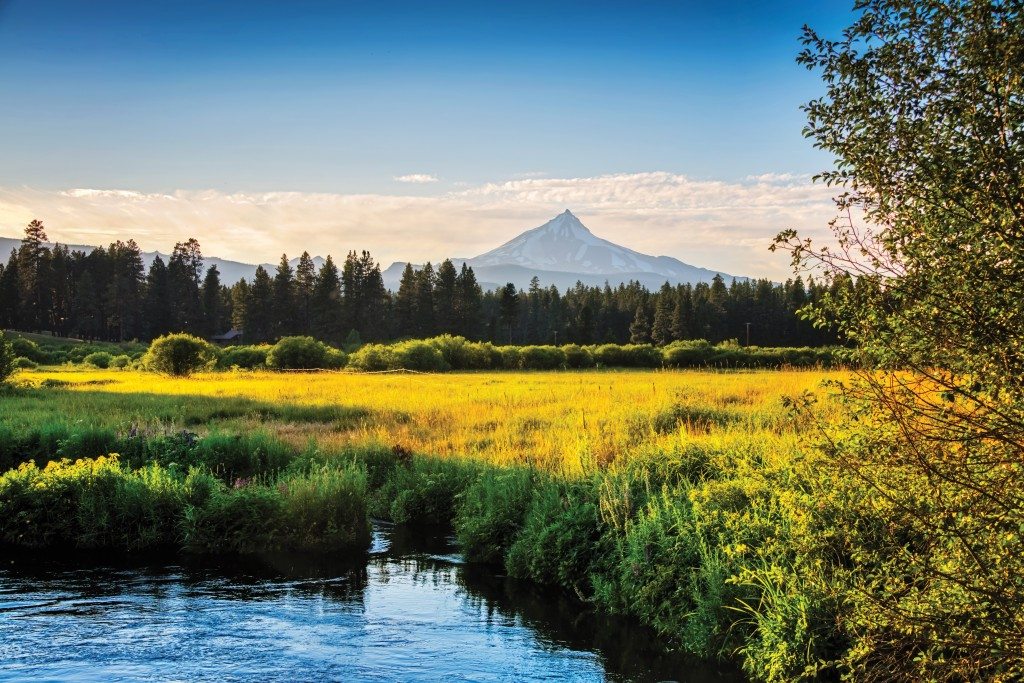 A river runs from it, not just through it. Tucked away in the woods northwest from Sisters, the Metolius River provides a source of both relaxation and recreation for those who want to truly get away. Well-known as a fly fisherman's dream, the currents and eddies of the twenty-eight mile stream call people from all walks of life to slow down, observe, and go with the flow.
Year after year, photographers, hikers, bicyclists and birders flock to Camp Sherman to see white-headed woodpeckers, catch rainbow trout or just go for a stroll amid the flowers and wildlife on riverside trails. Those not fishing can feed salmon and trout at Wizard Falls fish hatchery or snorkel the river to get a close-up look.
According to legend, Native Americans named the river "Mptolyas" or "white fish" for the light flesh of the salmon that swam in its waters. Springing up from underground somewhere underneath Black Butte, the river attracted settlers in the 1890s but the creation of the Cascade Forest Reserve halted further homesteaders. Established by visitors from Sherman County and shaped by logging and public work projects in the 1930s, the quiet community of Camp Sherman has changed little over the decades. The same quaint cabins line the river, ready to be rented to vacationers, supplied by the same general store since 1917.
Clear, cold water flows and green plants flourish along the banks, painting a picture of tranquility that can only be described as Metolius magic. There are bigger gorges.  There are larger resorts. There is more extreme. But it is hard to find more consistency for a vacation spot. Great for a daytrip or to stay half the summer, the Metolius Basin remains a place where people can be still, sit back and watch while the river keeps running.
~see~
Headwaters of the Metolius
Everything in Camp Sherman revolves around the twenty-eight-mile river, starting here at its headwaters. Watch clear, blue water spring up from the ground to create a full-fledged river within a few feet. From the observation deck, let your jaw drop from taking in views of Mt. Jefferson or make a longer trek on the Wizard Falls trail.
~stay~
House on Metolius
Set on 200 acres of private land surrounding the Metolius, this venerable, intimate, understated lodge and cabins have been a private estate and retreat for more than a century. Escape to this serene environment, where the art evokes the history amid millions of acres of national forest. More small resorts and campgrounds round out the options here.
~eat~
Kokanee Cafe
Fine wines and fare of the Northwest such as steelhead and elk burgers suit the surroundings perfectly. Dinner is served in this rustic restaurant May through October. A year-round restaurant at Lake Creek Lodge is known for its homemade cinnamon rolls and family-style meals.
~shop~

Camp Sherman General Store
Around for nearly a century, the Camp Sherman General Store is truly "general", selling a little bit of everything and serving as a hub for the town. Get tackle gear, hear the fishing report and stock up on essential supplies, souvenirs and snacks.