Bikepacking takes mountain biking from excursion to adventure status.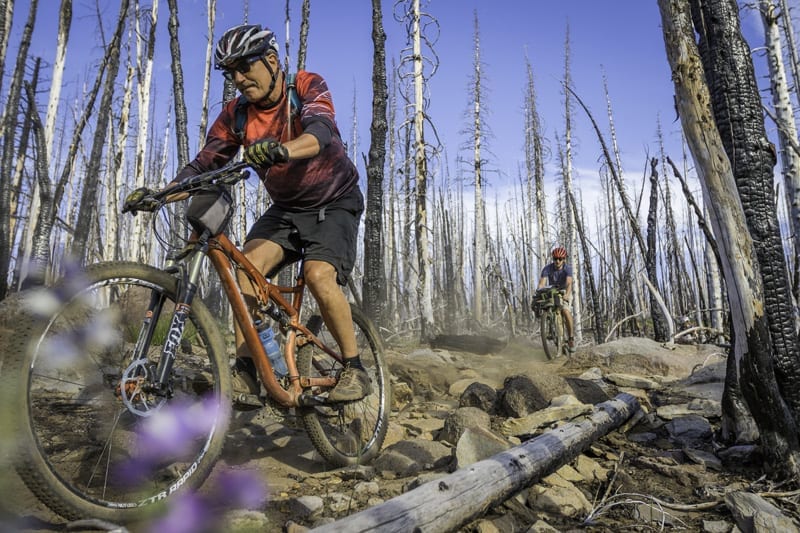 Tom Karren was a respectable member of society. He had a day job. Slept under the same roof most nights and enjoyed the occasional afternoon and weekend road bike ride. That was before he strapped on his first frame bag and became another bikepacking convert. These days Karren works when it allows, usually sleeps under the stars and uses roads primarily to move from one bikepacking adventure to the next.
Since taking up bikepacking just three years ago, Karren has completed the Continental Divide Trail, a bruising two-wheeled bisection of the United States along its most arduous terrain. He has bikepacked across British Columbia, completed the 400-mile Smoke 'n Fire backcountry race in Central Idaho and finished the grueling Tour de los Padres trail in California. Karren's major regret: that he didn't discover the sport sooner.
"If I've been off my bike in the last year, I doubt it's more than a one- or two-day stretch," said Karren.
Yes, he's an extreme case, but Karren is on the forefront of a recreational revolution that is winning new adherents by the day. While there are no ready measurements of the amorphous sport—the very definition of bikepacking is as fluid and mutable as the DIY routes that riders create—the anecdotal evidence is mounting for bikepacking as the next sport to capture the imagination of outdoor minded adventurers. In a certain respect, it's almost surprising that it hasn't happened sooner. The sport combines hugely popular activities of biking, camping and backcountry hiking.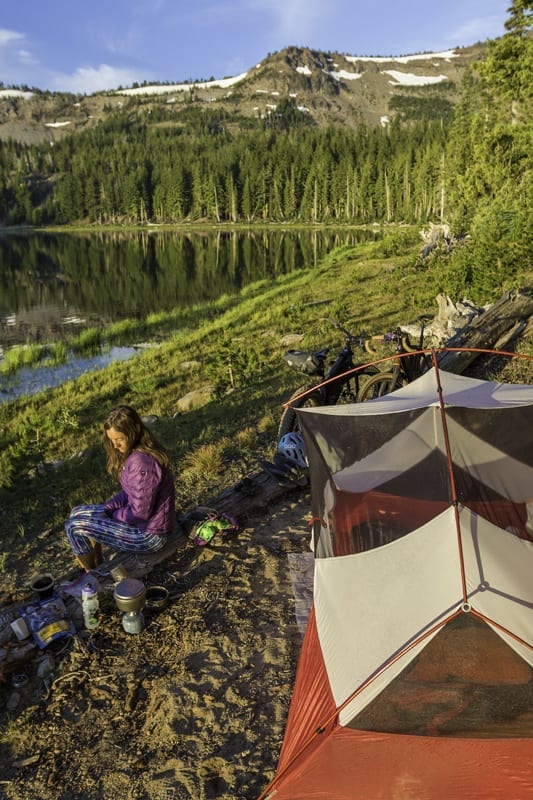 With the advent of new lightweight gear and ever more access to trails and roads, this has become a popular sport for adventurous intermediate and advanced riders. Oregon has some outstanding opportunities to explore the wild and remote areas of the state with some planning and strategic investment.
We asked veteran bikepacker and local shop owner David Marchi of Crow's Feet Commons to show us the ropes locally. David and his gang of merry bikepackers helped us navigate an easily attainable local route that incorporated the Metolius-Windigo and Mrazek trails. From there we connected to the Peterson Ridge trail system with an overnight stay at Three Creeks Lake.
Stellar views and wildlife abounded. Our evening included an Osprey snagging a fish in the evening and a more graceful bald eagle doing the same the next morning. We rode out the next day for what bikepackers dub a "sub-24," feeling we had wrapped a whole weekend of adventure in just a matter of hours. As it turns out, losing track of time is one of the happy casualties of a successful bikepacking adventure.
Oregon's Expanding Trails
The newly minted Oregon Timber Trail connects remote Lakeview to Hood River, putting Central Oregon square in the middle of the bikepacking revolution. With nearly 700 miles of remote trails, half of which is singletrack, the Timber Trail is now a bucket list item for Northwest bikepackers and provides some of Oregon's best riding. The Three Sisters Three Rivers trail is a great option that begins in Bend and encompasses several renowned local trails, including Peterson Ridge and the McKenzie River trails. Riders connect to the Oakridge system and the North Umpqua trail, ending in Roseburg. This 300-mile, mostly singletrack route has some incredible and challenging riding, with the added bonus of access to hot springs where you can soothe your aching muscles.
Gravel Grinding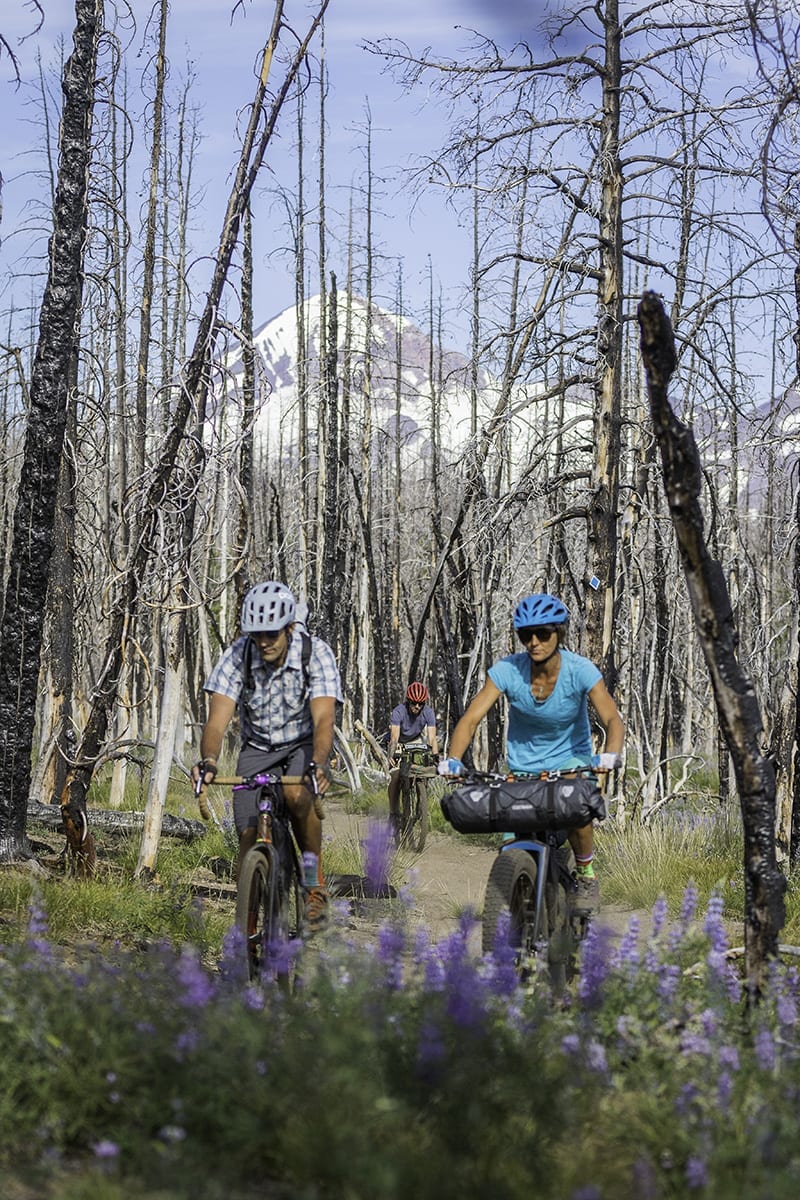 In far Eastern Oregon, the Wallowa and Blue Mountains boast fantastic scenery and friendly people. Due the area's remoteness, there is also incredibly light vehicle traffic. A growing list of rideable routes has this region on many bikepackers to-visit lists. Local gravel options abound in the Ochoco Mountains and guided tours are available with Good Bike Co. in the heart of Prineville.
Good Bike's staff is knowledgeable and ready to help outfit just about any bike for a backroads or backcountry adventure. Owner James Good opened the shop in 2014 after relocating from Utah where he had worked at Petzl, an outdoor accessory company.
Good said he knew that Prineville had the potential to develop as an oasis for road bikers because of its proximity to several state scenic bikeways and its positioning on the TransAmerica Trail, the nation's original coast-to-coast bike route, which begins in Virginia and ends at Astoria. What Good didn't know is how fast interest would grow around bikepacking and gravel road riding.
The shop now sponsors an annual 100-mile gravel road race held in August and is expanding its offering of overnight tours that combine gravel riding and some little-known single and doubletrack routes east of the Ochocos.
"A lot of what we will do this fall is going to be two-night bikepacking trips where everybody is self supported but we provide the food," said Good.
With fewer potential conflicts between motorists and riders on these lightly traveled routes, the rides can take on a convivial air and tend to be very social affairs.
Whether it's a DIY route that riders map out with friends or a shop-supported ride, there's a strong sense of ownership in a bikepacking experience.
"Once you've completed a route like that you feel a lot of gratification. You're creating your own adventure, if you will," Good said.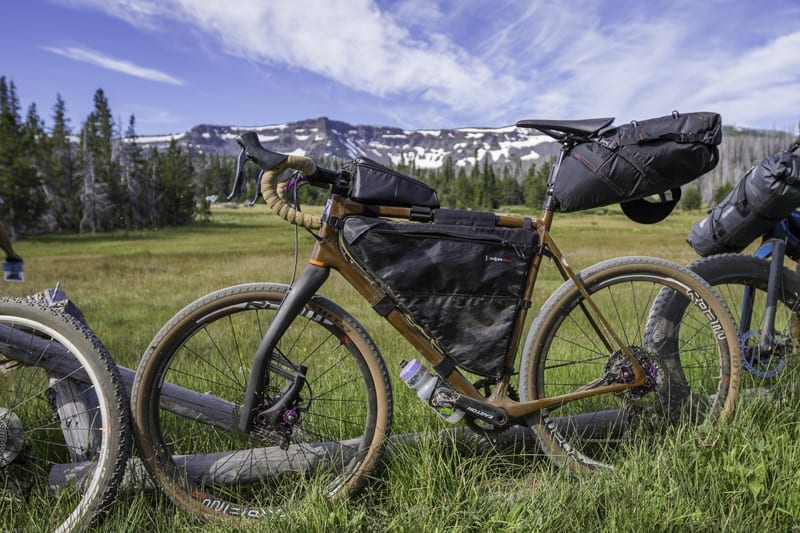 Finding the Right Gear
"I look at bikepacking as two things, one is bikepacking on mountain bikes and this other segment, which is more geared toward road aspects and to deserted doubletrack," said Eric Power, owner of Bend Velo, a local shop that specializes in bikepacking and touring gear.
Power said he has seen huge growth interest over the past couple of years around bikepacking, from gear purchases to route building and guided tours. Bike shops and adventure outfitters can help riders choose the right bike and gear for any type of adventure, but they also can provide touroptions with catered meals, allowing riders to enjoy the best of both worlds—a backcountry tour with meals that include fresh ingredients and perks like cold beer and hot coffee.
If you're going it alone, pack light. Bikepacking calls for small handlebar and seat bags to keep the ride balanced and nimble. Whatever frame you prefer, most gear can transfer from one type of bike to another, allowing riders to experiment as they evolve in the sport.
The other issue is technology. Phones and GPS devices have made it possible for riders to plan routes and make real time updates on trail conditions, sharing information and insight with other users. It also allows riders to move more confidently in remote areas without the fear of taking a wrong turn. But just how much technology is too much? Power, who takes half a dozen or so multiday trips per year and mixes in several more overnight rides, said it depends on the route and the rider.
"Part of the reason we are doing this is to get away from the computer and life as we know it. I want my [GPS] to beep at me if I'm off course, but I don't want it beeping at me the whole ride," he said.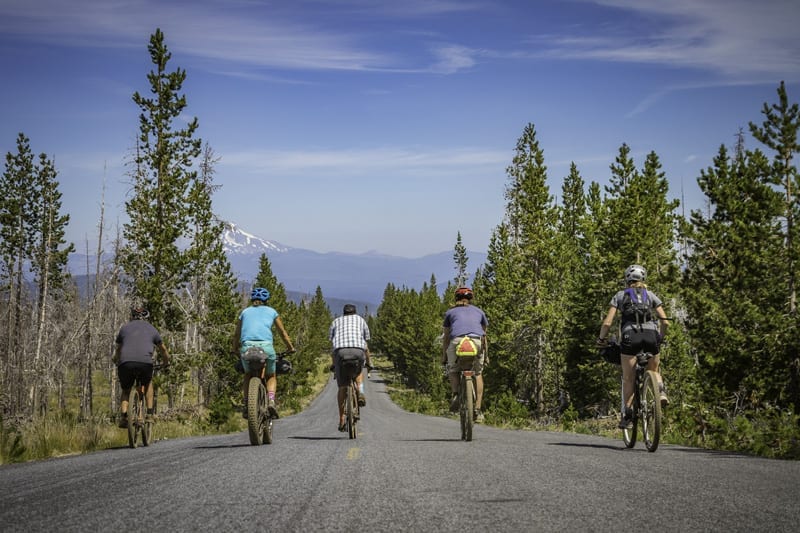 Resources
Bikepacking.com is a popular bikepacking blog that has evolved into a comprehensive journal of all things bikepack related including gear reviews, bikepacking routes and stories from bikepackers around the globe.
Oregontimbertrail.org contains maps, photos and information on the newly minted Timber Trail, a 670-mile ride that bisects the state of Oregon, beginning in Lakeview and ending in Hood River. The route is more than fifty percent singletrack and includes some of the state's most highly rated mountain bike trails.
One of the most popular and universally adopted web programs, Ride with GPS allows riders to research and plan routes that can be saved on GPS devices and smartphones. Routes can be saved, shared and updated in real time, allowing users to create a growing library of bike routes available to the public.