The Oregon Outback is home to some of the best mountain biking around. Come springtime, sun-filled skies give gearheads a hankering to hit the trails, but it pays to know where to go before you start pedaling—and when. Muddy tracks tear up trails, so be sure to check in with the Central Oregon Trail Alliance at cotamtb.com and Bend Trails at bendtrails.org for maps, updates, current conditions, etiquette and more. Bike smart, be nice, and get ready to ride.
---
Get Technical
This season, say hello to the hard stuff on the fifteen-mile North Fork to Farewell Loop high in the hills west of Bend. Climb through gorgeous forest on the uphill-only North Fork trail connecting to Mrazek trail, then drop 1,200 feet in three fast miles, ending at Tumalo Falls. One of the area's most demanding rides, be ready to navigate tight switchbacks and steep terrain and don't forget to brake for the breathtaking views.
Another wild ride lies east on Highway 20 at Horse Ridge where the wide-open terrain differs from trails closer to Bend. Ascend to 4,700 feet on abandoned roads such as Mad Max Drive, then rip through lava rock and junipers down Sand Canyon for a super fun spin. Thirty miles of trail options up and down the ridge make for endless entertainment.
Up for a downhill challenge but don't want to climb? Come summer, Mt. Bachelor's Downhill Bike Park opens up thirteen miles across the mountain, complete with banked turns, fun boxes and lots of ramps and jumps. Survive hair-raising, hairpin switchbacks, then take the chairlift to the top for all-day downhill fun and shred like it's ski season.
KNOW: WHEN TO GO – The biggest challenge in spring is keeping riders off trails that are simply not ready to ride. Riding muddy trails erodes and widens trails as riders steer around puddles. More tires on trails widen singletrack that is meant to be narrow, leaving ruts that seriously alter the flowing fun of the ride and makes them dustier in summer.
More people riding has an impact on Bend trail systems. It's important for people to understand the work it takes to keep our trails in good shape. The Central Oregon Trail Alliance (COTA) does an amazing job with education, trail maintenance classes and community workdays to get local riders involved in owning our trails.
---
Middle trails
Ask any Bendite about biking and Phil's Trail will come up. In the early 1980s, trail-builder Phil Meglasson and his friends carved out a few trails west of Bend (story on p. 76). Today, the Phil's complex crisscrosses hundreds of miles of singletrack through the Deschutes National Forest with trail names like Funner, Tiddlywinks and Whoops. To the northwest, Mrazek trail connects into Phil's, offering thirteen intermediate miles of ridge complete with logs, ramps and some steep descents.
When trails in Bend are muddy, the Maston system in Redmond is drier and has plenty of good trails to try. In spring, flat and fast dirt follows the Deschutes River with a few moderate technical sections thrown in. Right across the road, advanced riders in search of steeps can climb up Cline Butte and descend through some gnarly rocks.
Just beyond Central Oregon, the McKenzie River Trail is well worth the ninety-minute drive. Hailed as one of the top mountain biking destinations in America, this twenty-six-mile singletrack trail weaves past waterfalls and through old-growth forest while rock obstacles make for one killer all-day ride.
 KNOW: WHICH WAY TO GO –  COTA has created one-way trails on the more congested networks such as Phil's Trail to limit interruptions and head-on encounters, but a good rule of thumb is if you're riding up behind someone, make it clear from a good, safe distance. Handlebar bells are good for this—less startling than yelling, and somehow more polite and less aggressive.     
If you choose to wear headphones, be aware that you aren't the fastest rider on the trail and someone may want to pass. You also may not hear someone rallying up ahead, and you may cause a head-on collision.
---
Cruiser views
For a cruiser steeped in the sheer beauty of Central Oregon, the Deschutes River Trail is hard to beat. Winding it's way through the heart of Bend, the thirteen-mile trail follows the river, flaunting stellar views of the Cascades and Mt. Bachelor. It's also an extremely popular hike, so expect people, pets and other bikers, especially on weekends in downtown sections, but access is available from multiple points along the DRT.
Another easy trail is through scenic and relatively flat Shevlin Park. Climb a few short switchbacks then coast along the ridge over gently rolling singletrack, catching glimpses of Tumalo Creek in the canyon below. The main trail circles a 4.6-mile loop, linking into Mrazek and other intermediate routes.
Outside of Bend, Peterson Ridge in Sisters presents a perfect playground for beginning mountain bikers. More than twenty miles of singletrack  mixed with old service roads swoop around an 18.4-mile outer loop spiderwebbed with dozens of connector trails. Moderate ups and downs lead riders to rewarding views, making this a great spring ride before dry and dusty summer conditions.
KNOW: THE RULES –  The number-one trail etiquette: be cool with each other. We are all out there searching for the same ethereal feeling on our bikes, so be nice. With a growing population of riders who want to go fast using apps such as Strava to track their speed, it's important to just be polite. Say "hello" to your fellow rider and take time to let people pass.
When you encounter someone riding in the opposite direction on a single track, slow down and let the uphill rider pass. If you are on a flat trail, both riders should stop, give each other a high-five and continue with their day. To be extra nice, pitch in at COTA work parties or Adopt-a Trail programs.
---
---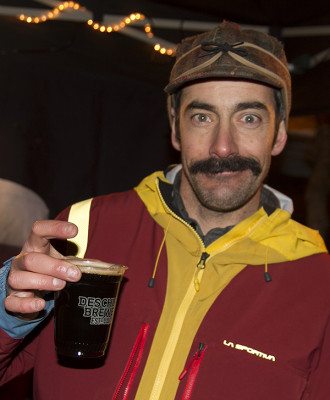 KNOW: DAVID MARCHI
Shredding etiquette this issue comes straight from David Marchi, owner of Crow's Feet Commons, a coffee, beer, bike and ski hub for the mountain-minded located in downtown Bend. Originally from the Mt. Shasta area, Marchi came to Bend to watch cyclocross in 2009 and ended up opening his business four years later. With a passion for cycling and all things single-track, David shares three tips about when, where and how to tackle the trails this spring.