There are countless Central Oregon hikes with mountain views to choose from, these two higher-elevation hikes west of McKenzie Pass are some of our favorites. Both the Four-in-One Cone and Scott Mountain hikes are accessed off of Highway 242, also known as the Old McKenzie Highway, and have connections to Felix Scott Jr. In the summer of 1862, Scott hired fifty men to build a passage over the Cascades, something that previously did not exist. The rugged road was cut past Scott Mountain and alongside lava flows from Four-in-One Cone to crest the Cascades for the purpose of moving cattle and freight from the Willamette Valley to gold miners in Eastern Oregon.
THE FOUR-IN-ONE CONE TRAIL
The hike to Four-in-One Cone crosses the highway, passes the Obsidian Cliffs connector trail, then proceeds uphill skirting the edge of a "recent" lava flow. The trail follows the original Scott Trail, though these days, instead of bellowing cattle, hikers may hear the grating calls of Clark's nutcrackers or the "Eenk!" alarm calls of American pikas. 
Around the 4.5-mile mark, a short, steep climb leads to a ridge comprised of conduits that concurrently spewed ash and lava around 2,600 years ago. The lighter eruptive material built up the four overlapping cinder cones. As hikers gain the ridge, the rewards are outstanding views of both distant and nearby Cascade peaks.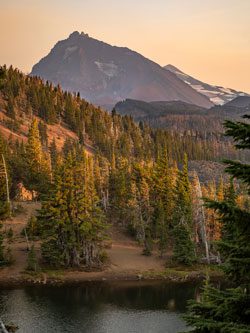 Back on the main trail, hikers may proceed 0.8 miles to the wildflower-laden Scott's Meadow at the intersection with the Pacific Crest Trail (PCT) and the turn-around point.   
9.0 miles round-trip (additional 1.6 miles round-trip up to the PCT)
Elevation gain: 1,500 feet
THE SCOTT MOUNTAIN TRAIL
The hike up the 6,116-foot-tall Scott Mountain begins near the Scott Lake campground and proceeds counter-clockwise past stunning Benson Lake.
This beautiful lake sits in a basin gouged out by Ice Age glaciers that once cloaked the Cascades. Farther along, a side trip leads to Tenas (Chinook jargon for "small") Lakes, a series of shallow ponds ringed with huckleberry bushes. The main trail curves up the flank of Scott Mountain, a glaciated shield volcano, to the summit from which provides a great lunch spot to soak up the views of the surrounding peaks. 
From the summit, hikers may retrace their route or extend the hike through coniferous forests and open meadows before passing Hand Lake on the return to the trailhead. 
8.2 miles out and back
9.7 miles via Hand Lake
Elevation gain: 1,300 feet
Pro Tips
A day-use Central Cascades Wilderness Permit is required in advance (available on recreation.gov). 
Remember your federal recreation pass for the trailhead parking.