Photo of Bend Breakfast Burrito, by Tambi Lane Photo
Don't hit the slopes or the trails with an empty tank, grab one of Central Oregon's best breakfast burritos. Delicious and great as a one-handed, on-the-go meal, the breakfast burrito is the ultimate adventure fuel. Before you head out of town and into the mountains, grab tortilla-wrapped goodness from one of these hotspots in Central Oregon.
Central Oregon's Best Breakfast Burritos
Three Locations in Bend | Opens at 7:30 or 8 a.m. depending on the location
Rise and shine with Bend Breakfast Burrito's delicious and fulfilling burritos before embarking on a day of adventure. Operating in three convenient locations, they've got your breakfast needs covered. Visit either Boss Rambler on Galveston, the Commons Cafe in downtown or its midtown kitchen location to savor a variety of options, including bacon, chorizo, vegetarian and vegan burritos.
Downtown Bend | Opens at 7 a.m. Tuesday- Sunday
Swing by Burrito Sunrise and fuel up for an amazing day ahead. This California-style breakfast hotspot offers an array of mouthwatering burritos to kickstart your day. Whether you crave chorizo, ham and bacon, veggie or chicken breakfast burrito, this bright yellow food truck is sure to satisfy your morning hunger.
3 locations in Redmond and Madras | Open 24 hours
If you're heading south on Hwy. 97 and still trying to grab first chair, La Posada is your best breakfast option. Open 24 hours a day, you can get an early breakfast and hit the road before the traffic does. There are three locations in Redmond and Madras.
Bend, Bond Street location | Opens at 6 a.m.
For a great cup of coffee to go along with your breakfast, try Strictly Organic. There are lots of options to choose from, including vegetarian and vegan burritos. And if you're not feeling a burrito, Strictly Organic has breakfast sandwiches as well. For those who can't stand to break stride, there's a drive-up window to keep rolling.
Monday-Saturday opens at 7 a.m. | Sundays open at 8 a.m.
Rockin Dave's has a seasonal breakfast burrito option that's always delicious. You can also build your own burrito with your favorite ingredients. There are large and small options, depending on how hungry you are or how many turns you're trying to make that day.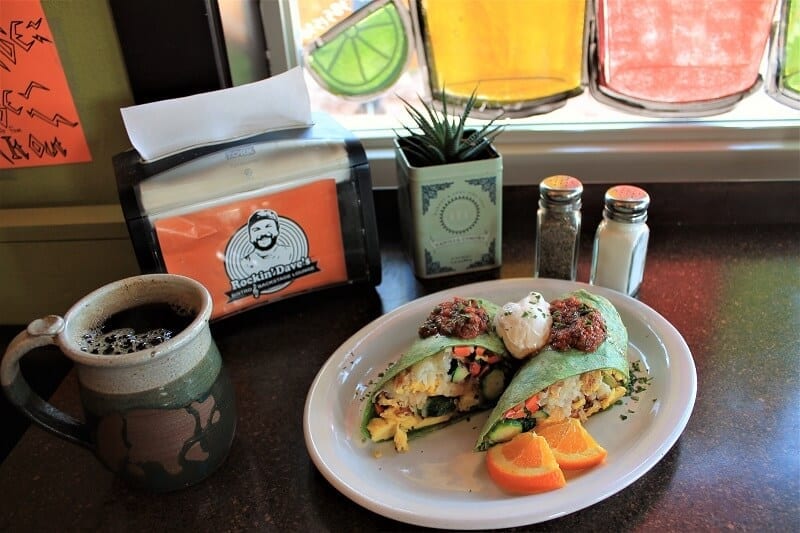 Bend, westside | Opens at 7 a.m.
A favorite late night stop for westside bar-goers, Taco Salsa is consistently rated as having one of the best breakfast burritos in town at the best price.
Bend, eastside | Opens at 7:30 a.m. Monday-Saturday
There are eight breakfast burritos to choose from at Los Jalapenos, ranging from chorizo to vegetable. All under $8. Arriba!
---
Click here to read more about our local food and restaurant scene.