With the newly opened Cuban Kitchen, authentic Cuban flavors arrive in Bend.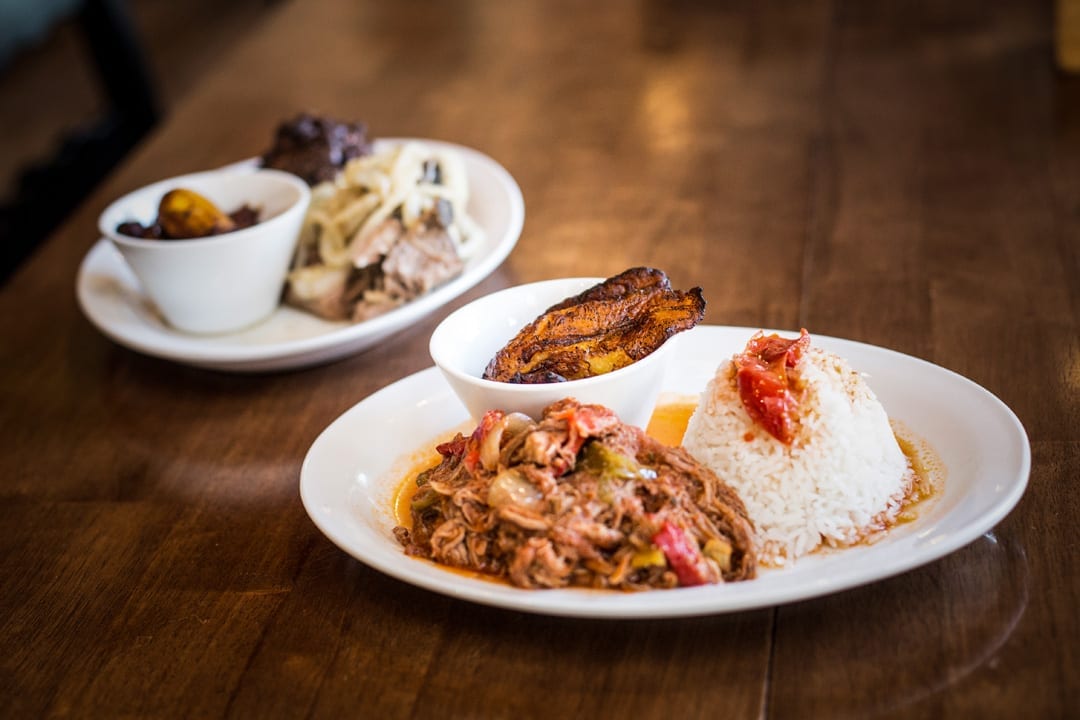 Cristina Rojas sips a cafecito from a tiny white plastic cup about the size of an individual coffee creamer. Bigger than a thimble but smaller than a shot glass, you might wonder why anyone would drink such a small serving of anything. That is, until you taste Cuban espresso, an intensely sweet and bold dark brew sometimes called "poor man's cocaine." It's the fuel that powers a thirtysomething couple with four children who moved from the Little Havana section of Miami to open Cuban Kitchen, infusing new flavor into Bend's culinary scene.
"This is what keeps us going," said Rojas, who, with her husband Chris, opened the intimate eatery in July, all but hidden amid a dry cleaner, salon and pet supply store off Century Drive. The two are turning out classic dishes based on family recipes, bringing a dash of the Caribbean to the Cascades.
At its most basic, there are the Cubanos, or Cuban press sandwiches. Savory fillings are pressed between slices of Cuban white bread in a plancha, which is like a panini press without grooves. The options—roasted pork, ham and Swiss cheese, or slow roasted pork or chicken, or Palomilla steak (thinly sliced and pounded sirloin) and sautéed onions, or sweet plantains with lettuce, tomatoes, mustard, mayonnaise and crunchy fried potato sticks—all meld lusciously. The cheese melts, the bread toasts and the result is as satisfying as a lifted embargo.
Cristina said she continually experimented with her husband's family recipes before finalizing the menu. For instance, whenever she went to a Miami restaurant and tasted a classic Cuban dish such as puerco asada, Cuban pulled pork, and liked the flavor, she'd adjust her recipe to emulate it. Once she and Chris decided they were going to move to Oregon to open a Cuban restaurant (Chris discovered Bend when visiting friends), they spent six weeks working at a Cuban cafe in Miami to learn tips on everything from cooking to customer service.
The result of such dedication and innovation is evident in dishes like puerco asada, slowly cooked with mojo, a marinade that combines garlic, cumin, and oregano with the flavor of the sun—the juice of oranges.
A classic Cuban-style chicken fricassee frequently sells out because the time and space involved only allows Rojas to make fourteen portions daily. She begins early, marinating the chicken, searing it, and cooking it in an eighteen-inch-wide pot with wine, peppers, tomatoes, spices and raisins. It's served with white rice, Cuban style.
"The simple secret is toasting the rice a bit before cooking it with oil. That gives it the Cuban taste—so it's soft, but with more texture," Rojas said. Another side dish is maduros, glistening, sweet, soft plantains.
Repeat customer Tony Russell of Bend said he discovered Cuban Kitchen when it popped up as "hot and new" on his Yelp app. "I also had friends call me about it," he said. "They've heard my regular complaints of 'no good Cuban food for 500 miles,' and felt relieved to have an opportunity to hush my cries."
One of his favorites is the moro rice. Rojas said she employed many iterations of this essential Cuban staple, adjusting the amount of garlic and oregano in the black beans, the distinctive feature. "One of most time-consuming things was something as easy as making beans, but ratios of each ingredient are important, and I add tomato sauce, which is a big thing for the creamy texture, when you pour it over the rice, which is traditional."
This winter, Rojas plans to offer paella on Friday and Saturday nights and soups, most likely one of black beans. That will add to the coziness of the thirty-seat space. With counter service, simple wooden tables and chairs, walls adorned with vintage Cuba travel posters, a flag, dominoes and cigar boxes, it's as relaxed as the lifting of a travel ban.