Deleware Grocery as it stood in 1936
We may think our lives today are drastically different than those who lived 100 years ago. But one spot in West Bend has remained true to its origins in many ways, reminding us life might not be quite as different today versus yesterday as we might think.
Today in operation as the cafe-style restaurant Jackson's Corner, the building at 845 NW Delaware Avenue was long known to locals as Delaware Grocery. Constructed just outside what used to be the Brooks-Scanlon Lumber Mill, the originally Dutch Colonial-style building is estimated to have been built between 1921 and 1923, receiving major renovations about fifteen years ago, according to records at the Deschutes Historical Museum.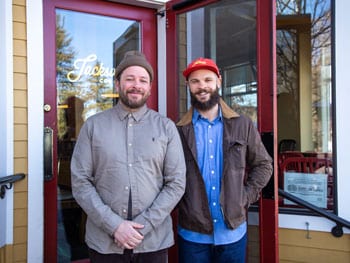 Aaron Christenson, co-owner of Jackson's Corner, said from the restaurant's opening in 2008, the founders wanted it to maintain the feeling of a neighborhood grocery. They created a market-cafe ambiance and style, including the sale of some groceries such as bread and pasta made onsite, plus beer, wine, milk and eggs, explained Christenson, who was a manager of the restaurant at the time it opened. 
The restaurant leases the building, yet the building largely defines the restaurant. "The building is a huge part of who we are, so we have to reflect back on who we are, and carrying that legacy," Christenson said. Beyond selling groceries and hosting tenants in apartments upstairs, the old building's purpose has been maintained in the community feel of the operation, he explained.
At its start, the neighborhood provided housing for mill workers and their families, as evidenced by the many charming 100-year-old homes that remain today. Sometimes referred to as the oldest grocery store in Bend, Delaware Grocery benefited from its primo location just outside the Brooks-Scanlon Lumber Mill gate. In one year during the 1920s, the business did $96,000 in gross sales, with $90,000 as the cost of the goods, according to The Bend Bulletin. In the 1920s, $6,000 was a sizable profit, considering for example that 10 pounds of sugar could cost just 85 cents, according to one 1924 ad for the store.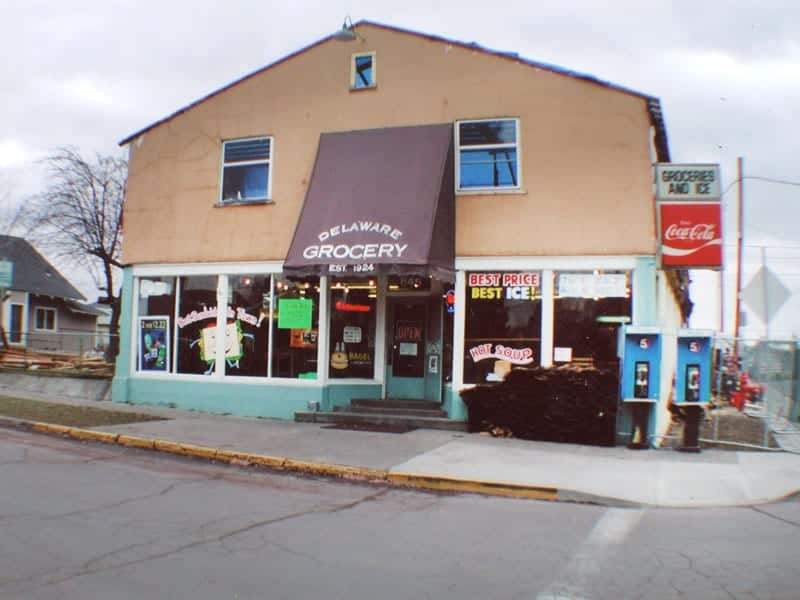 The original grocery store was built for brothers and Bulgarian immigrants Mike and John Todoroff in the early 1920s. The men had arrived in La Pine in 1911. The brothers would later sell the building to Nick and Lillian Peterson in 1926. Born Nicklos Panagiotous, in Cletchos, Furnas, Greece, Peterson and his brother arrived in the United States as teenagers and worked their way west. Peterson filed for a homestead near Brothers in 1910, later receiving many medals for his service in World War I from April 1918 to May 1919 in France. After returning to Bend and working for the Brooks-Scanlon Lumber Mill until 1926, he bought the grocery building with the apartments above.
Peterson and his wife Lillian enlarged the grocery and shepherded the business through decades, before passing it on to their son George Peterson in 1971. All in all, the Peterson family would own the local grocery for more than seventy-five years, and at times, live above the store among other tenants. Bonnie Peterson, daughter-in-law of Nick and Lillian Peterson, worked to get the building a historical landmark designation in the late 1980s.
In addition to serving as a neighborhood grocery and an easy spot for mill workers to stop in on their walk home, Delaware Grocery was also an ice house from 1936 to 2004. Before refrigeration was commonplace, ice was needed for perishables, including to stock ice boxes in people's homes. Even after refrigerators became more prolific, Delaware Grocery adapted to provide ice for personal coolers, wholesale and commercial use, and blocks for ice sculptures. 
 The store shows up in The Bend Bulletin archives over the years, most of the time in its print ads. But the grocery store address also showed up in a regular hospital ins and outs column by St. Charles, which announced not only when people entered and exited the hospital but also printed the patient's home address right along with it. Some of the Peterson family birth announcements were made in this fashion.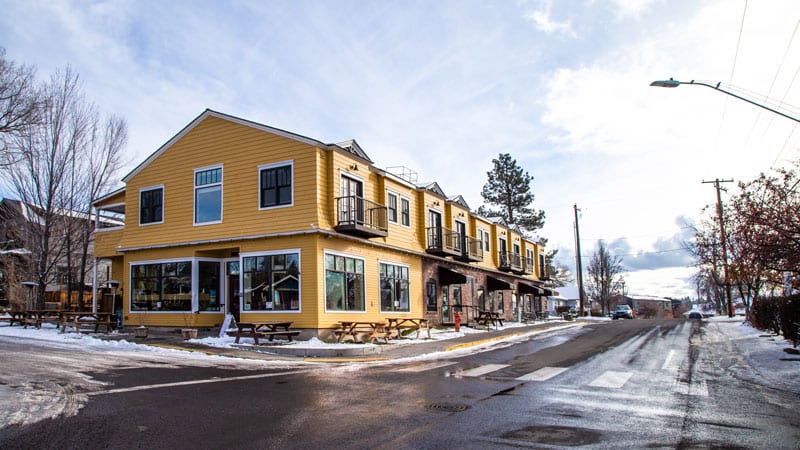 A series of ads in the 1920s also promoted grocery delivery. Featuring a cartoon of a crank phone's handpiece holding a picnic basket, the ad suggested "send the phone for groceries." Christenson was intrigued to hear how Delaware Grocery had pushed for grocery delivery, as the restaurant is encouraging phone orders for pick-up today. As Jackson's Corner adapted its service model in 2020 to focus on takeout, it bumped up some grocery item offerings again, too.
If the occasional challenges of operating a modern-day restaurant in a century-old building, from decades-old brick walls to the occasional drafts to contend with, weren't enough to remind Christenson of 845 NW Delaware's roots, there are always those little loops like those that remind the Jackson's Corner crew that they were, and are, an anchor in the neighborhood. While today, it's pizza and pasta being sold instead of 100-pound bags of potatoes, the business is still a "neighborhood-first place."
"People could view it as a con but I would view it as a pro—we have to hold ourselves accountable to being the next door neighbor," Christenson said.