This winter, Elk Lake Resort is offering a moonlit cross-country skiing trip into the resort, capped with a four-course dinner and a sno-cat ride back to your car.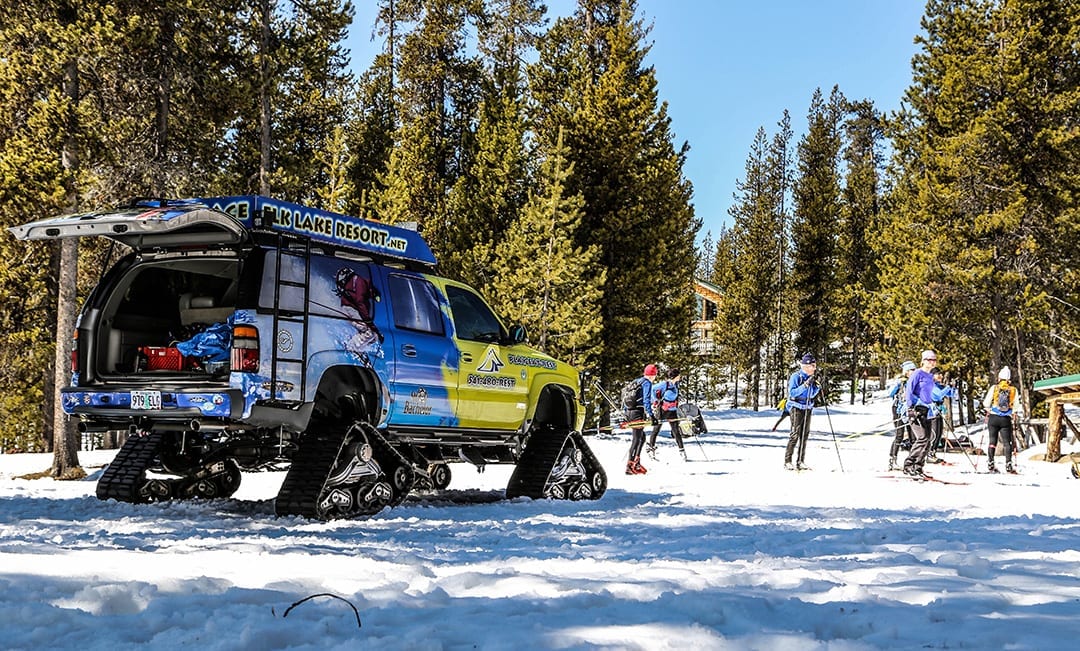 Even in Central Oregon, snow play isn't for everyone. Some folks prefer to be indoors when winter settles into the region. Others just need an extra incentive to get outside and enjoy the season. If you're seeking a thrill, Elk Lake Resort might just be the impetus for a moonlight adventure capped by a four-course dinner at the resort's cozy lakeside lodge. This year, the resort rolls out a new winter program that combines a full moon ski into Elk Lake with a chef-prepared prix fixe menu, capped by a snowcat return ride under the same silvery moonlight.
Park your car at Dutchman Flat, from which the party departs at 6 p.m. for the two-hour ski into the resort. Dress in layers; it's easy to work up a sweat on an extended cross-country excursion, particularly if you're a novice. Pack a headlamp, though you may not need it given the natural illumination of the full moon reflecting on a blanket of snow. Follow Cascade Lakes Highway (closed to all vehicle traffic in winter months) on a fresh layer of groomed corduroy past Todd Lake around the backside of Sparks Lake and into Elk Lake Resort, a four-season basecamp that in winter serves as an outpost for snowmobilers, backcountry skiers and solitude seekers.
Dust off your jackets and park your skis outside the door in a nod to the snow-loving Scandinavian settlers who first came to Central Oregon to work the forest and sawmills. Don't linger long, for a warm drink, or maybe just a stiff one, awaits inside the historic lodge that bustles with activity in the summer but transforms into an Old World dining hall in the winter months, complete with communal cheer and the camaraderie forged by the shared experience. For the full moon events, the dinner includes appetizers, main course and a dessert. When you've eaten and drank your fill, load yourself and your gear into the waiting snowcat and rumble back to Dutchmen to complete the journey.
The resort has scheduled dinners through the 2019 winter season to coincide with full moons, including January 20  and March 20.  (No dinner is scheduled for February due to President's Day Weekend holiday. )Reservations required.