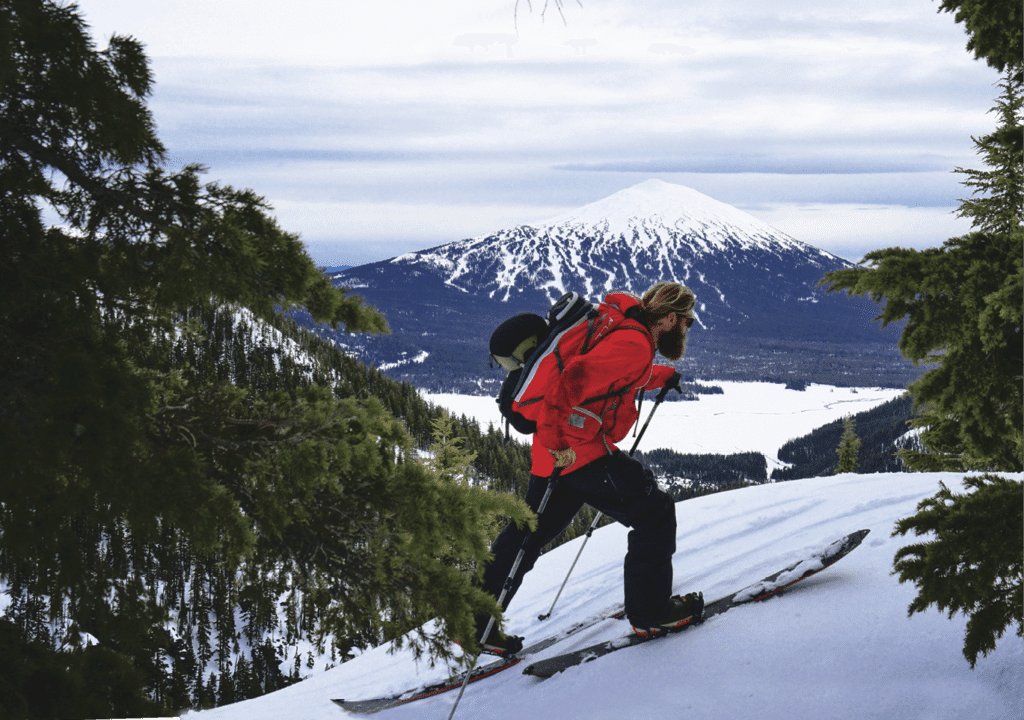 In winter, Elk Lake Resort has become a go-to destination for locals and visitors alike to cozy up in cabins and roam the Cascade backcountry.
At the height of summer, when the pavement nearly sizzles in Bend and air conditioners buzz, one would be hard pressed to find a more popular or iconic destination than Elk Lake Resort. Here tourists and locals descend on the lakeside resort, taking to the water on paddleboards, canoes and kayaks against the dramatic backdrop of surrounding peaks.
Come winter, it's a different scene entirely. For starters, the road to Elk Lake is closed to vehicles in November before the first snow begins to fly. That means visitors must find another way to the resort from the nearest parking lot, which is thirteen miles away at Dutchman Flat. Some choose to ski in, others load their gear onto snowmobiles and zip to the resort with the twist of the throttle. Others still opt to take Elk Lake Resort's Sno-cat service, which offers pickup and drop-off service from Dutchman parking lot. Whatever their means of transportation, visitors, upon arrival, find they have joined a family of sorts here at this remote winter outpost.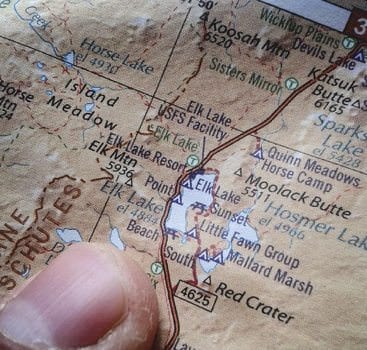 Some are drawn by the promise of solitude and serenity of landscape blanketed in ice and snow. For others, the landscape invites exploration. Some will venture forth on snowshoes, others on cross country skis. Some will pile onto snowmobiles that will take them as far as their fuel supply allows. The only sure thing? Each day's adventure will end back at the resort with stories to share among new friends. Of course, that's what a good basecamp is all about.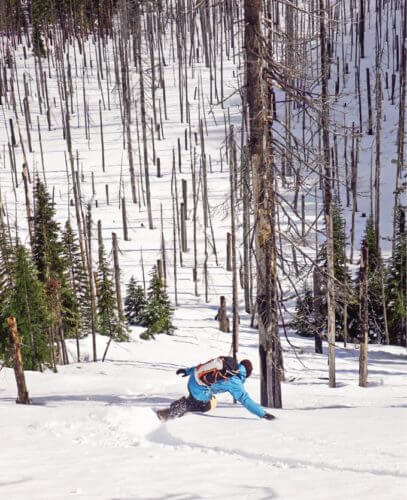 Say You Want a Revolution
While backcountry skiing and its back-to-nature, low-impact ethos may seem at odds with fuel-injected sleds, a significant population of backcountry enthusiasts around Central Oregon have embraced the contradiction. In doing so they've opened up hundreds of peaks and countless lines in the Cascade backcountry.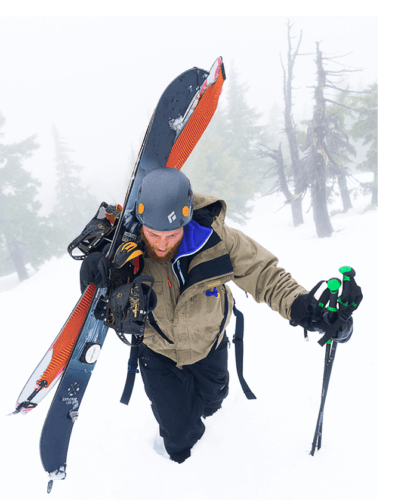 Todd McViney organizes an annual event at Elk Lake Resort that celebrates the marriage of the two cultures. Dubbed Cross ReVolution, McViney invites backcountry riders and skiers to mix with snowmobilers. Think of it as a Camp David for two very different populations of backcountry enthusiasts.
"Elk Lake is such a snowmobilers' lodge, but I wanted people to know that they can use it as jumping off point not just for snowmobiling, but backcountry skiing," said McViney.
The idea was to combine backcountry skiers' snow and avalanche expertise with the snowmobiling community's mechanical know-how over a weekend of backcountry exploration and basecamp revelry.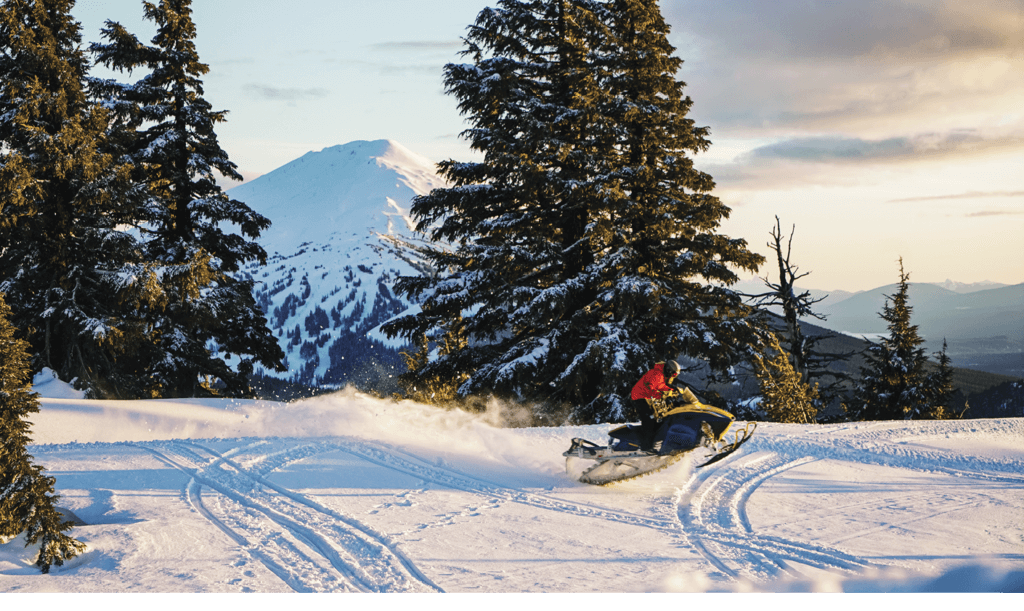 Last year the event drew several dozen backcountry enthusiasts who swapped knowledge, stories and stoke. This year, McViney expects close to 100 people for the event that features daytime missions into the backcountry and evening shananigans around the firepits—plus a tow-in quarter pipe that serves as added entertainment.
---
Ambassador's take:
Matthias Giraud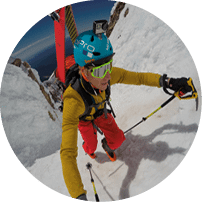 "Backcountry skiing is about more than just skiing powder and jumping off cliffs. It's about connecting, accepting your place in the environment and experiencing the magic of the moment. Standing on top of a mountain means that by paying your dues, you have reached the highest point of a powerful territory. But nobody conquers a mountain; the mountain simply allows you to travel through. You are always at the mercy of its organized chaos."
adventure
Matthias Giraud is the Bend Magazine Adventure Ambassador and an avid backcountry explorer. Follow him @matthiasgiraud
---
While the Midwest may lay claim to the sport's birth and its soul, it's the Western landscapes and bountiful mountain snowfall that have taken snowmobiling to the next level.
Sledders' Paradise
There are places in the far reaches of northern Minnesota and Wisconsin where snowmobiling isn't a hobby or weekend escape, it's a way of life. Entire communities within the extensive, frozen rural landscapes are more closely connected by snowmobile trails than roads. While the Midwest may lay claim to the sport's birth and its soul, it's the Western landscapes and bountiful mountain snowfall that have taken snowmobiling to the next level. The two polar ends of the sport come together at Elk Lake Resort. Here day-tripping casual riders mix with hardcore sledders who use Elk Lake as their outpost to access technical backcountry riding.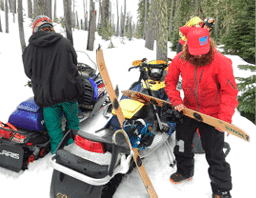 "For years, it's been a mecca and a hub for snowmobilers, not just for locals but [for those from] up and down the West Coast," said owner Wendy Prieve.
Whatever the itinerary or motivation, Elk Lake Resort serves as a backcountry oasis—a place to get a hot meal or a tall drink after a long day of riding. For many, it's a watering hole where they can stop in for a bite or a beer and move on. For others, it's basecamp for a weekend of backcountry exploration. Travis Wirth makes the trip four or five times a year, including an annual family reunion that he hosts for his far-flung relatives. An electrical contractor in Bend, Wirth said the resort's remote location is a big part of the draw, especially for those who aren't accustomed to such seclusion. "It's just a gorgeous winter wonderland. You're out there and it's peaceful and quiet," he said.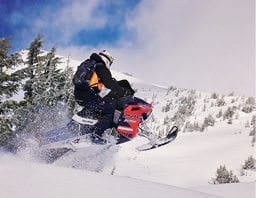 Add in dramatic sunrsies and sunsets against the Cascade peaks and you've got a postcard-perfect retreat at your backdoor.
It turns out that what could have been the end—a one-and-done mission—was just the beginning. Now the journey into Elk Lake is an annual tradition that draws about two dozen hearty souls.
Take the High Road
It takes either a special kind of dedication or a certain kind of ignorance to blindly set out from the base of Mt. Bachelor with little more than some light provisions, a grab bag of beers, a set of skinny skis and the promise of a warm meal at the end of a long frozen road.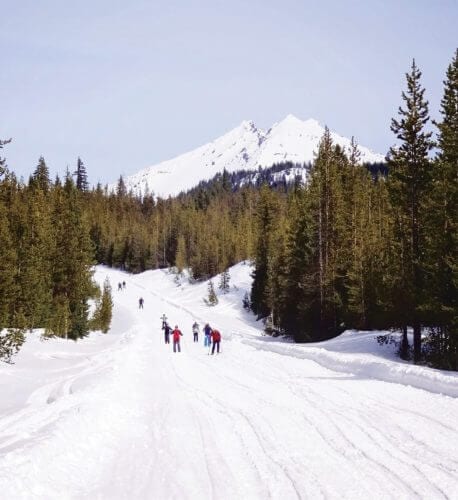 In the case of Beau Killett and his band of merry misfits, it's a little of both. Killett is the chief instigator and mastermind behind an annual sojourn to the resort in February over SuperBowl weekend, dubbed cheekily, "Man Versus Elements."
The guys trip started as a way for Killett and some of his close pals to sneak a few hours away from their busy family lives. Most of the crew had wives and young children; time away from the home front was a commodity in short supply. As a result, the Elk Lake itinerary started as a day trip with a long ski into the resort, a late lunch and a lift back to the parking lot on Cascades Lake Highway in the Sno-cat.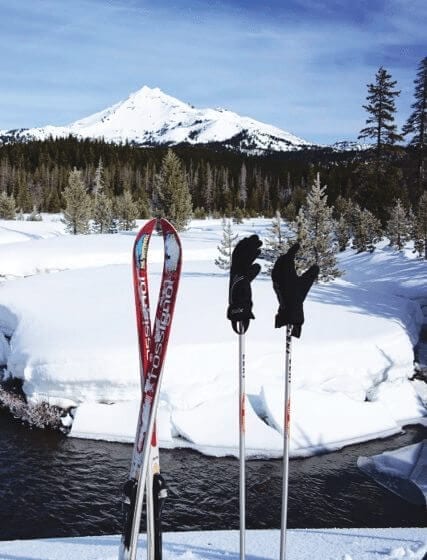 "I found seven other guys. That was our first journey. We were completely lost even though we were on the main highway. We swore we'd never do it again," said Killett.
It turns out that what could have been the end—a one-and-done mission—was just the beginning. Now the journey into Elk Lake is an annual tradition that draws about two dozen hearty souls. Killett, whose family owns a group of art galleries in Hawaii and California—and formerly operated Lahaina Gallery in Bend—documented the journey in photos and videos.
"Honestly it was just something crazy to do," he said.
The core group now gathers several times a year for other Man Versus Elements events, including a golf trip to the coast, a salmon fishing derby and a moped rally. All of which Killett has documented on a group website, manvselements.com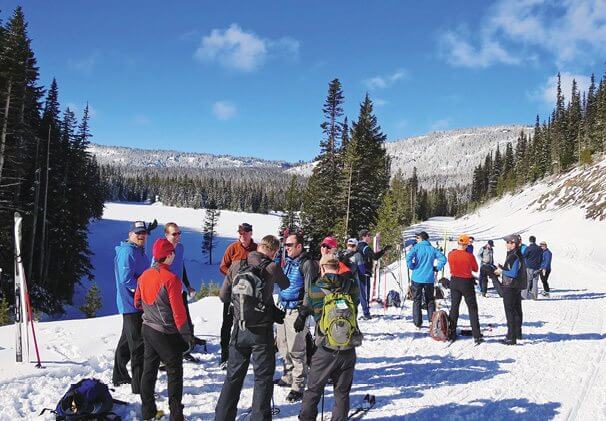 Snow lovers come for the backcountry solitude, but it's the food, friends and revelry that keep generations of central Oregonians coming back to Elk Lake year after year.
Unplug and Unwind
While Elk Lake is perhaps best known (during winter) as a launching point for backcountry exploration, it's also a destination in its own right. Cozy cabins, a communal dining area that features a fine dining quality menu and the penetrating stillness of the remote mountain landscape enveloped in winter white is a reason enough for some to make the long journey.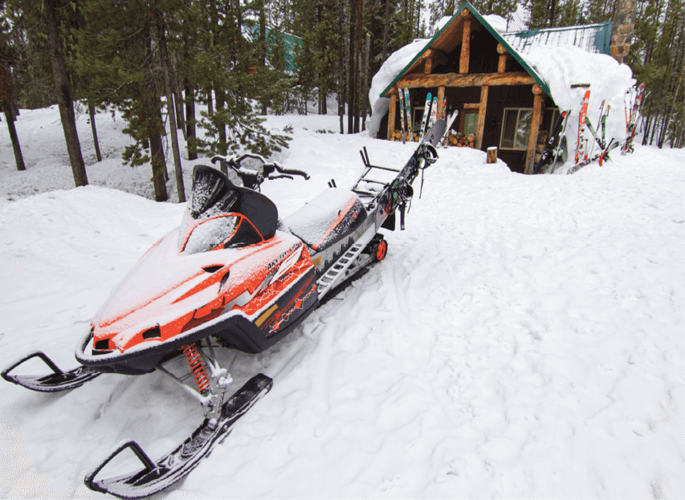 For the past several years, Peter Barlow and his wife Mellodee have made an annual Valentine's Day pilgrimage to Elk Lake Resort from their home in Gresham. For the Barlow's, Elk Lake Resort is a refuge from the background noise that seems largely inescapable in our hyper-connected world.
"No television, no Internet," quipped Barlow during a recent conversation. "What a darn shame."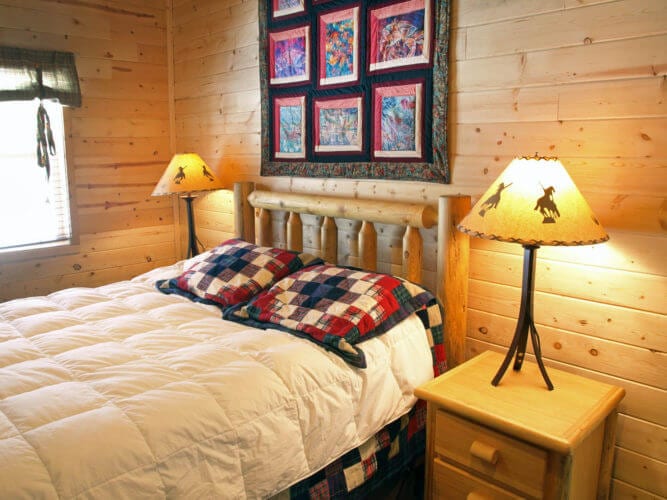 Barlow moved to Oregon more than thirty years ago and just a hint of his native Brooklyn accident is still discernible, even over a poor cell phone connection. During the ensuing years, Barlow and his wife have spent countless days in Central Oregon, beginning in the early 1980s when Bend was still mill town with a population barely greater than that of Prineville today. As frequent visitors, the Barlows were well aware of Elk Lake Resort as a summer destination, but they never thought of it as a winter resort. Peter stumbled across the Elk Lake Resort web page several years ago while looking for Valentine's Day weekend ideas. It seemed an appealing winter alternative.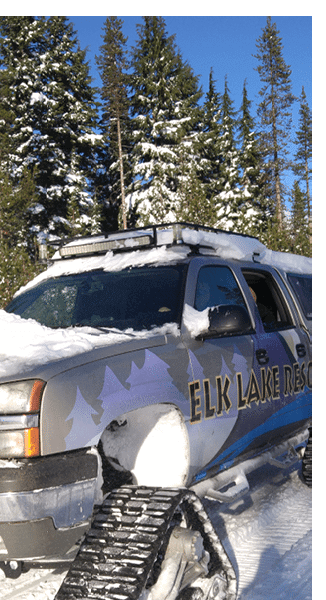 The pair do a bit of snowshoeing around the resort, but mostly they hunker down and embrace the simple joy of a life without distractions, even if just for a few days.
"We are both (retired) MRI technologists," said Barlow. "So we aren't afraid of technology, but it's nice to get away from all that stuff."