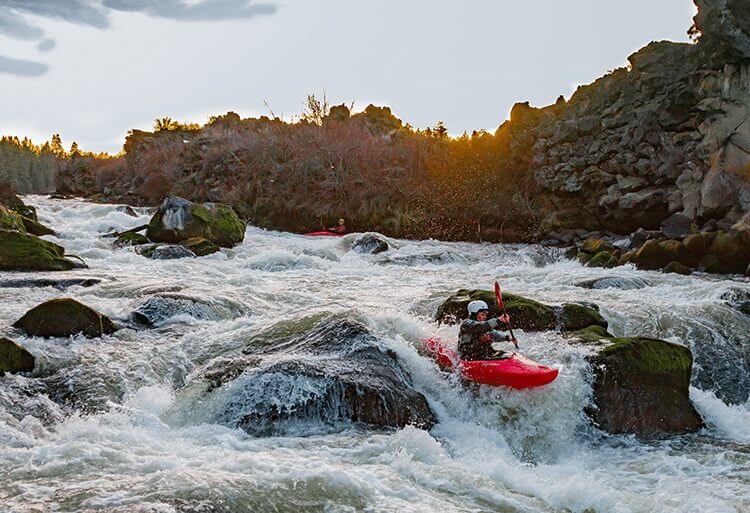 With irrigation-moderated flows, scores of rapids and a variety of runs, rivers in the Bend area make for great year-round kayaking. Whether you're front surfing at the whitewater park or running rapids on the Deschutes River, share the water and paddle safely with these practical tips while enjoying the best regional places to point your kayak downstream.
---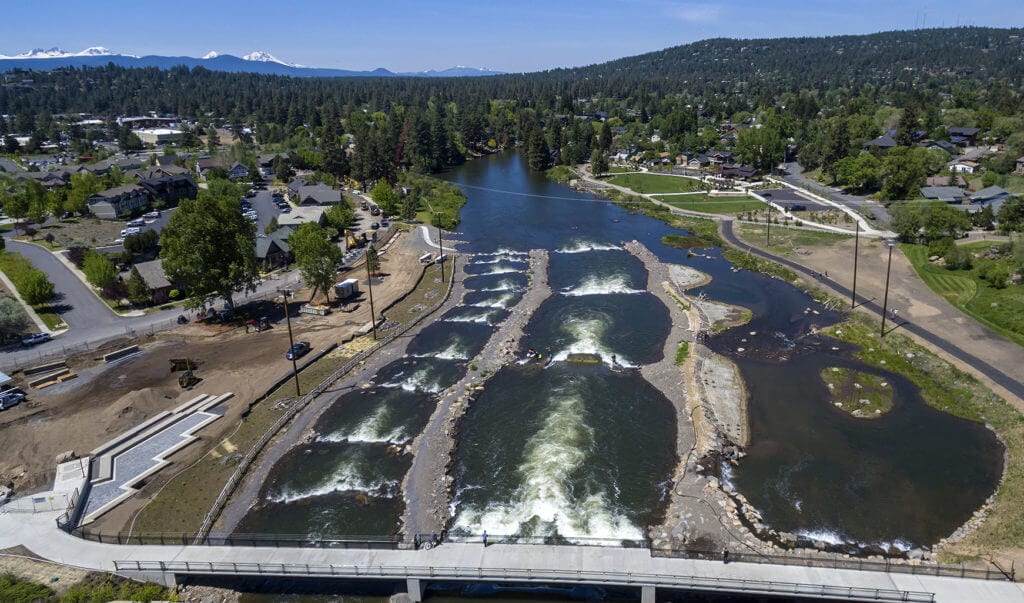 Colorado Bridge
Drive over the Colorado Avenue bridge on any given day and expect to see a kayaker in the water, showing off a spin or stunt to a crowd of onlookers on the pedestrian bridge.
Bend's whitewater park is the culmination of almost a decade of planning that transitioned from dream to reality in 2012 when voters approved a bond measure to modify an aging and hazardous dam at the bridge. The park divides the river into three channels—one for people floating the river (currently closed), one for kayakers, surfers, and standup paddleboarders, and one for wildlife. The project took more than a year to build and cost $9.7 million, $1 million of which was raised by the Bend Paddle Trail Alliance, the local organization behind the waterpark.
For whitewater kayakers and surfers, the playground starts in the middle channel, where pneumatic bladders control the flow of water, creating four standing waves. These waves are numbered from downstream to up, corresponding to difficulty. Novice kayakers can refine their skills on Jason's Wave (number one), while intermediate surfers and kayakers practice riding on Kricket's Wave (number two) and the Green Wave (number three). Nearest the bridge is Eddy's Wave (number four), the largest wave in the series that is designed for more experienced users.
While whitewater kayaking is an individual sport, it takes practice. The whitewater park's dynamic wave play area provides a place for Bend's growing kayak community to train right in town, and is one of the first of its kind on the West Coast.
KNOW: BE COURTEOUS
"The whitewater park is a big draw for kayakers due to the accessibility and consistent nature of the features, as well as a variety of waves. Advice for sharing the whitewater park really boils down to: be respectful of all users. Usually parks like this are 'managed' by a core group of local users that set the tone for tourists or locals new to the sport. For example, avoid dropping  into a feature when someone else is already in it. This is extremely important from a safety perspective. It's also just good river etiquette. As the park enters its rookie season, kayakers can front surf waves, test out spins or try aerial tricks in the more hydraulic-type features." – Justin Rae | President, Bend Paddle Trail Alliance
UPDATE: CHANGING THE CHANNEL
The Colorado spillway project suffered a setback in June when the Bend parks department closed the pass-through channel nearest McKay Park over safety concerns. Following a spate of injuries, the park district moved quickly to close the newly minted safe passage and is requiring that all river users exit at the dam and portage around the whitewater park.

Meanwhile, the whitewater channel will remain open for kayakers, surfers and other expert users. "It's important for people to know the whitewater channel is still open and will continue to be up and running throughout the summer," said Julie Brown, Bend Parks' community relations manager at Bend Park and Recreation District.
---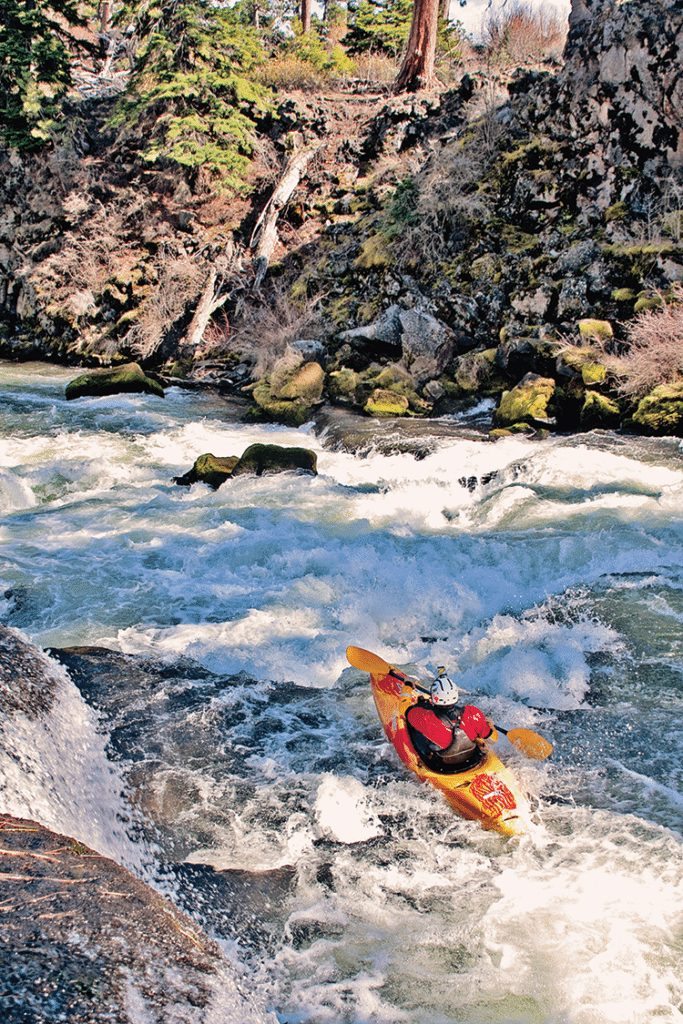 Upper Deschutes
Like hitting cool waters on a hot day? The upper Deschutes is characterized by slow, flatwater sections flowing into waterfalls and drops that make for a thrilling ride. Boaters call this a "pool-drop" style river, but be aware as technical sections can sneak up quickly and rapid classes vary in difficulty, ranging from class I (beginner) to V (very dangerous, experts only). Some of these rapids are extremely hazardous and should not be attempted by anyone but expert paddlers who understand the risks. If you are unfamiliar with the river, visit one of the local paddling outfitters, such as Tumalo Creek and Kayak in Bend. Consult maps and scout all sections prior to running to ensure that you are aware of hazards as conditions can change on a daily basis.
"Our consensus here in the shop is everything above [town] is experts only, excluding Aspen to Big Eddy. There are just tons of consequences on the Deschutes. It's just kind of a wild river. It's not the easiest to navigate and learn on," said Keoni Chung, a store and programs manager at Tumalo Creek and Kayak.
For those with experience, there are popular places to put in upstream of Bend,  including Meadow Camp (Class IV) a popular run with advanced kayakers that starts near Widgi Creek golf course and finishes just above the Old Mill at Bill Healy bridge. Another popular run is the Big Eddy section (Class III), a short float that is heavily used by Bend's commercial rafting outfitters. With so many different drops and chutes in constant flux, it's important to learn how to read water and scout rapids from shore to find the safest route before dropping in.
KNOW: BE SAFE
"One thing all paddlers need to understand is how powerful a river is and that it's different every time. Whitewater is not the log flume at Disney and not all rivers are safe to play in. Know self-rescue skills and learn swiftwater swimming and the fundamentals of shore, boat and in-water rescues for others. You want everyone in your group to be trained, because they will be the ones rescuing you." – Travis Reid | Instructor, Oregon Rescue LLC
---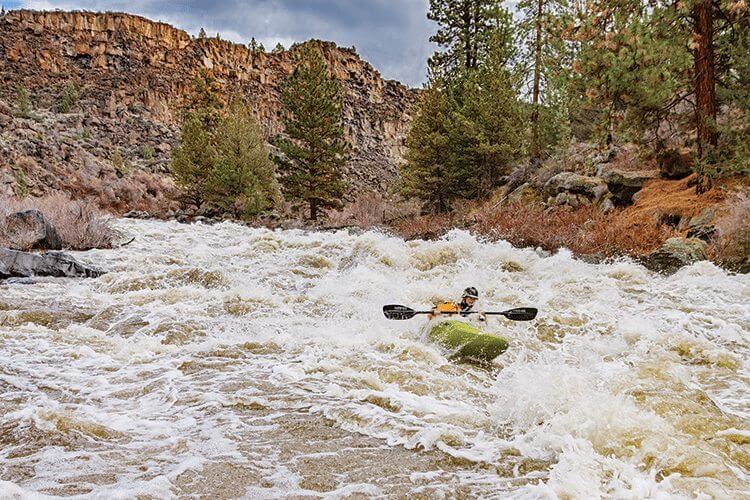 Lower Crooked River
A run less-paddled, the Crooked River Canyon plunges boaters through some of the most dramatic river views in Central Oregon—as long as there's enough water to float your boat. Depending on the year, snowpack release and dam regulation from the Ochoco and Prineville reservoirs often make this unscheduled run a hit-or-miss adventure.
When the river does run, it's an experts only paddle that is best done with an experienced guide.
If you're still game, put in at Lone Pine Bridge and paddle eighteen miles of great whitewater through the desert canyon to Crooked River Ranch. While drops and difficult sections on the Deschutes are sporadic, the Crooked River provides continuous class III and IV rapids. The exception is a few miles of flatwater through Smith Rock State Park.
After Smith, the action picks back up and a series of drops carry boaters through rapids simply named #1, #2 and Wap de Doodle. Ride the currents under the railroad bridge, enjoying spectacular views of the gorge before you come to No Name, one of the most technically challenging rapids on the run. This rapid is responsible for lots of flips and lost gear—so hold on to your paddle.
KNOW: BE CLASSY
Taking a class is a great way to become comfortable and proficient in rivers, and address safety concerns. Learning about rivers and what to watch for is essential. It will also make you an asset to boating partners—not a liability. Professional instructors with proven teaching techniques are by far the most reliable resource from which to learnthese skills. As a rule of the river, kayakers don't kayak on their own. It takes time on the water to learn to 'read' it. Because of that time needed, there is a community grooming process to get new boaters out and involved in organized meetups and ongoing group classes for newcomers. – Danielle Carvahlo, Bend Kayak School