In Central Oregon, pizza might be said to be a melting pot. Bend may not be known for any particular style of pizza, but locals and transplants have brought a variety of techniques from their travels across the U.S. and beyond. Do you prefer your pizza 'party cut' (round pizza cut into squares) or served in an 'isosceles' (the perfect slice from a perfectly round pizza)? Maybe you seek a slice with the ideal 'cheese pull' (the tantalizing stretch of cheese when pulling two slices apart), or a piece that won't 'avalanche' (when all of the toppings fall off as you pick up the slice). After scouring peaks and buttes, we think we've found some seriously noteworthy pies.
Boone Dog | Sisters
For the mother of all prestigiously decorated pizza pies, head north to Sisters. Boone Dog Pizza, a food cart on Hood Avenue, has created the Quattro Formaggi, a garlic-and-cream-based pizza loaded up with every kind of specialty cheese you could imagine. Cascadia Creamery's finest are showcased, including their Sleeping Beauty, Glacier Blue, the milder Sawtooth or a Bellweather Farms ricotta. 
Apprehensive about the distinctive blue cheese aroma? Fret not. Cascadia Creamery describes their Glacier Blue as the "gateway blue." Buttery Sleeping Beauty is a fantastic complement to its cream-based sauce, while the ricotta offers a balance to toppings of sliced red onions, Castel Vetrano olives and fresh thyme. Balsamic reduction drizzle completes the acidity slice of the pie, curating umami with each savory bite. Flock to their cart early in the day, as they tend to sell out before 6 p.m.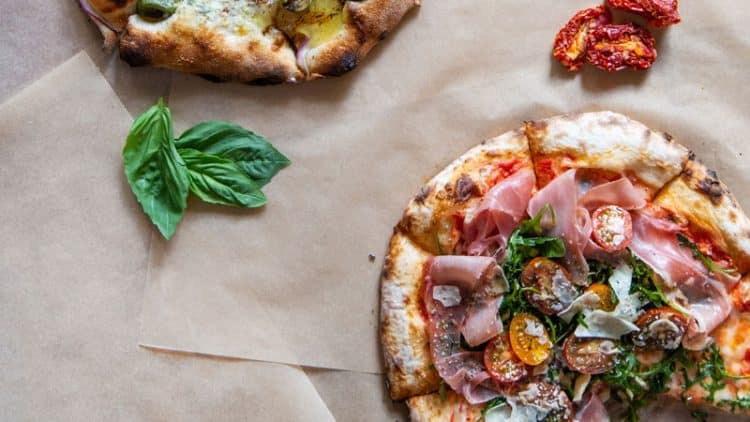 Pisano's | Tumalo
When you want a pizza that can pass for a salad, go for the Proscuitto e Pomodorini. This pie starts out as a classico wood-fired pizza; hand-tossed dough is covered in crushed San Marzano tomatoes and topped with fresh mozzarella slices. After this beauty is pulled from the oven, it's loaded with prosciutto slices, heaps of arugula, cherry tomatoes and hearty shavings of parmesan cheese. We're fairly certain this counts as your serving of greens for the day.
Pisano's, located in the heart of Tumalo, is stacked full of cut lumber for fueling their stone oven. Aside from a multitude of fifteen-inch blanco and rosso pies, the roadside pizzeria offers Italian favorites such as Zeppoli (fried pizza dough tossed in cinnamon and sugar), "insanely good" cheesecake, as well as clever beer and wine idioms scribbled in chalkboard pen.

Remember those hometown pizzerias with red and white checkered tablecloths, neon signs, a fresh salad bar and a jukebox? They were our go-to Friday nights and when Mom didn't want to cook. For twenty years, Olde Towne Pizza Company has been serving family favorites at their Greenwood location.
The Stromboli is arguably the best pie on their menu, loaded with classic pepperoni, thinly sliced white onion, green bell peppers and Italian sausage. A robust crust, made with hand-thrown dough, holds up the weight of each slice, packed with traditional marinara and hot, gooey cheese. Terry Parker, owner, operator and full-time pizza maker, believes in consistent quality and service for his dedicated customer base. Crust lovers, choose from Original, Chicago, New York (thin), or New York City (extra thin) when ordering your pie.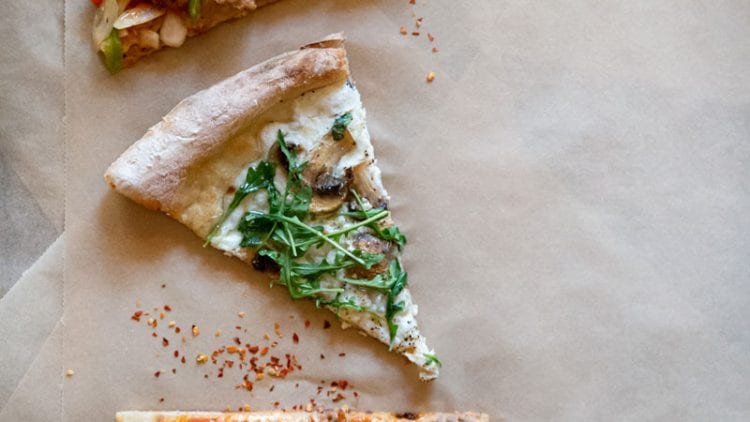 The pizzaioli (AKA pizza makers) of Grace & Hammer (read our restaurant review of Grace & Hammer here) elevate the white pizza sauce game with their bechamel-based pie, Propriety. French butter sauce delivers a slightly more sophisticated spin on the classic Alfredo sauce, most often used for blanco pies. Propriety starts with a housemade bechamel, topped with fresh mozzarella and goat's milk feta cheese. Chefs Pio Valensin and Adam Valentine chose button mushrooms to grace this pie atop the cheese and sourdough crust. After the pie emerges from their monstrous steel oven, it's dressed with extra virgin olive oil, salt and pepper. For a pop of color and peppery bite, it's finished with a handful of fresh arugula. For a match made in non-denominational heaven, pair this pie with signature cocktail Three Finger Jack—Maker's Mark whiskey, local smoked honey, orange bitters and Oregon cherry.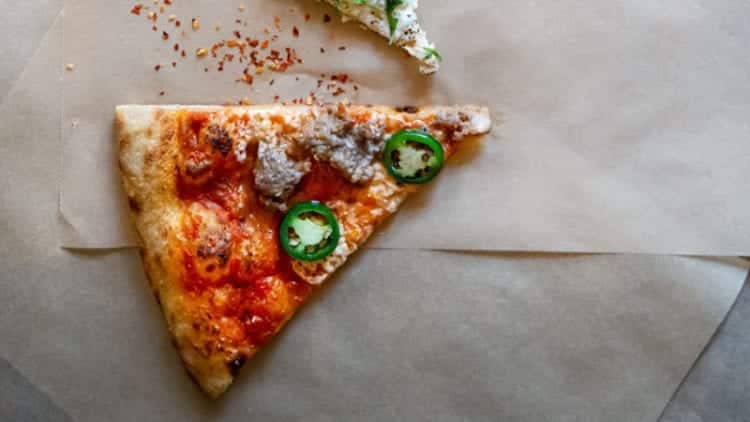 Jackson's Corner | Bend
What started as a weekly special has become a permanent fixture—the Honey Pie. Jackson's Corner uses locally-sourced ingredients and naturally leavened dough for their pizza. For over twenty-four hours, the sourdough is left to rise using a generation starter created over five years ago, allowing the dough to rise without commercial yeast additives and accounting for its remarkable flavor. 
This sweet-meets-savory pie is made using Home Farm Foods pork sausage, mascarpone cheese, sliced jalapeños, wildflower honey from Bend and house-made marinara. The omission of mozzarella for creamy mascarpone allows the house-seasoned sausage to bring a briny, salty element. The sweetness from local honey, drizzled over each slice, harmoniously balances out the heat from fresh jalapeños.