(Part 4 of a bigger article. Click here to start at the beginning.)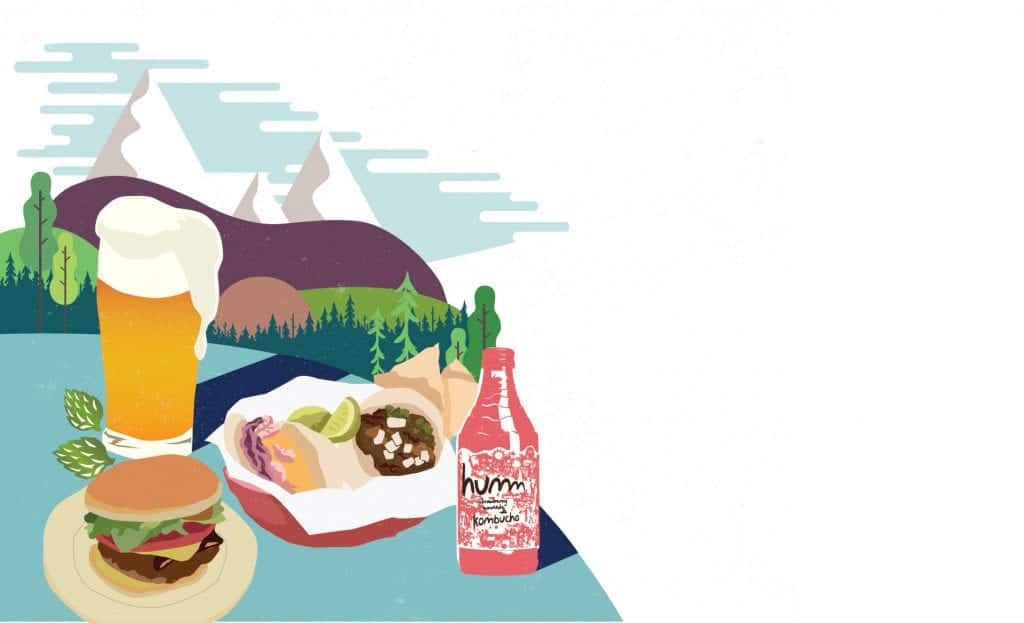 CRACKING THE KOMBUCHA CODE
Take any living, breathing thing, from cats to kombucha, and it's going to do what it wants to do. While unpredictability may be endearing when loving Mr. Frisky, it'll bite your hand when it comes to building a national business based around bacteria and yeast and the vagaries of a fermented tea.
"We live in America where we want the same Big Mac, the same cup of Starbucks, the same products where we get what we expect," says Humm Kombucha CEO and co-founder Jamie Danek. "The challenge with kombucha, with any live, raw product, is that it is constantly changing."
Those changes can include variations in flavor, carbonation and even the amount of alcohol-a natural product of the fermentation process.
One of the secrets of Humm's success has been its ability to control these variables. Since its launch as Kombucha Mama in 2010, today's Humm has grown from a small-time kitchen project founded by Danek and her tennis pal, Michelle Mitchell, into a multi­million-dollar enterprise on Bend's northeast side that stands as the country's fourth largest kombucha producer. As growth soared, the kombucha queens knew they had to crack one of the biggest riddles in their industry: how to brew a consistent, stable product every time with an alcohol content low enough to satisfy regulators. It took three years and millions in R&D, but they did it.
The new process, called FIP for short, remains a trade secret with a patent pending but it has allowed Humm to brew an "ambient" drink that can be shipped without refrigeration, a move that has cut shipping costs nearly in half.
"Our company puts far bigger ones to shame," Danek says. "They say, 'You don't have any money, you don't know what you're doing, you have no expertise.' And yet we figured out the most challenging issue in this category."
The entire company has been built on this kind of disruptive thinking. Before Humm, only health food stores and organic grocers carried the drink. Humm brought it to 7-Elevens, pizza shops and university campuses. Only now, a decade later, is the company circling back to the health food scene.
"A lot of the industry focuses on the health­-conscious consumer but for us it's different," Danek says. "It's about everyone."
"A lot of innovation has to do with us not knowing what you're supposed to do, and letting everybody talk because you never know who's going to have a great idea," Danek says. "Then one day you come up with a new process and this process enables you to think even bigger. It's amazing." -Tim Neville
LIFE + TIME FREE RANGE FAST FOOD
Life+ Time Free Range Fast Food opened last winter on Century Drive aiming to revolutionize fast food by making it healthy. The restaurant serves healthy, organic food made from scratch at fast-food prices.
Garrett Wales and Mike Moor, formerly with 10 Barrel Brewing group/ Anheuser-Busch, launched the drive-thru on the corner of SW Century Drive and SW Simpson Avenue in Bend.
"The first location is doing better than we ever could have hoped for," said Wales. "What we're really seeing is such a demand and shared passion from our customers for good, clean, healthy and convenient food."
"We certainly have big dreams for the brand and the mission behind it," said Wales. "We are in preliminary discussions on a few different real estate opportunities, but not rushing or forcing anything. We want to make sure we stay focused, continue to improve on our quality and consistency, and take it from there."
Part of the vision includes expanding their clean and organic philosophy to other food categories. Their next project, Vida y Tacos, a healthy, organic taco shop, is slated to open in early fall, with Luke Mason as executive chef overseeing both restaurants. – Cathy Carroll
EXPLORE BIG IDEAS IN BEND: