(Part 3 of a bigger article. Click here to start at the beginning.)
A DECADE OF DISRUPTION
Hydro Flask's Scott Allan on how his company maintains morale and perspective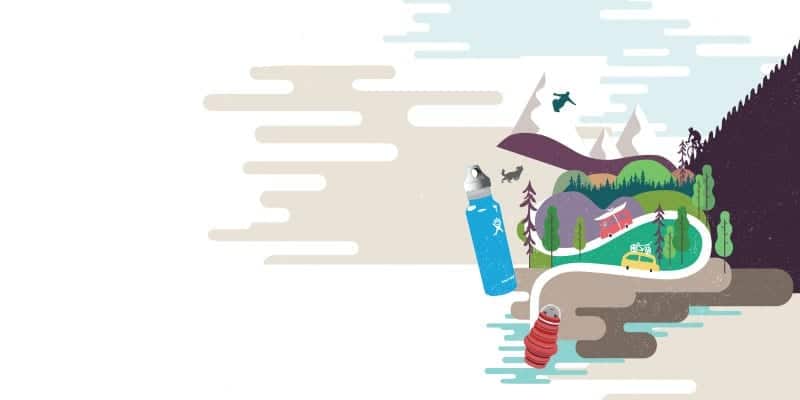 Ten years ago Hydro Flask revolutionized the water bottle with a simple idea: What if a water bottle could keep water colder, longer? The technology already existed. It was in your dad's insulated Thermos; it just needed a makeover and rebranding. Voila!-the first Hydro Flask was born, a double-walled steel bottle with a powder coating finish to add a splash of color. Fast forward to 2019 and the little Bend brand is now a household name from Connecticut to Kona. It remains one of the fastest growing outdoor businesses in the country, and has been named one of the best places to work by Outside Magazine. We talked with Hydro Flask General Manager Scott Allan, who has overseen much of the company's meteoric rise, about the challenges of growth and the secret to Hydro Flask's success.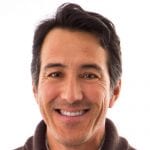 Hydro Flask works in a crowded space with tons of knockoffs. How important is innovation and creativity in your ability to maintain and grow the brand and business?
At a macro level, the category was crowded before Hydro Flask launched, so this hasn't changed too much. What has changed is the consumer experience, and how innovation and creativity fit within the lives of active, on-the-go consumers. This is how Hydro Flask has set itself apart. We entered the market as the first company to introduce an all-vacuum insulated lineup, as well as the first to combine vacuum technology with the lightweight, sleek aesthetic of a water bottle.
How are those concepts of innovation and creativity fostered within the Hydro Flask? Are there any things HF's does to make sure those values are expressed in your culture?
For employees, they start with the onboarding process where we talk about our origin story, key moments that shaped the brand and culture, and the important role we play in helping consumers live a happier, healthier and outdoor-enriched life. One of our core values is "Deliver Delight," which becomes the vehicle for our staff to be creative and innovate with the consumer in mind. Our mission-To Save the World From Lukewarm-further reinforces this and is our call to action to banish compromise and mediocrity as a brand. There is no way to do this without creativity and innovation.
With the 2016 sale to Helen of Troy, Hydro Flask is now part of a larger business operation. Talk about the challenge of meeting the expectations of a new owner while maintaining the kind of culture and products that have made Hydro Flask so unique.
Reflecting over the past seven years, higher expectations would have happened whether Helen of Troy acquired us or not. When a brand is more established, there is more at risk, and expectations rise with that. Of course, being a public company means each quarter we are publicly accountable for our divisional results. That isn't a trivial thing.
Hydro Flask is a real success story; what advice do you have for entrepreneurs and small business owners in Central Oregon who look at Hydro Flask as a model?
First off, very few companies play out like Hydro Flask-I know this from my own long career with failed or perpetually struggling companies prior to Hydro Flask. That being said, lean into the positives of Central Oregon. The community is really proud of local companies, so get them behind your company or brand as much as possible. For Hydro Flask, this has shown up in locals promoting and gifting Hydro Flask bottles to friends and families around the country. Second, network via the many channels that exist – especially EDCO Pub Talk, Oregon Outdoor Alliance (OOA) (if the business is in the outdoor space), or sponsoring a great local event or cause to get your brand out there and meet others. This will help with identifying and recruiting local talent and finding financial services, legal, organizational development, web development, and other resources to help you over time. There is a lot of talent here for a region our size. Finally, use Central Oregon to attract great talent when you need to hire for a specialty position for which there isn't a local candidate. You'd be surprised at the level of talent you can attract because their entire family wants to here.
Hydro Flask makes tremendous investments in talent and culture. Can you talk about how important that is for your brand's success? 
For Hydro Flask, culture is the internal view of our brand that ultimately manifests into everything we do. Meaning, if our culture is not healthy, it's a matter of time before our products, services and other customer facing work are negatively affected. Ultimately, that is what shapes the external view of our brand. For growing businesses, there is a war for talent given near 50-year lows for unemployment. There is also a shift in generational workforce. So as leaders or business owners, we should all be asking-how are we leading in a way that attracts and retains talent.
Culture is a big lever here. Additionally, studies have shown that people don't leave companies, they leave bad managers. So as leaders or business owners, we should also be asking how are we developing and training our managers to be great people managers. Finally, growing companies have plenty of challenges but also opportunities for people to learn and grow.
So as leaders we should ask how we grow and develop everyone to the extent they value this. When people grow at Hydro Flask and land a great role elsewhere, it's not always a great thing for Hydro Flask but we take pride in how we contributed to that person's career. – Eric Flowers
THINKING OUTSIDE THE BOX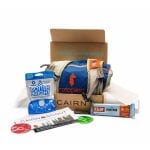 Bend-based Cairn is blazing new trails in the evolving retail landscape
Back at The Wharton School, the University of Pennsylvania's grooming ground for future financiers, Rob Little and Jared Peterson were a little odd. "We both had this entrepreneurial bug and loved the outdoors," Little says. "Those things aren't really in the majority there."
That was 2012, the year the friends attended a series of lectures on innovation and creativity in the retail world. At one end, the professor explained, you had the brick and mortar shops that many believed a dying breed. At the other end lay the disruptive, mega-buck-making world of e-commerce. "In between there was really a lot of room do to something new," Little recalls. "Thinking about that got our wheels turning."
Jump to today and Little and Peterson are now the brains behind Cairn, their Northwest Bend-based company that has created new, innovative ways to carve out a claim in those changing spaces on the retail map. For a monthly fee, Cairn subscribers get a curated box of outdoor gear that fits their interests, from socks to solar panels. But the real genius comes from how Cairn has harnessed its subscription base and community of 150,000 people to provide more than 250 brands with client feedback on that gear, and then drive those customers' reviews to other sites that influence what we buy.
"Go to REI.com and look up solar lamps," Little says. One has zero reviews; another has 40. But the latest version of the Luminaid-a design heavily influenced by Cairn customer feedback-has nearly 1,500 reviews that came almost entirely from Cairn customers. "Which one would you buy?"
Now, five years since its founding in 2014, the company has started to explore ways to disrupt the idea of ownership or to at least find innovative ways to inspire it with a program called Kitted. Launched earlier this year, Kitted sends curated gear to customers who may be new to the outdoors and are looking to get geared up for a specific activity, like, say, backpacking. "People who aren't familiar with Black Diamond may not want to drop $600 on the latest jacket because that's intimidating," Peterson says. "But if I can help them read about it, learn about it, and then get it physically in their hands to take in the mountains to use before the barrier of price even becomes an issue, then they understand why a $600 shell is so valuable."
But innovation doesn't stop there. It runs through all levels of the business, from the way they handle shipping and packaging to vacation time, which employees take as much of as they want. "Cairn is in this sweet spot space between the digital community and all of the outdoor companies and their products," says Gary Bracelin, founder of Bend Outdoor Worx, which mentored Cairn in its early days. "They just think differently." – Tim Neville
HYDAWAY WATER BOTTLE
Good things come in small packages
It could have been intimidating to start a water bottle company in the hometown of HydroFlask. Instead Hydaway founder Niki Singlaub drew inspiration from the brand leader across town. A product designer, Singlaub was looking for a reusable water bottle that was more portable than anything on the market. His collapsible bottle uses an accordion style design that packs down into the palm of users' hands.
Founded in 2015, the company has been growing steadily thanks in part to a successful Kickstarter campaign last year that saw the company meet its $20,000 goal in less than a day. Hydaway went on to raise more than $180,000 in the campaign. Singlaub's ultimate goal is to see his product make a dent in the plastic problem. Recent wins including placement in Whole Foods indicate Hydaway has tapped a lucrative niche. – Eric Flowers
EXPLORE BIG IDEAS IN BEND: