From Thai coconut curry to Japanese tacos to warm Indian fried cauliflower salad, Bend's Global Fusion is a true melting pot.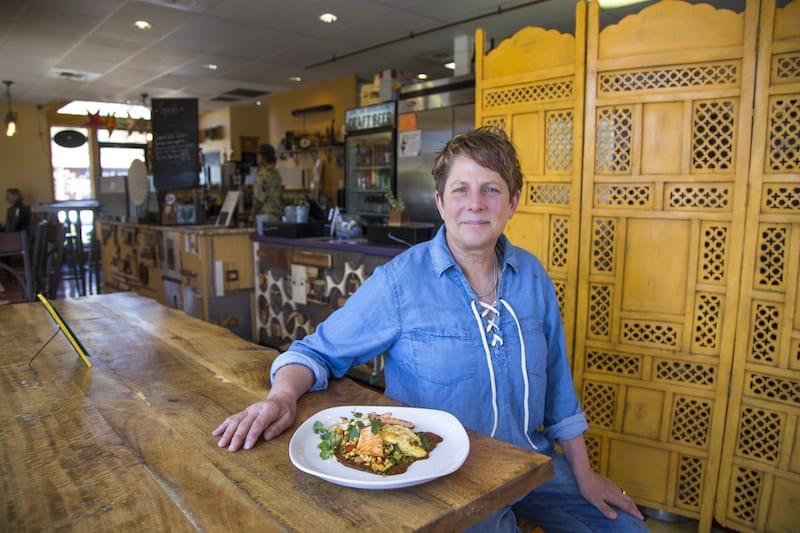 "Coconut milk," said Bethlyn Rider. When I asked the chef and co-owner of Global Fusion what ingredient should be the universal ambassador of food, she humored me without hesitation. "Everybody loves coconut milk."
From Thai coconut curry to Japanese tacos to warm Indian fried cauliflower salad, Global Fusion's menu is a true melting pot that hit the local scene as a food cart in 2015, then quickly pivoted into a small brick-and-mortar in the Maker's District. In March, Rider and her silent partner, Nicole Timm, expanded the business again, landing in the restaurant's current location on NW Newport Avenue. Outdoor seating included, the new digs add about forty more seats.
"If it wasn't for her this probably wouldn't have happened," Rider, 48, said of Timm. They met when Rider left Broken Top Bottle Shop for a chef position at Common Table, a now defunct downtown restaurant with a social benefit component. Over the last three years they've developed a strong local following, orchestrating monthly farm-to-table dinners at various locations, in addition to starting Global Fusion.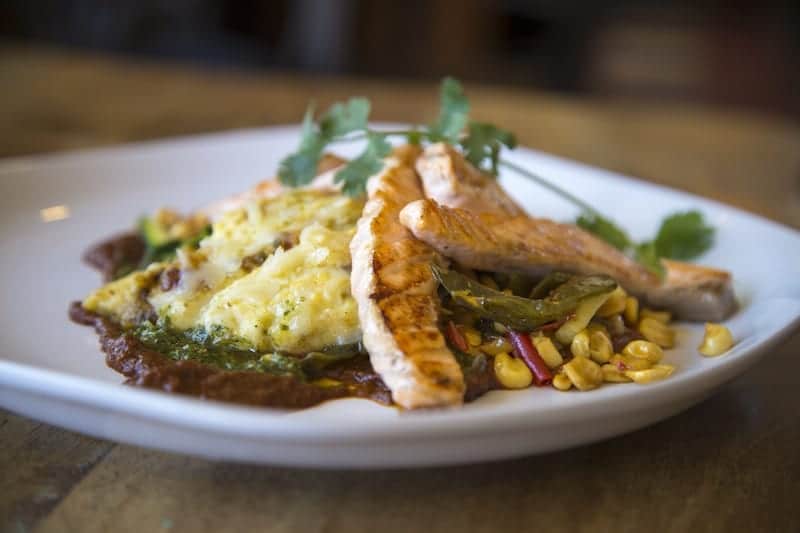 Rider's penchant for healthy, fresh food unfolds in unusual preparations—often with vegan or gluten-free roots. "I'll get this inspiration in a moment, a flash, and I want to blend ingredients from two cultures," she said, noting the Wednesday summer farmers' market as a place where her ideas flow. "I get so excited that I'll go get all the product and build a new dish."
Field Farms, Millican Valley Beef, Juniper Jungle and Rainshadow Organics are among Rider's favorite local vendors, but she readily admits the challenge in going local. "I really try hard to work with farmers in everything I do," said Rider. "It's really hard because financially you've got to meet price expectations. I try for at least 50 percent local in the summer. In the winter it's mostly reduced to cheeses and meats."
Rider credits her interior designer mother and artist father with germinating her passion for cooking. They were creatives who "were awesome home cooks, revolutionaries," said Rider. "Here I was thirty-five years ago in upstate New York doing those damn wheat grass shots. I can never smell it again. My mother's a real health nut freak."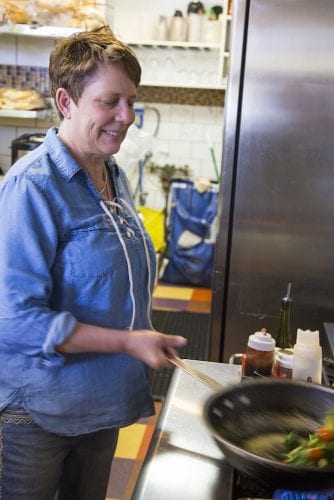 After graduating from the Culinary Institute of America in New York, "because I wanted to go to the best," Rider briefly landed in fine dining in Colorado. She promptly backed out of that scene and into Santa Fe, New Mexico. There she earned her stripes over a decade at Whole Foods, helping open new stores and create recipes.
"I wanted to bring out amazing flavors in an environment without the high stress that leads people to drink a lot in this industry," she said. Two of her cooks have been helping her fulfill that dream in Bend for the last ten years.
"They know my style so much and they intuitively get what fusion is about," said Rider. "I'll do anything for my staff and I know they'll do anything for me—though I will let you know that I do scream every now and then."
Observe Rider and her staff mingling with each other and customers, and camaraderie is the culture. One employee even popped by on her day off for a post-mountain bowl of curry.
"I have this knack that, for years, I didn't even know I had: I can create a meal in my mouth," said Rider. She was shocked when friends informed her that, no, most people can't taste a meal in their imagination. "I thought, really? Wow. I definitely thought everybody could. I can bring all the textures together in my mouth when the idea comes. Not like the best chefs in the world, but it's there."