Occasionally we have the pleasure of meeting someone whose lifelong passion has carried them to the pinnacle of their profession. Jan Daggett, owner of The Jewel in Sisters, is one of those people. In an era of computer-aided design and reproducible jewelry, she has devoted her life to hand-sculpting one-of-a-kind jewelry pieces. For decades, she has also mined her own stones, selling to museums, art galleries and worldwide collectors.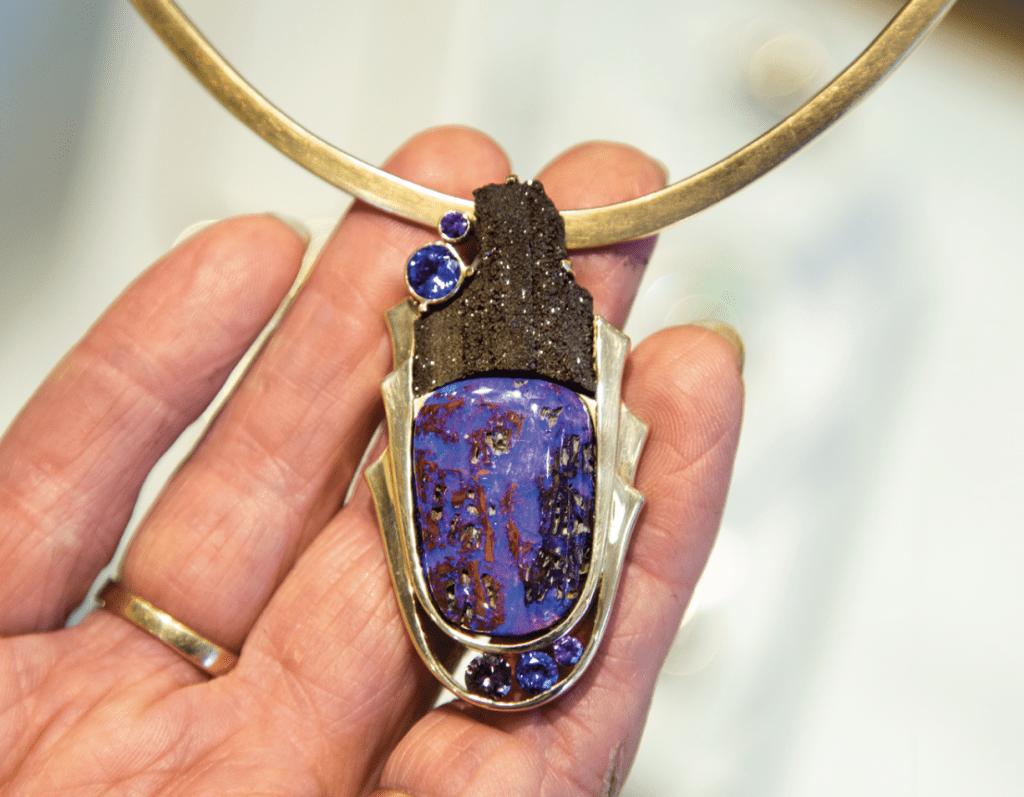 Her story begins in the 1970s when Daggett, in her teens, moved from California to a rustic cabin in Cascadia and attended high school in nearby Sweet Home. At the time, timber tax supported a well-endowed crafts program where she chose jewelry making for all her elective classes. A friend took her to the Quant Rock Shop in Prineville where she encountered Priday plume agate, a rare thunderegg dug north of Madras from the 1920s to the 1960s. "I was hooked immediately," she recalled. "It was visual ecstasy, and I started searching out old collections."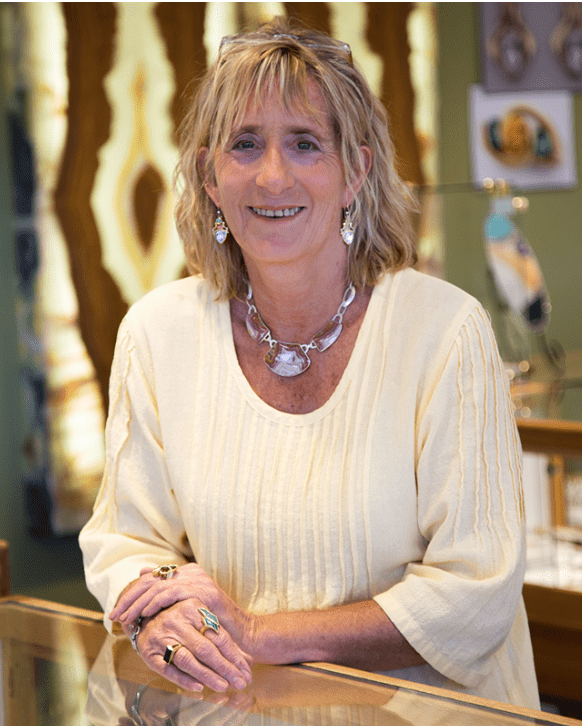 She especially liked scenic agates with "inclusions" resembling flowers, thistles, moss and ferns encased in clear agate. "Just as I was experiencing my very first fall colors, I saw Priday plume whose flowerlike inclusions came in all the shades I was seeing," she said.
After high school, she found mentors to teach her the art of stone cutting and diamond setting and soon created her first line of sculptural silver and agate jewelry. On a road trip at 17, she found consignment galleries in Brentwood and Malibu, California, and wholesaled her first collection on Rodeo Drive in Beverly Hills. Soon after, she began working in gold and added accounts in Aspen and Kapa'a, Hawaii.
With a growing love for rare Oregon materials, she and a partner spent the next several years digging on public lands for materials thought to be extinct, like Freida thundereggs on the Deschutes River, jasper from Biggs Junction and pink dendritic limb cases out of Prineville. For years, they focused attention on McDermitt petrified wood on the Oregon and Nevada border, digging for two weeks at a time with pick and shovel 12 to 25 feet deep. After cutting and polishing, they sold their wares at shows, primarily to European dealers and collectors attending the largest international gem and mineral show in Tucson, Arizona.
In 1980, the partners bought the Dryhead Agate Mine in a desolate, arid region of Montana, named for its piles of ancient skulls left from a nearby buffalo jump. Here they could finally dig with heavy machinery. Dryhead, a rare agate nodule highly prized for its vivid color and sharp concentric bandings, rapidly gained worldwide attention. In 1981, the Smithsonian Museum bought a collection for its Hall of Minerals.
By 1985, Daggett was mining solo, having bought out her partner. When she wasn't mining, she was in Cascadia, filling mail orders for agates, Dryhead beads and making gold jewelry. In 1990, she sold the mine and turned the proceeds into The Jewel, in Sisters.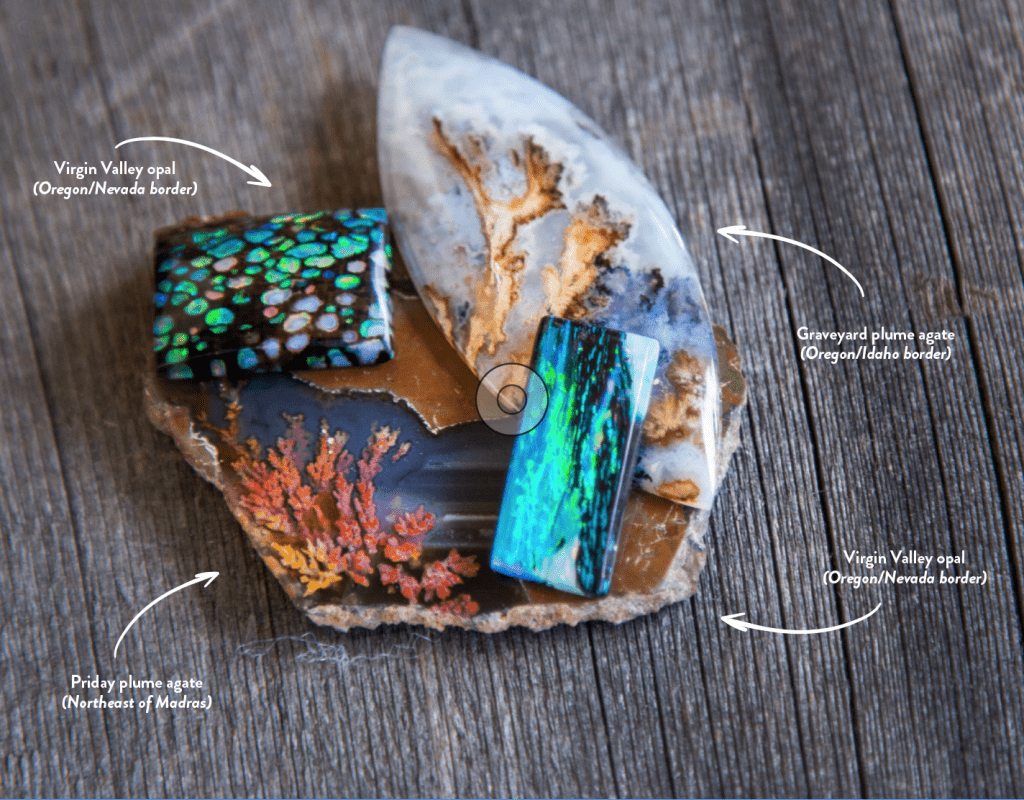 The Jewel – dazzling Sisters for 30 years
Daggett opened a jewelry store in a small tourist town for two reasons. "I wanted to do a more exquisite job of displaying my jewelry and the specimens I love and to hire and collaborate with formally trained master jewelers to produce my designs," Daggett said.
A significant part of her goal has always been to simply introduce people to the variety of stones and gems that the earth presents. "My goal is to expose people to rare and unusual materials and exceptionally beautiful gemstones," she said. "Even in fine faceted gems—like diamonds and sapphires, cut to refract light—I buy one of a kind. In some designs, a single major gem may stand alone, but I love combining more humble translucent materials with sparkly faceted ones. I still adore agates but combine them with gemstones and karat gold to create valuable wearable art."
When she opened The Jewel, she included space for a tiny non-profit museum, but the idea was "a bit too ambitious back in 1991." A self-described hoarder of fine agates, crystals, rocks and gemstones, Daggett is now ready to bring her sizeable collection out of storage and share it with people in a destination museum somewhere in Central Oregon. "I want people to walk into the space and feel not only the usual educational aspect, but an overwhelming sense of beauty," she said.
A half-century after seeing those rare Priday agates, it's fitting that Daggett wants to shine a light on some of Oregon's buried treasure.