First image: Tangy and sweet Limoncello Profiteroles complete a meal.
"A space unlike anything else in town." That's how Executive Chef and Proprietor John Gurnee described Lady Bird Cultural Society, the new restaurant founded and created by Gurnee and his wife and business partner Amanda. John has an extensive, impressive culinary background including a stint as chef de cuisine at the acclaimed Wayfare Tavern in San Francisco. He moved to Central Oregon in 2014 and was executive chef at Drake for more than eight years and led the opening at Washington Dining & Cocktails in NorthWest Crossing. Lady Bird is the couple's first venture together.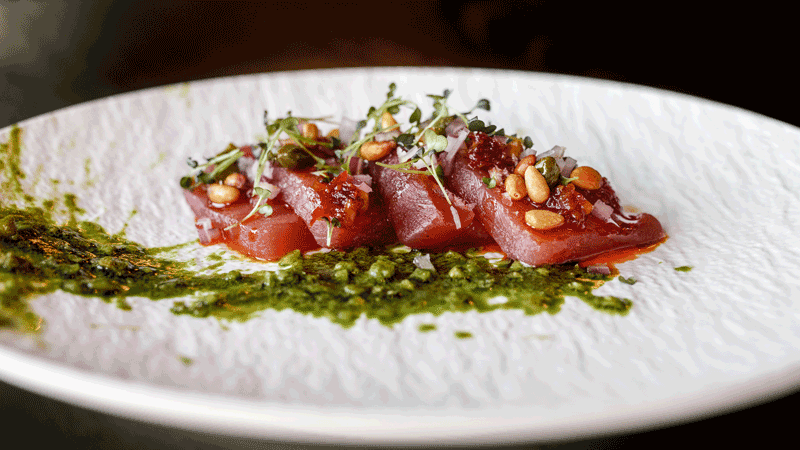 "Going back since we first met, over twenty years ago, we've been dreaming up restaurant concepts, and they've all had a bird theme or name. I grew up an avid bird hunter. I refer to my lovely ladies, my wife and two daughters, as my flock," explained Chef Gurnee. "Part of what sucked me into the restaurant business in the first place was the familial aspect and now Lady Bird is something that can grow a new work family and add to our flock." 
About the Restaurant
Recently opened in The Old Mill District in Bend, the Gurnee's Lady Bird is beautiful and extraordinary, simultaneously elegant and flamboyant—think 1920s vintage art and throwback pieces with modern twists. Imagine black and white tile with splashes of hot pink as well as a private VIP dining room wallpapered with dancing cranes. Feel the welcoming ambience aglow in golden light cast from chandeliers as you walk through the doors. Hear music of a bygone era. Then get ready to eat and drink.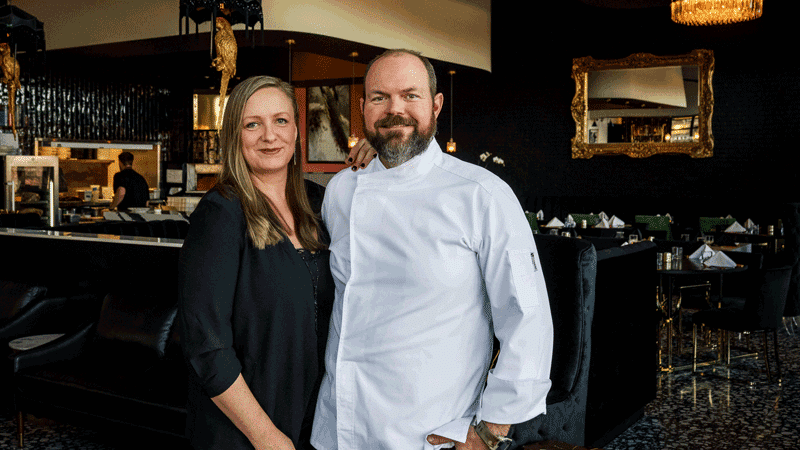 Perhaps you'll want to first get comfy in the posh lounge and enjoy a prohibition-era style cocktail or a distinctive wine. There are classic martinis and negronis, house-made cocktails and non-alcoholic beverages that are all very ingredient driven. "We built a bar that I would be proud to work at myself," Gurnee said. This entire venture is like a Broadway show he explained, "I feel a bit like an entertainer. We've designed the set, created the score, set the scene and built the cast of characters to execute our vision." Gurnee likes to see people have a good time but his favorite part is challenging himself to create new things, prepare food he hasn't prepared before and see guests delight in that food. 
Words from Chef Gurnee
Here's how Chef Gurnee described the menu at Lady Bird: "Simple, approachable dishes that let the ingredients shine." He recalled the first time he walked into the building down in The Old Mill, "There was the wood-fired oven. It took me back to working with a wood-fired grill and oven years ago. I've always wanted to get back to a place where I was cooking with live fire." He's cooking a myriad of things in that oven now, "kissed by the flames to impart the flavors." Wood-fired oysters, wood oven-roasted mussels and artisan pizzas are examples.
Seasonal and local ingredients abound in house-made pastas such as Rigatoni à la Vodka and Duck Egg Mafaldine with mushrooms and mascarpone. The visually impressive Balsamic Beef Short Rib over soft polenta is sure to become a favorite. Other standouts include house-aged meats and game, caviar and classic French-based desserts. The Limoncello Profiteroles featuring choux au craquelin, limoncello curd and white chocolate anglaise, pair perfectly with after dinner drinks and coffees.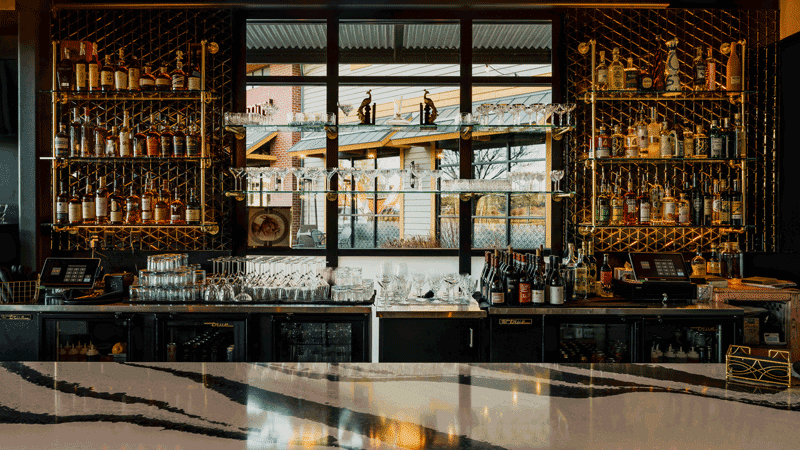 Music is another reason the Gurnees are excited about Lady Bird's location. They're both avid music fans, and they're excited to be able to open their doors in the summertime and hear the sounds emanating from the nearby venue. Amanda smiled as she described her husband as someone who "puts his heart and soul into whatever he does." Twenty years in the making, Lady Bird is a place the Gurnees have built, and it's something special: a place with beautiful food and a magical ambience located on the river where the birds abound and the music dances across the water. 
---
Click here to read more about our local food and restaurant scene.