A life-long resident of Bend, artist Valerie Winterholler is rooted in the landscapes of Central Oregon. She was born here, and except for college in Ashland and a stint in Durango, Colorado—where her time was spent as a self-proclaimed "dirtbag skier"—Winterholler has put Bend's mountains, forests and deserts at the center of her life and art.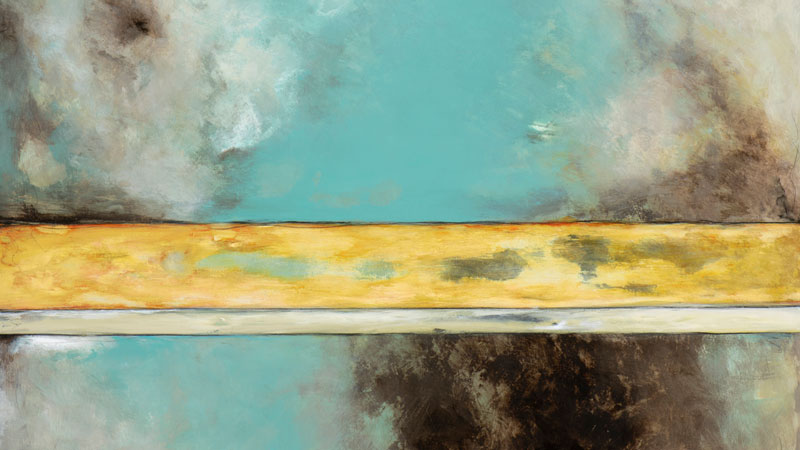 Sculpture was her passion while earning an art degree at Southern Oregon University. After college, she lived in a tiny one-bedroom apartment in Durango, sharing it with roommates, where she found that she didn't have space to weld, mix concrete and shape metal for the large pieces she liked to create. "I started doing tiny watercolors—dragonflies and butterflies. That's what you do as a twenty-five-year-old," she said, laughing. 
She returned to her hometown in 1997, got married and found jobs in the recreation field, working at Mt. Bachelor and Sun Country Tours, where she photographed rafters on the Deschutes River. She has cross-country skied all her life, and also snowboards, mountain bikes, hikes, stand-up-paddleboards and wanders the backcountry. She owns and manages an apartment complex in northwest Bend that doubles as an office and studio. 
In 2003, she attended Art in the Mountains, a contemporary painters' workshop that kick-started her painting career. "I realized that this (fine art painting) is what I want to do," she recalled. Soon after, she had her first solo show at Magnolia, a used clothing store, where she sold all her paintings during a First Friday Art Walk.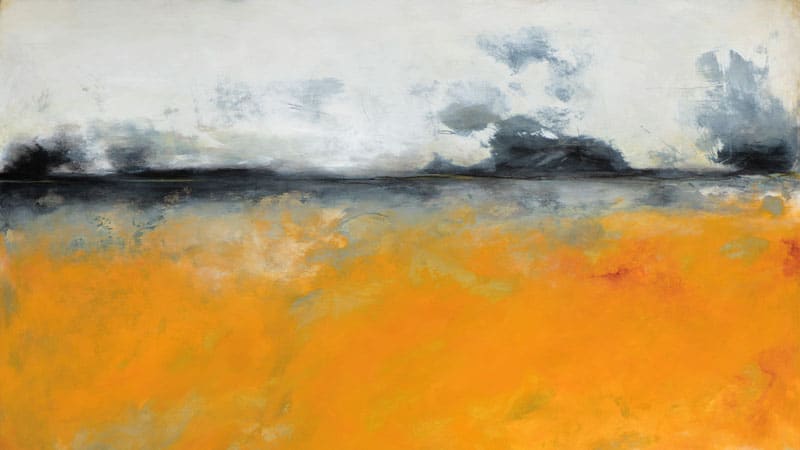 Today, at 50, Winterholler is well-ensconced in the Northwest art community and has shown work as a solo artist as well as in group shows in galleries around Oregon and California. She's one of the top selling artists at the Peterson Contemporary Art gallery, which recently expanded into a large space in downtown Bend and represents artists from around the Northwest.
Her early works were influenced by several artists, including American painter Richard Diebenkorn, whose mid-20th century abstract expressionist and figurative paintings earned him worldwide acclaim. "I was blown away," she said of a Diebenkorn exhibit she saw at the San Francisco Museum of Modern Art.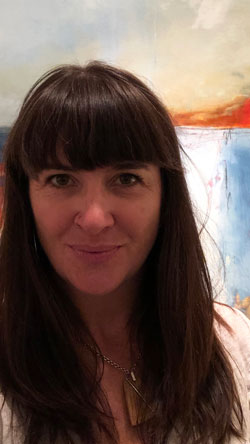 In particular, she appreciated Diebenkorn's delineation of space, which evoked a perspective of landscapes viewed from an airplane. Winterholler's early works explored an aerial perspective of the earth: "the weight of things, the pull of lines and atmosphere," she said. "The perspective was more 2D than 3D, like looking through a microscope."
In recent years, her abstract work entices viewers into atmospheric landscapes that glow with earth tones, often punctuated with spikes of red, black and gold. She jokes that she needs to put away the color blue, which, along with white, shows up in most of her work. Today's favorite color is an acrylic called "parchment," a greenish off-white "that looks good with everything," she said, lamenting that it only comes in small tubes. 
She starts with wood panels with a Masonite back and clay surface, sized from 24- by 36-inches to 48- by 60 inches, and uses a household paint brush to layer the base colors, which she'll wash back and then layer in again and again, watching to see what colors release themselves in the drying and burnishing process. "It's intentionally accidental, and sometimes magic happens," she said.
"Her style feels open and airy and invites people into the setting of what she's laid out," said Jeanne Giordano of New York City, who bought a Winterholler painting last summer while visiting Bend. "The painting has a distinguished horizon line that made me feel immersed in water. It was very reflective and peaceful. I love her sense of color with all sorts of variations on a neutral background."
The piece is hanging in Giordano's second home in Portland; she'd been looking for something special, by an Oregon artist, to hang there. "It really fit the bill. I love looking at it."
Winterholler spends about three-quarters of her time painting and one-fourth running her rental property. And then there's her free time, where her passion for the outdoors converges with her love of expressing herself through art. "My work is the record of my experiences and the mark of my place in the world," she said.