In March, U.S. Ski Team member and Bendite Laurenne Ross sustained a traumatic knee injury on the last day of the racing season. Just a few months later, she's aiming to get back on the snow in time to qualify for the 2018 Olympics in PyeongChang.
Laurenne Ross was at the starting gate for her first run in a giant slalom at the U.S. Alpine Championships at Sugarloaf in Maine. It was late March, and the last race of the 2016-2017 season. Though the season had started shakily, a string of top five and top ten finishes had given her momentum. Just two days earlier, she won the super-G course title, cementing her place as one of the top speed skiers in the world and America's number two downhill and super G racer behind Lindsey Vonn.
Ross felt confident at the gate, but a combination of sleet and snow the night before this race had created a slick surface on the course, and a strong wind was blowing downhill. "It was a really awful weather day," she recalled. "I remember being at the start thinking this is crazy."
On the sixth gate, she slipped out on a right-footed turn. As she started to transfer the weight from her hip back to her feet, her uphill ski caught an outside edge, twisting and pulling her knee into a barrage of devastating injuries.
Six months later, Ross walked into Dudley's Bookstore & Coffee in downtown Bend. She had biked there from her house just a few blocks away. She walked with only a slight limp, the only evidence of her injury. "I've actually been trying to bike everywhere in town recently," she said as she sat down. "Just trying not to use my car and save gas and save on the fumes."
Ross, 29, is a renaissance woman. In addition to being a member of the U.S. Ski Team, a member of the 2014 Olympic team at Sochi and a 2018 Olympic hopeful, Ross is working toward her bachelor's degree in fine arts at University of Oregon. She is an avid film photographer and plays three instruments.
"I don't think that I will ever be somebody who is focused on one thing. I don't think even when I'm done with skiing I will only do art or only do school," she said. "Sometimes it turns into a negative thing when I start spreading myself too thin. But I can't do it any other way. When I'm not doing something, I don't feel fulfilled."
The constant need to be doing and creating has been a part of Ross since she was young. Born in Canada, Ross learned to ski when she was two years old. Her family moved to Klamath Falls when she was seven, and she spent weekends skiing and racing at Mt. Bachelor with Mt. Bachelor Ski Education Foundation. At seventeen, she got the call that she had made the U.S. Ski Team while she was on her way to the state solo soprano singing competition.
Kent Towlerton, an alpine racing coach for forty years, was Ross' coach while she was in high school. He described her as motivated and smart, pointing to natural athletic ability (her dad was a ski racer in Canada and her grandfather was on the 1952 Canadian Olympic hockey team) as well as her drive to succeed.
"When you're doing what she does, it's very risky, because the failure is real, and the failure is traumatic," said Towlerton. When you get to the top level of the sport, Towlerton said that it comes down to focus and determination, which is what Ross has. "You knew that when she was younger," he said.
Ross climbed the ranks on the ski team, going to her first World Cup in 2010 and then on to Sochi in 2014. The next season saw Ross gathering momentum, consistently posting top twenty finishes. Ross started the 2016-2017 season slowly, but found her groove in February, earning top ten finishes, including the super-G title, days before her fall. It was the last day of her racing season and she was ranked as the sixth best downhill skier in the world, the best ranking she's ever had.
Ross remembers that day vividly, and she's honest and candid about her experience, from the initial fall to the surgery and recovery process. "I've been through a few injuries, and this was just so much worse," she said. A knee surgeon in Vail performed the surgery and she spent five days in the hospital there before coming back to Bend, her home base for the last six years where she lives with her boyfriend Tommy Ford who is also on the U.S. Ski Team, for the majority of her recovery. She spent six weeks in a straight-leg brace. For someone who is used to constantly moving, she described that time as hell. A breakthrough came in July, when she was finally allowed on a bike outside.
Ross figures that if she can ski again this year, she'll have about five years left as a ski racer. She knows she needs to get back on snow by the end of the year if she wants to have a shot at the 2018 Winter Olympics in PyeongChang in February.
"It's been a very slow progression," she said of her recovery. "It takes weeks for me to relearn all the skills I've learned before." She's aware that some people will question how quickly she's coming back to racing, maybe not as strong as she could be if she holds out another season to recover. But for her, that's not what skiing is about.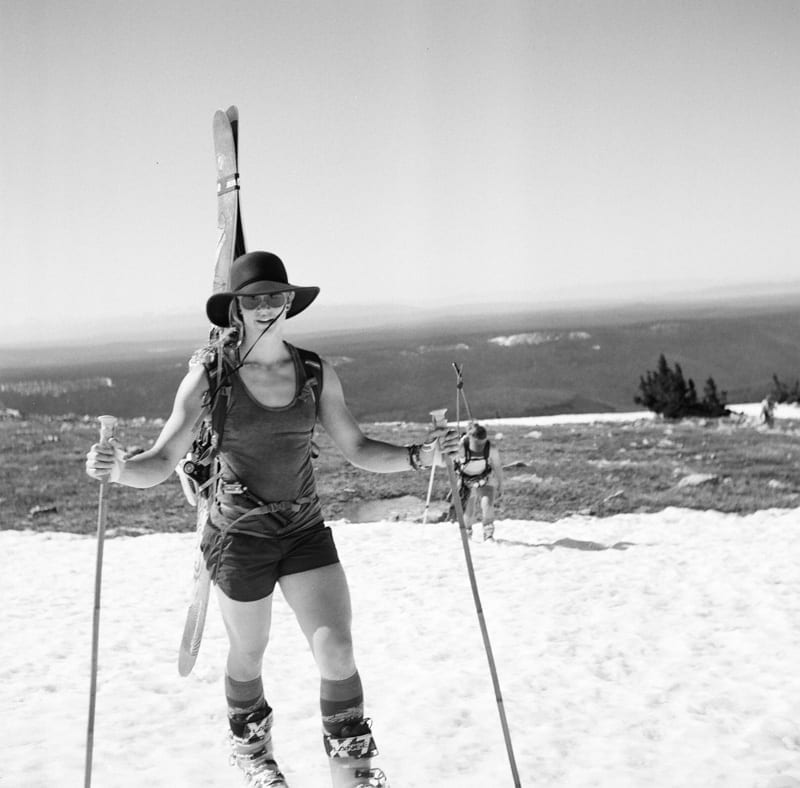 "It's not the person who can squat the most or has the most symmetrical strength. They're not winning. The people who have an internal drive and the people who have the mental game are the ones that are getting gold medals and winning World Cups," she said. "I can't take my time," said Ross of her recovery timeline. "I feel like if I were to take it really slow and do everything perfectly, I feel like I would have regrets. I couldn't live with that."
When we talked in September, the first snow had just fallen on Mt. Bachelor. "It's amazing when it happens this early. Everybody always kind of freaks out and gets really excited," she said. "But there's always ups and downs. It never really lasts. It's probably going to melt, and then it'll come back, and then it'll melt and then it will come back."
"But," she added, "it does make me really excited to go skiing."