We asked local trail runners what some of their favorites are.
Amanda Bowers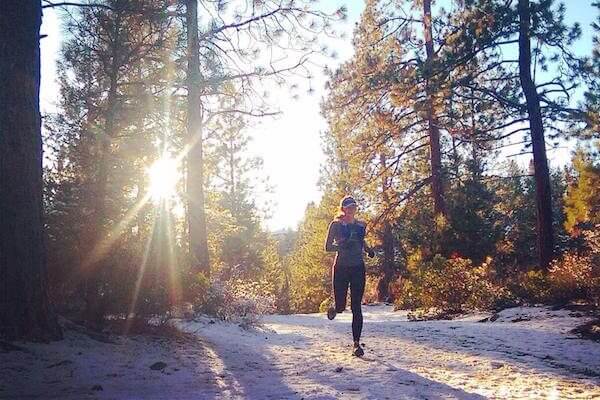 What is your favorite trail run in Central Oregon?
As a trail runner with a dog who also loves to run, I try to find trails where we both can run free. And as a busy mother of three, I try to stick to the trails closest to Bend while still getting away from the more populated areas.
One of the best places to run with dogs is the Deschutes River Trail up by Meadow Camp. You can park at gravel turnout before Meadow Camp off Century Drive (on the left, 2.5 miles after Reed Market/Mt. Washington Drive/Century Drive roundabout). After one mile of running, you can be running along the river. This portion of trail is so diverse in beauty and terrain. It's like running through different movie sets if you go upriver.
I've run as far as Benham Falls and close to Sunriver and back for my long runs (20-24 miles). And I've also enjoyed many shorter runs of around 5-6 miles (just turn around when you've gone half the total time/distance you want to run).
My favorite trails near Bend to run short runs between 3-8 miles are the Shevlin Park trails, which are a mix of paved and unpaved (good for long runs, too), and the Deschutes River trail near the Old Mill area. Shevlin Park offers some of the most lush forestscape in Central Oregon. You can stay low along Tumalo Creek. You can also head up higher on the Shevlin Loop trail or Mrazek trails and enjoy elevation climbs and mountain views. The Deschutes River Trail near Old Mill is convenient because it is closest to town. The drawback is that it can be highly populated and is definitely not off-leash friendly. This can be a perfect three-mile-or-so loop. Park near the pedestrian bridge at Farewell Bend Park, just before the Bill Heely Bridge and run down to the Colorado bridge, cross the river (you'll have to go up and over until construction is completed) and run back to the park on the other side.
Angela Shatting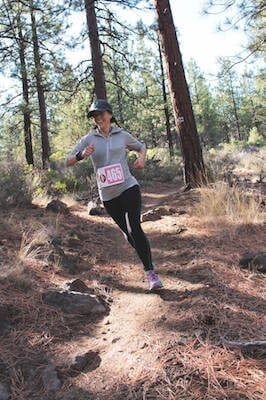 How do you stay energized on your trail runs? What does that mean to you?
Energized to me means feeling good and more than happy to put one foot in front of the other and keep on moving. I do this in a few ways. 1. Stay hydrated with water and fueled with Picky Bars. That may seem like a cheap plug but Picky Bars has actually been the main food I eat on the trails for years now. I mix it up with trail mix, nut butter with pretzels and beef jerky. 2. Keep a positive attitude. If I tell myself I'm tired, dragging and don't want to be out there, then that's how I feel. When I tell myself I'm strong, happy and enjoying the time on the trail, that comes through in my run. I've mentally destroyed runs and also made them way better than they should have been with my attitude. The mind is a powerful tool in running. Thinking positively about being out there keeps me energized and moving happily. 3. Good gear. Getting fit for the proper shoe makes a huge difference. I'm excited to run when I'm comfortable and my feet feel good. 4. Sleep and good nutrition. The days leading up to a long run make a huge difference. I try to stay hydrated, eat well, get rest and limit those delicious Central Oregon IPA's leading up to a long run. Knowing that a cold beer is in town waiting for me after my run offers a healthy dose of positive energy and motivation as well.
 Jack Strang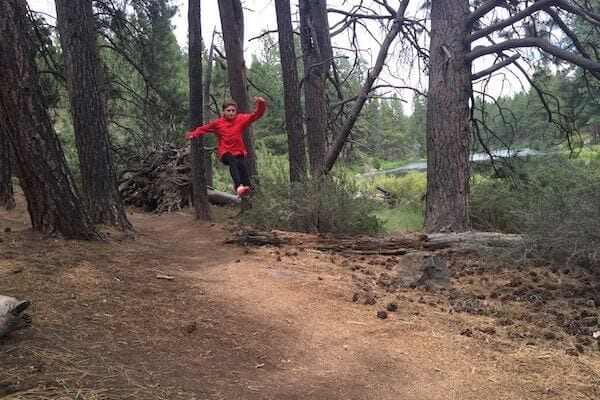 What are your favorite trail runs in Central Oregon?
A short run is anything under four miles. My favorites are the Deschutes River trail because of its "off road cross country" (rock scrambling, free running, mini adventures) built in, or Smith Rock shorter routes, or Tumalo Mountain.
How do you stay energized on your trail runs? What does energy mean to you?  
Being out in nature and on trail keeps me energized. I love just being out there. I feel clear and in touch with nature, connected to it all. I use water, gel (chocolate Gu), and sometimes Shot Blocks to keep me fueled.
Jeff Browning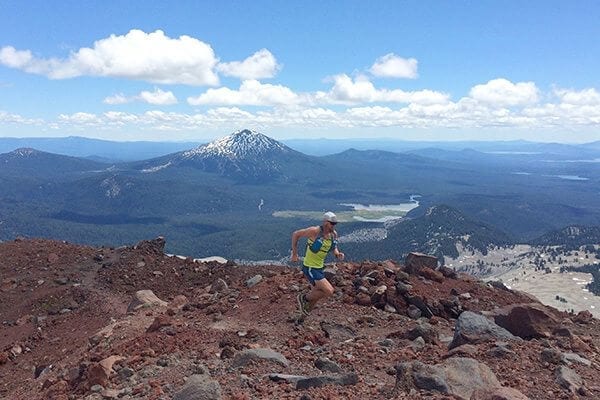 Do you listen to music on your trail runs? What favorites are on your playlist(s)?
I don't listen to music when running, except during the second half of a 100-mile race. I prefer to just be alone with my thoughts in the woods. It's my non-technology time. Being a graphic designer, I'm surrounded by technology and listen to music five to eight hours a day while working at my computer. So, when I head to the mountains, I prefer the silence and turn off the technology static.
My ipod 100-miler playlist consists primarily of fast-paced bluegrass music with harder rock/alternative tracks mixed in here and there for motivation—such as Rage Against the Machine, Pixies, Soundgarden, Red Hot Chili Peppers and Jack White.
Ryan Kaiser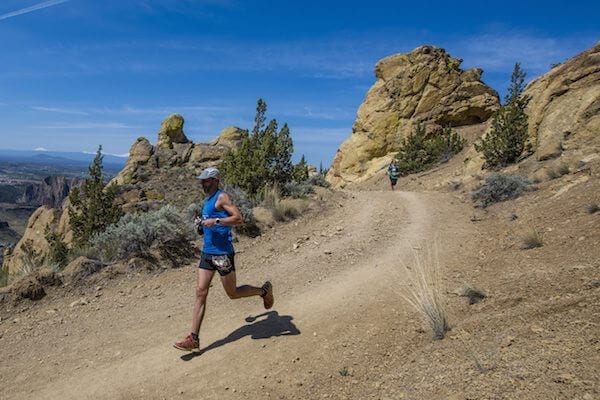 What is your favorite short trail run? How do you define a "short" run?
I consider any run that can be completed at a comfortable pace in less than 1.5 hours to be a "short" run.  One of my favorite runs is a 10.5-mile loop route at Tumalo Falls. You begin at the Tumalo Falls parking lot and take a nice climb up the Farewell trail about 3 miles to Mrazk. Once you reach Mrazk, take a left and follow the single track several miles to Happy Valley (aptly named). Once in Happy Valley, follow the soft and fast single track of North Fork back down to Tumalo Falls. This run will give you a decent dose of climbing and unforgettable views.
What is your favorite long trail run? How do you define a "long" run?
Long runs for me are typically at least 2 hours while running at a comfortable pace. One of my favorite long runs is the circumnavigation of Three Fingered Jack. This route is about 21 miles and offers breathtaking views of the Cascades and very distinct landscapes as you circle this jagged mountain. Make sure to bring ample water in the summer!
How do you stay energized on your trail runs? What does energy mean to you?
Staying energized on the trails from a physical standpoint is all about keeping calories coming into the body. I try to consume 200-300 calories per hour during a workout, and typically use gels and a product called TailWind, which is a carbohydrate powder that dissolves in water (available at Fleet Feet). Feeling mentally energized requires physical energy of course (no bonking), but being on the trails and in nature invokes a sense of freedom and appreciation that stimulates my mind and stirs my soul.
Ian Sharman

Do you listen to music on your runs? What favorites are on your playlist(s)?

Yes, often on solo runs I listen to my iPod Shuffle. The music varies a lot but usually focuses on more upbeat stuff. Recently David Guetta and Calvin Harris's new albums, in particular.
How do you stay energized on your trail runs?
The scenery keeps it interesting, plus I eat Clif Bar gels and their other race food, especially if it's a long run.